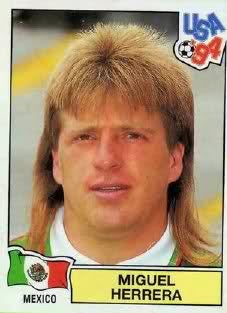 Brazil's legendary player Garrincha was known as Alegria do Povo (Joy of the People) because of his ability to inspire the masses but also because of his humble beginnings.
Mexico never had an equivalent, until now.
On the sidelines, the country's euphoria at this year's World Cup is captured best by the flamboyant expressions and gesticulations of Mexico's coach Miguel Herrera.
His over-the-top outbursts and contagious optimism are the purest representation of what the Mexican people – and Mexico's players – are feeling heading into the harrowing knockout round match against the Netherlands.
Herrera is the last in a rapid succession of three coaches in the past four years. His greatest accomplishment so far may be transmitting an enthusiasm that none of his predecessors – José Manuel de la Torre, Luis Fernando and Victor Vucetich – were able to achieve.
But just like the Mexican team itself, behind all of his excitement is a history checkered with frustrations. Mexico's scrappy legacy in past World Cups looks a lot like the ups and downs of Miguel Herrera's own soccer career.
Mexican fans remember him best as a player for Atlante, the quintessential team of the country's working man. In the 1940s, fans began to call Atlante the "people's team" since it was populated by mixed-race mestizos instead of players with English, German or Spanish heritage like the rest of the league at that time.
The "people's team" is where Herrera became a breakout star in the 1990s. He was a blonde defender with a spiky mullet that made him look more like a street smart hustler living on his wits than a professional athlete.
His mother Maricela Aguirre said he was always tough, spontaneous and charismatic. In an interview she remembered her son this way: "In the neighborhood he had a bunch of friends and they all loved him. It was like he had an angel on his shoulder."
Herrera – like Garrincha - was born into a poor family. His father abandoned him and his four brothers when they were small but Aguirre was a strong matriarch who held the family together on her own. Herrera overcame the adversity by playing soccer.
He learned how to kick the ball on dirt fields and cement alleyways in the working class neighborhoods on the outskirts of Mexico City like Nezahualcoyotl, where Herrera first debuted as a professional player in 1985 on a second division team called the Coyotes.
He jumped to first division two years later in the now defunct Tecos de Guadalajara and then went on to Santos Laguna.
In 1989 he was signed by Atlante and the fans baptized him with the nickname "El Piojo," or "The Flea."
But he arrived just as the team was demoted to second division. He fled to Querétaro and only returned in 1991 when Atlante regained its spot in the country's top league. In 1993, he lead the team to a championship.
Teammate José Guadalupe Cruz recalled Herrera saying before the final that Atlante would be running a victory lap around the stadium in Monterrey, where they were the visiting team. He was right. "He has always been an optimist and his optimism has an effect on everyone around him," said Cruz. "We all believed what he said and in the end we won."
But his temper sometimes got the best of him.
Herrera made the national team heading to the 1994 World Cup, only to be expelled before he could ever set foot in the United States.
While playing an elimination round against Honduras in Mexico City's Azteca stadium he kicked the rival team's forward Dolmo Flores and coach Miguel Mejía Barón punished him by booting him off the roster.
In 1995, he switched to Toros Neza where – along with Argentineans Antonio Mohamed, Germán Arangio and Federico Lussenhoff – he played beautifully but lost a lot of games.
Despite a miserable record, Herrera never lost his bragging optimism and irreverent showiness. Team photos captured him posing in a Bart Simpson mask, or giant hats or brightly-dyed hair.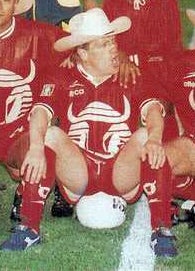 Herrera ended his career on the field in 2000 to become a coach in 2002.
Mostly unnoticed on the national stage, he brought Monterrey to a final in 2004 but lost against the Pumas, Mexico's national university team.
He then crisscrossed the country, passing through Veracruz and Tecos before returning home to coach Atlante. Herrera cultivated an emotional attack strategy but never with particularly good results.
Ultimately he ended up leading América, Mexico's most popular team owned by Latin America's largest broadcaster Televisa. Finally he won a championship and the rest is history.
Author David Goldblatt recently wrote that this year's World Cup belongs to the Latin American middle class, as the region as a whole is emerging from decades of poverty. While not the case for everyone, many people in Mexico are better off than they were a generation ago. Much like Miguel Herrera, the nation is on the rise.
As a result, Mexican fans can see themselves in their coach – only sometimes a winner but always ecstatic for the next game.
---
Raul Vilchis Olalde, a Mexican journalist based in New York, has covered two World Cups, two Olympic games and a couple Americas Cup tournaments. He previously was a correspondent in Mexico for the Chinese news agency Xinhua and as a radio and television commentator. You can follow him on Twitter at @elvilchisolalde.
Screamer is Deadspin's soccer site. We're @ScreamerDS on Twitter. We'll be partnering with our friends at Howler Magazine throughout the World Cup. Follow them on Twitter,@whatahowler.