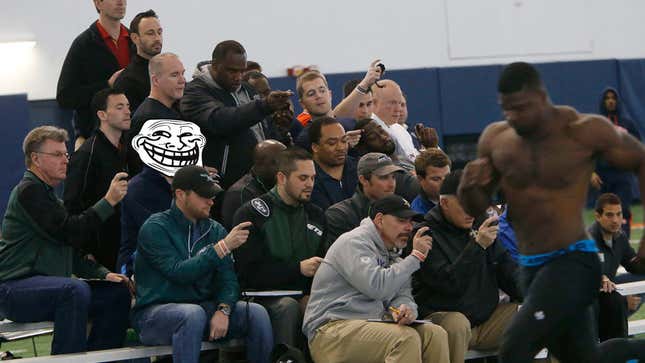 Nolan Nawrocki lives in the nicest house in a tidy neighborhood in Elmhurst, Ill., a western suburb of Chicago. When I visit him a couple of weeks before Easter, the windows are already awash in signage.
How running an NFL team is like running a restaurant | Chef Emeril Lagasse
He does much of his work in his basement. Next to his desk is a full weight room set up with a punching bag. Five large flatscreen televisions are mounted on the nearest wall. The lights are dimmed when we meet, and Nawrocki is using one of the TVs, which is hooked up to his laptop, to show me footage of Nick Foles's interview at the 2012 NFL draft combine. This is insider stuff, unavailable to the general public.
"Nick, what comes to mind when you think about family, friends, and the experiences you had?" some off-camera NFL official asks Foles.
"I think the big thing I have is a really close family," Foles says, with steady eye contact and an involuntary smile. "I was raised in a Christian household. My parents are my heroes. They didn't have a great childhood. They provided for me and my two younger sisters. What they have done for us is outstanding, so every time I step on the field they are in my thoughts."
"What are the key messages from home regarding what it takes to be successful?"
"My parents taught me to be the hardest worker, but to always be humbled. My mom always sends me bible verses to this day before games, just randomly."
There are 10 more minutes of this shit, but you get the drift. The point Nawrocki is making has nothing to do with Foles, anyway; he randomly selected this interview to show me the kind of eyes-only information he is privy to from his perch as an independent draft analyst. He is attempting to illustrate for me the "depth of the process," as he puts it, as part of a grander effort to prove he's not what the Internet increasingly says he is: a troll, a prig, a management stooge, or perhaps something much unseemlier.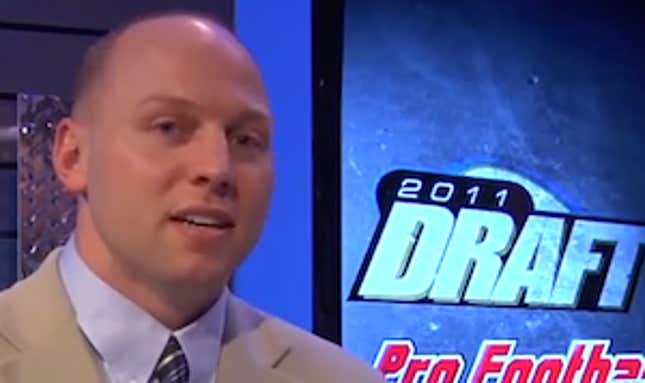 He's not doing his point much good, though, by offering up a canned combine interview as evidence of his "depth." Moreover, Foles is an odd choice, since Nawrocki wasn't terribly high on him when he was a prospect two years ago. ("Can function behind a strong offensive line but will require an adjustment period to the pro game and might always be content with a backup role," he wrote of the 2013 Pro Bowler for Pro Football Weekly.)
When I ask just how much he thinks can be extracted from this type of exchange, he recalls the 2005 combine, when Darryl Blackstock, the linebacker from the University of Virginia, submitted to the interrogatory process.
"He came into the room," Nawrocki says, "with his hat tilted sideways, and the body language, the answers he was giving at the table, the demonstrative way he was presenting and carrying himself didn't sit well with me."
Blackstock, drafted in the third round, didn't do much in the course of five NFL seasons with Arizona, Cincinnati, and Oakland. You could see the NFL flotsam he would become in that pre-draft interview, Nawrocki seems to be telling me. The clues were all there. You just couldn't look too closely at the player himself, lest you lose sight of how he wears his hat.
---
I first reached out to Nawrocki last April. He was with Pro Football Weekly at the time, and he was in the midst of a shitstorm over his appraisal of quarterback Geno Smith, whom he had described as essentially uncoachable and "not a student of the game." He was plenty notorious at that point, having famously blasted another high-profile black quarterback, Cam Newton, in 2011. It was hard not to read his Geno Smith assessment as a sort of sequel to the Newton evaluation. Written in his usual sharp-elbowed and telegraphic style, Nawrocki's scouting report on Newton was casual about conflating the person with his performance: "Does not spin a tight spiral. Very disingenuous—has a fake smile, comes off as very scripted and has a selfish, me-first makeup."
Many detected in these comments the whiff of a troll, if not the sound of a dog whistle. His denunciations seemed to align too neatly with long-standing prejudices about black players—and about black quarterbacks in particular. They were the shadow versions of the compliments so often handed out to white quarterbacks ("enormous ego" instead of "confident"; "selfish, me-first makeup" instead of "star quality"; "issues with authority" instead of "gunslinger").
Nawrocki, who vigorously defended his views of Newton at the time, going so far as to call him a "a fraud" and a "con artist" in interviews, stayed quiet about Smith.
Last spring, Pro Football Weekly announced it was shutting down, and for a moment it looked as if Nawrocki would be excised from the commentariat as well. But then, this February, he reemerged from behind the NFL shield with a piece on the league's website—where his former PFW boss, Keith Schleiden, serves as an editor—delving into the character of this draft's "most controversial prospects." Among other things, he called out quarterback Johnny Manziel for "a sense of entitlement" and "prima-donna arrogance." He wrote a book, too, which surely has something to do with how I wound up in the basement belonging to the so-called troll scout.
We're seated on a semicircular couch, the kind with cup holders built into the armrests. Nawrocki, who is a shade under six feet and has a shaved head, is wearing Under Armour shorts and a shirt and ankle socks. His wife and three kids are out of the house, but there is evidence of a family man all around the basement: the balance beam on the floor, a pop-a-shot on the wall. He offers me a bottle of water. This would be a meaningless detail if I were speaking to anyone else, but because it's Nawrocki, even insignificant gestures begin to vibrate faintly with meaningfulness. I notice that he stares at the wall a lot. What would Nolan Nawrocki make of this if he were scouting Nolan Nawrocki, I wonder. Bad eye contact. Shifty. Comes off as uncomfortable in the spotlight.
"If there is one thing people say about Chicago," he says to me about his hometown, "it's that there is a general instinct a feel for people you get in this region of the country—more than others. It's just innate, in terms of sizing up a person's character right away and a gut reaction."
He invokes Malcolm Gladwell's book Blink and talks about how, when Blackstock washed out of the league, a number of general managers called him up to tell him he was right. I ask if he ever analyzed how the players he thought to have questionable character ended up faring in the league.
"As one general manager says, 'You need some thugs in the locker room, to keep people in check,'" he says. "It is a good thing to have personality. It is a violent game. You have to have a chip on your shoulder, some grit in your soul, so you can look at guys who have had a hard life, and I am a believer that people mature. I believe about 80 percent of these kids, they come in, they have some kind of alcohol charge, they have some kind of indiscretion early in their career, whatever it might be, and I try to document as much as it has been documented."
Nawrocki, it might not surprise you, comes from a different background. His father worked in logistics for a food manufacturing company and his mother was a teacher's aide. His older brother and younger sister both were high school valedictorians who went to Northwestern University and became industrial engineers. Nawrocki was also strong in math—he scored 36 on his ACT, he tells me a few times—but less so in reading and writing. He attended St. Rita's, an all-boy's Catholic high school, where he lettered in football.
"I don't know how that's viewed," he says, without prompting, of his single-sex education. "People who don't go through that think it's such a terrible thing, but as a community, bringing a group of kids together, it was unique. It was a good experience."
He wrote for his high school newspaper, which was overseen by an English teacher Nawrocki grew quite fond of, someone who would "take off his glasses and start professing more about ethics, morals, right and wrong."
On the football field, he started out playing safety, but "got a little too big and physical," and was moved to linebacker. His father would videotape all his games, and Nawrocki would compulsively watch the footage.
"It is the perfectionist in me," he says. "I can't say if it was right or wrong—I just felt a need to see what was happening."
Born into a family of military men, Nawrocki thought about trying to become a Navy SEAL after high school. Instead, he walked onto the football team at the University of Illinois, and eventually earned some playing time on special teams. Years later, he would write about his underdog football career and his failed effort to crack the XFL in a 6,700-word piece for Pro Football Weekly, his first for the publication.
"The spirit of the underdog thrives off of hunger, determination and an eagerness to prove critics wrong," he wrote. "I think of how my children, when conceived, will heed my past actions as much as my words and hope they, too, will never give up on themselves. … I may have made my last tackle, but I will take all that I've learned and continue to tackle obstacles, continue to fight adversity and continue to prove critics wrong."
Nawrocki, who earned a graduate degree in journalism and whose Illini media guide bio in 1995 said he dreamed of winning the Pulitzer, landed at PFW because of a connection then-Illinois coach Ron Turner's wife had with its editor, Ron Pollack. Starting out as an unpaid intern working out of a storage room, he quickly came under the tutelage of PFW's legendary player evaluator Joel Buschsbaum, who would often find Nawrocki on the other end of the line when he called the office to ask for the modem to be switched on so he could send his dispatches.
Buchsbaum was the original draftnik, and today he's widely regarded as the grandfather of modern independent football scouting, who along with Mel Kiper, his more telegenic counterpart, made the esoterica of the NFL draft a mainstream concern. Whereas Kiper was the polished face on ESPN, Buchsbaum, a nebbishy stick figure of a man who spoke in a harsh Brooklynese, carved out his niche in print and radio, where he attracted a cult following. He rarely left the sty of his New York apartment, spending most of his waking hours on the phones with NFL general managers and area scouts. He became a sort of custodian for the privileged chatter and conventional wisdom of the league, and people within the NFL came to call him as much as he called them.
Two days before Christmas 2002, Buchsbaum dropped dead of an apparent heart attack at his desk; Nawrocki was at the office when the news broke. He had been on the job only two years at that point, but the publisher, Hub Arkush, assigned him and a few others to go through a stack of Buchsbaum's handwritten notes that had been found at his apartment, in order to complete that year's pre-draft handbook. Soon enough, Nawrocki was tapped to fill the role exclusively.
"I was the only guy at PFW at the time who had played the game, and at a high level," Nawrocki says, adding that he had received the backing of Al Davis, the Oakland Raiders owner, who had at one time been a part-owner of the magazine.
At the subsequent NFL combine, a memorial service was held for Buchsbaum. Afterward, Nawrocki says, Davis introduced him around. He specifically recalls a half-hour spent schmoozing with Mike Lombardi, a Davis lieutenant who went on to be an analyst for the NFL Network and now works for the New England Patriots.
"A lot of the people who helped Joel were willing to help me, teach me, mold me," he says.
Nawrocki proved to be a perfectionist in the Buchsbaum vein, Schleiden told me, and he worked his sources as tirelessly as his predecessor had. But he departed from the Buchsbaum model in one notable way.
"Joel didn't interject his opinions of league players. He was a consensus of league-think," says Pollack, the former PFW editor-in-chief, who hired Nawrocki. "Nolan talks to all the people, too, but he is a little bit of a scout in addition to an information collector. He is willing to put his opinion on top of everything that people are telling him."
Pollack, who left the magazine in 2002, says he subsequently cautioned Nawrocki that his approach may make him a target, but Nawrocki didn't seem to mind. And Schleiden says he had no problem with the direction his young writer was taking the beat.
"Did we have to edit some of his stuff at times? Sure, that is what an editing staff does," Schleiden says. "And there are limits and I believe he holds stuff back that is too sensational because it may create too much controversy."
Nawrocki recalls making his first real wave in 2007, when he castigated JaMarcus Russell, the star LSU quarterback who would become the top pick in that year's draft. He wrote that Russell showed a "lackadaisical approach to the game" and predicted that he would "require very tough coaching from a strong authoritative figure." Though this paled in comparison with his later criticism of Newton and Smith, the harshness of it created a small bit of controversy within NFL circles.
Behind the scenes, Nawrocki says, he went even further, openly campaigning against Russell.
"I thought he was going to be a complete bust," he says. "He had bust written all over him. He had a lot of talent, but [it was] based on the work ethic, the character, the football character, the overall character. I had three conversations with Al Davis that year, and it may not be good to get into any of that stuff, but I told him that he should take Calvin Johnson or Adrian Peterson. That was the guy I was trying to help out. I know where Al was at that point in his career: He had lost some of the ears on the ground that he may have had when he was a little sharper. But Al was going to do what what Al was going to do."
Nawrocki says that he never sought to be a lightning rod; he was simply intent on conveying an honest accounting of his research to the public.
"The information I have on these players," Nawrocki says, "I probably hold 60 percent of it. As much as it is perceived in recent years that I am looking for the shock value, if it was understood how much information I truly had on all these players, I think the perception people have would change a little bit. Because it is the tip of the iceberg. There is a ton of research behind the scenes that isn't talked about collectively, maybe [it is shared] with certain people in the NFL you trust, but it won't see the light of day. But even today I don't feel comfortable getting into any more of the details."
It's not just about protecting his connections, he insists.
"I feel I am constantly protecting players (by) not sharing too much information," he says, "and if people knew this kind of stuff—this is one piece of it and I don't think regular people realize."
---
If only you knew. If only you knew what he knew about JaMarcus Russell or Cam Newton or Geno Smith or Johnny Manziel. The problem, of course, is that Nawrocki doesn't let us know. He hands out a harsh verdict and keeps the bill of indictments sealed. He's a FISA court judge—and a tendentious one at that.
His efforts to answer his critics in the wake of the Newton beatdown did little to allay their concerns. During a conference call hosted by PFW, he stood by his assessment, arguing that the language he used to describe Newton was precisely the language a number of NFL scouts had used to describe Newton to him. After castigating Smith, he didn't even try to defend himself, even as some were calling him racist.
"[I got] 120-some interviews, and then I stopped counting," he says. "It was a ridiculous number of requests coming in and it was going to be the same story line. Does it serve any good to go down this road again and keep answering these same questions? I tried to make it as much of a non-story as I could."
When I ask him about the charges of racism, he says, "See this was the piece of it I was nervous about." He pauses for a moment.
"My statement would be: I always thought the best evaluators in the league were colorblind in their assessments," he says. "You have to look at this stuff so much more deeply than the surface level. It was ludicrous for those accusations to be made at me. If you want to look at how the reports have been produced through the years—Johnny Manziel is far from a choir boy and has tons of issues. Jimmy Clausen, Rex Grossman, the TCU quarterback Casey Pachall—he didn't even get invited to the combine with all his issues. These players tell us who they are. We are just analyzing it and telling people. If people haven't put as much time into it to understand it, so be it."
He pauses again, and adds, "I had more information than anybody on Cam Newton."
Whatever that information is, though, and just how it reconciles with Newton's having become a terrific professional quarterback, he will not be sharing it with me. I only get what the reader gets: the putative tip of the iceberg.
Nawrocki is in a tricky place as an independent scout who serves as both a Buchsbaumish conduit for gossip around the league and as a conveyor of his and his sources' opinions to the fans. Theoretically, his job, as conceived by his predecessor, is to reflect the conventional wisdom back at the NFL; in practice, however, he's been far more effective at amplifying the petty low-mindedness of the league and its talent evaluators for the general public.
I ask if the Internet backlash has made him change his approach at all, particularly when it comes to evaluating black players. He answers the question by not really answering the question.
"You look at the makeup of the league," he says. "I don't know if there is a better kid in the NFL than C.J. Mosley. .... I think it says more about the media's concentration and the way stories are getting sensationalized. Why aren't they talking about Mosley more? Why isn't about his coverage? They could pick out whatever they want to pick out."
But yes, Nawrocki says, he has softened. He never meant to become what he has become, and he doesn't care for it at all. Before joining NFL.com, Nawrocki says, he was in discussions with joining a team as a scout. That still might be in the future.
For now, he's left to weather the scorn that comes from the people who will never have a chance to size him up at a glance and form some vague idea of who he might be, all the sharp words flung by people who evaluate him on the basis of what he actually does and says and writes.
"If they want to say I'm a hack," he says, his eyes fixed to the wall of blank TVs, "I guess I have to be prepared and have thick enough skin. I try to ignore the noise. Maybe it should bother me more than it does."
---
Daniel Libit is a writer in Chicago. He can be reached at djlibit@gmail.com.
Image by Jim Cooke. Source photo via AP.