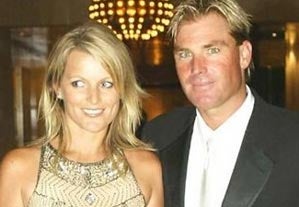 The couple in this picture is ... hmm ... let's see ... "Simone Callahan" and "Shane Warne." He's apparently one of the best cricket players in the world. She's his wife. Well, for now anyway.
Warne had split from his wife because of alleged philandering, but they gave it another shot late last year. And then he accidentally sent her the wrong text message from London.
As Callahan got the couple's three children ready for school in Melbourne, a text dropped into the inbox of her mobile phone, she told New Idea magazine. "Hey beautiful, I'm just talking to my kids, the back door's open," the message from Warne said.
We've never accidentally sent a text message to the wrong person, but we don't know anything about cricket either. It's possible it's just part of the sport; perhaps his wife should try to be a little more understanding of his career.
Text Messaging Can Be Confused [With Leather]