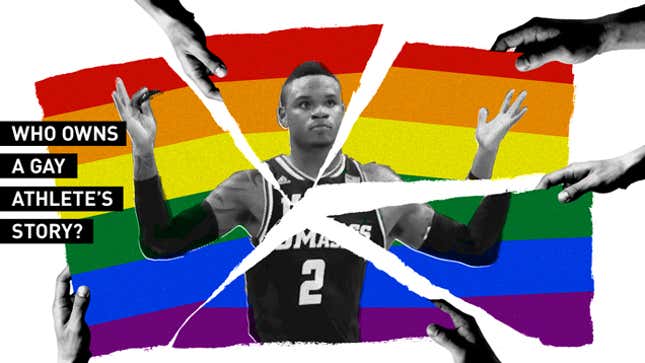 Derrick Gordon wanted to come out on his terms, and that meant controlling the timing. The UMass guard had told his parents, then his coach, then his teammates. Seven days later, he would tell the world, but for the moment he had one request. "Derrick had a long conversation with his teammates about keeping it in-house," said Patrick Burke of the You Can Play Project, which guided Gordon through the process. "Then the email went out."
How running an NFL team is like running a restaurant | Chef Emeril Lagasse
Two days after Gordon told his team he was gay, an LGBT sports advocacy group intent on making itself part of the story sent out a letter that broke Gordon's small circle wide open.
"We have been privy to confidential info," read the email, sent to UMass administrators, coaches, even some of Gordon's fellow students. "A UMass basketball player is coming out as gay next week."
When John Sinnett, UMass's associate director of media relations, received the email, he was in the midst of balancing Gordon's wish for secrecy with the need to prepare for the coming press storm. Sinnett was aghast: "Were they really going to people and telling them Derrick is gay before he's ready to come out?"
There was general bafflement in the UMass athletics department, not to mention anger among those who were walking Gordon through the most trying time of his life. But for Gordon himself, more than anything else, the email hurt. It had been forwarded to him by a UMass administrator, and Gordon showed it to his mentor Anthony Nicodemo, a recently out high school basketball coach who had spent months with Gordon trying to prepare him for the spotlight, always assuring him that his coming out would happen only on his terms. Gordon had one question for Nicodemo: "Why would they do this?"
It's a question a lot of people in the LGBT sports movement believe they have an answer for. Their response to the email was swift. Within three weeks of sending the email, Athlete Ally, one of the most visible advocacy groups in sports, was pressured to resign from the LGBT Sports Coalition, capping years of accusations that Athlete Ally and its founder are in this for the attention—even at the expense of the athletes they're supposed to be championing. At the heart of the drama was a clash over philosophies about how best to support closeted and openly gay athletes. Even, or perhaps especially, in the age of Michael Sam, the LGBT sports movement remains anything but unified.
---
Coming out is now a stage-managed media event, scripted and choreographed in a way that ensures America receives only the most telegenic version of what at bottom is still a deeply personal act. Jason Collins's disclosure last April seems quaint now: His agent gave the exclusive to a Sports Illustrated writer he'd known for years, and a Wednesday interview led to a Monday story.
By the time Michael Sam had come out in February, things were an order of magnitude more complicated. It took weeks from Sam's decision to go public for the event to actually happen. The process, initiated by his agents, was shepherded by high-powered publicist Howard Bragman and Outsports's Cyd Zeigler, whose experience in both the media and in gay rights advocacy make him a go-to consultant for anyone needing help with either. They set the timing for Sam's announcement—which would be moved up as it became clear the secret wouldn't keep—and carefully chose the avenues in which to break the story. They settled on the front page of The New York Times for the print aspect and ESPN's Outside the Lines to cover TV, with an exclusive and revealing tick-tock of the process to run on Outsports. Before any of that, though, Zeigler put Sam through an intensive mock interview. Being a gay NFL prospect isn't enough if you're not camera-ready.
In his behind-the-scenes look, Zeigler hit on an exposed nerve. "While other athletes like Jason Collins and Robbie Rogers have been readily available to lend their voices to various LGBT organizations," he wrote, "that won't happen with Sam. … His role in the movement toward LGBT equality in sports will be simply playing the sport as an out gay man." Those groups were not given any formal advance notice of Sam's announcement (though some, like Wade Davis's You Can Play, already knew through other channels). Here was the most significant moment in the young history of the LGBT sports movement, and many of the activists had been left in the dark, forced to play catch-up. And activists don't enjoy playing catch-up, not when their cause is a full-time job.
"When this becomes something you do for a living, it changes how you do things," says Anthony Nicodemo. "You have to hustle."
---
The LGBT Sports Coalition was finalized last June, at a summit in Portland, Ore. Seeded with $200,000 from the proceeds of a rainbow-hued Nike line of clothes and shoes, the coalition's primary goal is to brainstorm and fund individual projects, no simple task when you're talking about more than two dozen groups with occasionally divergent agendas, many of them not specifically LGBT-related. Coalition members range from It Gets Better and GLAAD to more peripheral organizations like the StandUp Foundation (anti-bullying), NIRSA (promoting intramural college sports), and AAHPERD (promoting healthy lifestyles).
It's easier to obtain grant money with multiple groups collaborating on a project, says Helen Carroll, the sports project director for the National Center for Lesbian Rights, which is part of the coalition. And at least in theory, the groups with different focuses can cover each other's blind spots. But the coalition is as vulnerable to infighting as any diverse group of activists.
"Any time you get a bunch of people together with different philosophies," says former NFL player Chris Kluwe, who serves as an ambassador for Athlete Ally and works with a number of LGBT organizations, "there's going to be disagreements about how to achieve the same goals."
With that in mind, Carroll says, there's something of an informal rule in the coalition—no project should be undertaken without at least three groups involved. "Sports is very, very competitive," she says. "The coalition has worked really hard not to get caught up in that."
So it was three groups—GLAAD, You Can Play, and Athlete Ally—that were contracted by the NFL last March, when the coalition was still an informal outfit, to work with the league to promote diversity and inclusion in its own ranks. Part of that involved preparing a policy paper to be distributed leaguewide, containing things ranging from best practices to proper LGBT terminology. The three groups put together the document and submitted it to the NFL. Not long after—as the NFL was still reviewing the document—Athlete Ally sent the NFL its own policy paper and, according to one coalition member, told the league to use that one instead.
According to the coalition member, the NFL was infuriated that a sensitive process had devolved into an intramural turf war, and it nearly broke off its partnership with the three groups. It took months for the NFL to agree to work with the coalition again.
This was not the first time some groups in the coalition had taken issue with Athlete Ally's approach to activism—"They're not good teammates," is the frustratingly vague judgment I heard from multiple coalition members—but it was the most visible. So with the excitement of the formalized coalition still fresh last October, the group decided to address itself to a procedural matter: taking a vote on whether to kick out Athlete Ally.
---
Athlete Ally was formed as a nonprofit in 2011 by Hudson Taylor, a former college wrestler who got fed up with all the homophobic talk he heard in the locker room. Taylor, who is straight, decided to enter the movement exclusively from the "ally" angle. In addition to Kluwe, his organization counts among its ambassadors retired tennis player Andy Roddick, NBA player Kenneth Faried, and baseball great Yogi Berra—all of them straight. Athlete Ally has gay ambassadors as well, but its mission is geared around outreach toward the heterosexual teammates and friends of gay athletes.
"Any time an athlete comes out, our job is not to provide direct services to that athlete, but to cultivate support around that athlete," Taylor says. "How can we make sure this athlete knows there is a supportive athletic community around him?"
Athlete Ally's board is filled with heavy hitters, including NFL player Brendan Ayanbadejo, former NHL player Sean Avery, former New York City Council speaker Christine Quinn, and political strategist Brian Ellner, who is as responsible as anyone for the successful gay-marriage push in New York State. But Taylor is the public face of the organization—sometimes to a fault. He's been accused by his critics of putting himself first, of using his advocacy as a means of getting himself on TV.
"This isn't a movement for straight people to feel good about themselves," says Patrick Burke of You Can Play. "This isn't a movement for straight people to make a career out of."
Taylor's critics have plenty of examples. Last month, just before the draft, the WNBA invited Athlete Ally to address incoming rookies on the topic of discrimination. Coalition members, many of whom had worked with the WNBA in the past, were expecting Taylor to bring in other organizations to help give the talk, or at least an LGBT member of Athlete Ally's board. Instead, it was Taylor, alone, a straight, white male addressing a group of women's basketball players, many lesbian, most of color, on how to tackle LGBT discrimination issues.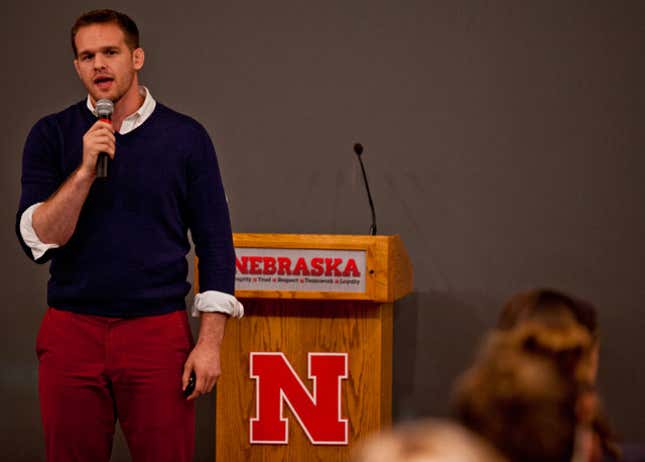 "There's an Iago in our midst," says Athlete Ally's Hudson Taylor, above, of his group's ouster from the LGBT Sports Coalition. Photo by the Daily Nebraskan.
---
Taylor says he's gotten nothing but positive feedback from that appearance, and he doesn't apologize for taking the gig. "If I'm trying to grow this organization," he says, "and do this work and change the world, should I forfeit all opportunities because I am not a member of the LGBT community?"
Cyd Zeigler recalls another instance, from March. Zeigler was preparing to write a story on the coming out of Division III football player Mitch Eby, a closely guarded secret. The night before the story was to run, Zeigler made a cryptic Tweet about it. Within minutes, Zeigler said, Athlete Ally members were calling contacts and snooping around social media to determine who it was. No one asked Zeigler. The next morning, when Eby's story ran, Athlete Ally put out a press release. It contained quotes from two people: Athlete Ally's youth programs leader and, above that, from Taylor himself.
Par for the course, according to Zeigler.
"My constant question is, 'What do you want? What do you need?'" Zeigler says. "Not 'How can I slap my label on an athlete and make this mine?' The focus of the coalition is putting the athlete first. You have to do that to be part of the coalition."
Last October, the coalition moved to oust Athlete Ally, but the members weren't yet equipped to take such a momentous step. There was confusion over the voting procedure. There were, according to one coalition member who didn't want to be named, veiled legal threats made by Athlete Ally. According to that same member, Athlete Ally also approached swing voters and promised fundraising opportunities.
Taylor disputes all this. "We presented the facts," he says, and coalition members who had initially supported the movement to eject Athlete Ally "removed their names from that list."
The two-thirds majority needed to evict didn't materialize. Athlete Ally remained in the coalition by five votes.
---
It is a victory, measurable in prestige and funding, for an advocacy group to own the story of a gay athlete. Derrick Gordon's coming out belonged to the You Can Play project from start to finish. Over a year ago, Gordon reached out to Wade Davis, the openly gay former NFL player who serves as the executive director for You Can Play. It was all informal—texts, emails—until earlier his year, when Gordon indicated he was considering coming out to his team. He said he'd been inspired by Michael Sam's example.
Davis pulled in Anthony Nicodemo, an individual member of the LGBT Sports Coalition and the boys basketball coach at Saunders High School in Yonkers, N.Y. Nicodemo had come out last year, so he could talk to Gordon about that experience—but maybe just as important, he could talk to Gordon about basketball, too. The two met almost every week, attending games together and frequently talking training and strategy. Nicodemo says Gordon was relieved to discover that there was an entire community of gay basketball fans, coaches, and former players. Their friendship culminated in a trip to Philadelphia on the last weekend of March. When Gordon returned home that Sunday night, he immediately told his parents he was gay.
That's when Patrick Burke stepped in. Burke is the director of the NHL's department of player safety and the son of longtime NHL executive Brian Burke. He founded You Can Play in 2012 after the death of his younger brother, Brendan, whose own coming out in 2009 was a watershed for the movement. Few people in sports are as well-equipped as Patrick to handle the considerable logistics involved in helping a player come out. He drew up a list of 20-30 media members he trusted to tell Gordon's story. The two went over the names, discussing the pluses and minuses of each, eventually settling on Cyd Zeigler and ESPN's Kate Fagan.
It was You Can Play that informed UMass administrators—or at least the ones who needed to know—and in turn those admins were more than happy for the assist. "We've handled sensitive and difficult situations, but this was completely different," says John Sinnett. "I was looking to You Can Play for some guidance. They've handled things like this before."
On Wednesday, April 2, three days after he had told his parents, Gordon came out to his teammates. He wasn't alone. He had asked Wade Davis and Anthony Nicodemo to be there with him for that locker room announcement. Kate Fagan describes the scene:
[Head coach Derek] Kellogg spoke first. "We're all here together, and we need to love each other for who we are," he said. "One of your family members, your brother, wants to let you know something about himself."

There was a pause. And then Kellogg tried breaking the ice. "I wanted to let you all know I'm gay," the coach said. His players all looked at him, stunned. What?

Gordon took his cue and spoke up.

"No, he's not. But I am."
On Friday morning, fewer than 48 hours after Gordon came out to his team, Athlete Ally emailed a number of student-athletes, coaches, and administrators in an attempt to recruit them as ambassadors for an Athlete Ally press release to be timed to Gordon's coming out. "After we heard that Derrick came out," Taylor says, "we felt it was important for us to show there was a community of allies that supported him. We think that it was supportive, and we tried to be helpful."
The version that went to the UMass athletics office read, in part:
We have been privy to confidential info - that a UMass basketball player is coming out as gay next week, which I'm sure you're intimately involved in. We want to catapult as much support for him as possible leading up to his game changing announcement. We feel it's imperative that the UMass Athletic family is on board and express their support for this men's basketball player.

Would you be willing to sign on as an Athlete Ally Ambassador? This can mean as little as providing us with a headshot photo and quote about your stance on inclusion in athletics. We'd also love to engage DK [head coach Derek Kellogg] if you think he'd be interested. Additionally, I am in touch with Carl Danoff from the Media Relations office about possibly making a short video with various UMass athletes and coaches – we'd love for you to be a part of this as well if you're comfortable.
Sinnett, in UMass's athletics office, was furious. "That email went out to a lot of people who weren't in the loop," he says. "It didn't have a lot of respect for the timing Derrick wanted. Athlete Ally wanted to piggyback on Derrick's story."
The email didn't name Gordon, but the campus world is small. When that Friday began, Sinnett said, "probably 10 people in the athletics office knew. After that email went out, more people knew than didn't."
No one is sure how Athlete Ally learned about Gordon. I heard a couple theories. One coalition member suggested to me that an Athlete Ally founding board member who used to work for ESPN had somehow caught wind of Kate Fagan's story. Two UMass athletics administrators told me they believe it was a former member of their office, now on Athlete Ally's communications staff.
"I'm afraid that somehow one of my former student interns who now works for AA somehow found this information out," Sinnett wrote in an email to Patrick Burke on April 4, forwarding the message from Athlete Ally. "He sent an email to several administrators within the department, several of whom had no knowledge of the situation."
The communications staffer declined to comment, as did the former ESPNer on Athlete Ally's board. Hudson Taylor wouldn't address either theory, instead issuing a statement through Athlete Ally: "Athlete Ally has been asked to maintain the anonymity of the individuals we worked with in conjunction with Derrick Gordon's announcement. To respect their wishes, we are only able to comment on the actions and outreach of Athlete Ally."
Hudson Taylor maintains that he never intended to out Gordon before he was ready. "All of our outreach was to people who were involved or already aware, and we thought it was a careful and measured form of outreach."
Taylor allows that the staffer who sent the email should've exercised a little more discretion, but he understands that the young man—himself gay, and long a part of the UMass community—was excited to get involved in the moment.
"I feel as though he sent more emails to more people than he should have," Taylor says. "A kid who's trying to do good, help show support, has made an error, and the organization that he works for is being called to task for it."
But while Taylor paints a picture of an overzealous staffer, Athlete Ally higher-ups were at the very least aware of the emails—the group's program director was CC'd on them.
UMass administrators directed Athlete Ally to contact You Can Play. Taylor insists he had no idea Gordon was working with You Can Play and blames it on a culture of secrecy in the coalition. "There is a certain type of exclusion, not communicating, not collaborating," Taylor says. "And we get in trouble for this lack of knowledge. Had we known who was involved, that would have changed the way we'd contacted You Can Play or anyone else involved."
That Friday afternoon, Taylor sent an email to Wade Davis:
Wade,

Hope you are well. I wanted to reach out to discuss how we can best collaborate on the announcement early next week happening at UMass. On our end, we are working with our Athlete Ally chapter at UMass and the athletic department, we are looking to gather as much support as possible amplify positive messaging around the player's announcement.

We want to reaffirm support for You Can Play's efforts and be as helpful and collaborative as possible.

I look forward to hearing your thoughts.
Davis did not reply.
Cyd Zeigler, who was made aware of the emails, says they are the perfect demonstration of what he believes is a major difference in culture between Athlete Ally and other activist groups. "No one else would have done that," he says. "That action was unfathomable and indefensible."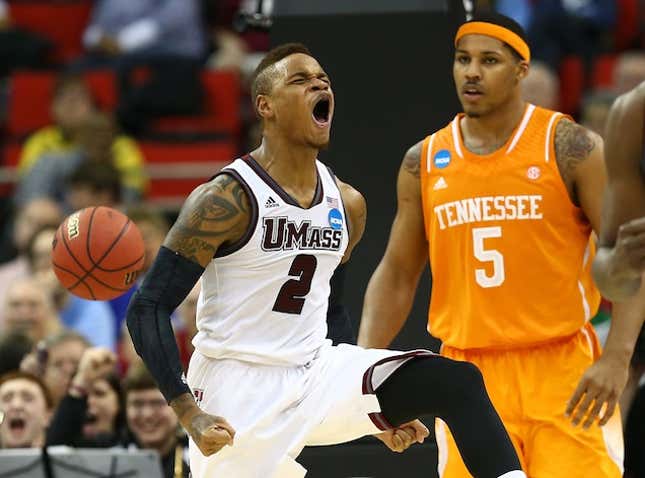 "Athlete Ally wanted to piggyback on Derrick's story," says John Sinnett, UMass's associate director of media relations. Photo by Streeter Lecka/Getty Images.
---
Gordon's coming out—the stories on ESPN and Outsports—were scheduled for Wednesday morning. The night before, Athlete Ally sent its press release to UMass, in one more attempt to get the university to officially sign off on Athlete Ally's involvement. It specifically named Gordon and indicated that Gordon had been outed to an athlete and coach on campus. It also mentioned Kenneth Faried.
Athlete Ally Congratulates UMass Basketball Player Derrick Gordon On Coming Out As Gay

NEW YORK, NEW YORK (April 9, 2014) – As reported by several media outlets, UMass shooting guard Derrick Gordon made sports history today by becoming the first openly gay active men's player in NCAA Division I basketball.

An Athlete Ally Ambassador Program is in place at UMass Amherst, and is officially sponsored by UMass athletes.

"Derrick's decision to live his truth as a proud gay man shows a tremendous amount of courage, and just how far we've come as an athletic culture," said Athlete Ally Founder & Executive Director and Co-author of Champions of Respect, the NCAA's guidebook to LGBTQ inclusion, Hudson Taylor. "UMass Athletics has already shown staunch commitment to LGBT inclusion in sports with its Athlete Ally Ambassador Program, and with the help of other groups from the LGBT Sports Coalition, I'm confident Derrick will find continued support and respect as an out athlete."

"It's exciting to see that barriers are being broken at all levels of basketball," said Denver Nuggets star and Athlete Ally Ambassador Kenneth Faried. "Jason Collins led the way in the NBA and now Division I men's basketball has its trailblazer. Our sport grows more accepting everyday."

Out UMass track and field athlete Peter Farlow has been a vocal Athlete Ally organizer through the campus ambassador program, and Women's Cross Country & Track and Field coach Julie LaFreniere is another ambassador for the organization, which implements peer-to-peer programming to cultivate allyship in athletics. The group provides a forum for all members of the UMass community to gather and discuss LGBT inclusion in sports, and has attracted various members, from women's rowing's Maggie Curran to football player Ed Saint-Vil.

"I chose UMass Amherst for its reputation for being accepting. I was a little worried that this culture would be limited to track, but that hasn't been my experience at all," said Farlow. "From working with Athlete Ally, and seeing Derrick coming out, UMass Athletics as a whole is showing that it's a place where anyone who has the talent can feel confident and safe playing sports while being who they are."

Gordon is a sophomore shooting guard from Plainfield, NJ, and attended St. Patrick High School. He began his collegiate career at Western Kentucky before transferring to UMass in 2012, whose run to the NCAA Tournament this year was the first in 16 years.

Athlete Ally Youth Programs Leader and former closeted Maryland football player Akil Patterson added, "I'm proud of this courageous young man, and I'm thrilled to see young people of color owning their identities. We're seeing more and more examples of athletes from communities of color feeling comfortable with who they are while still actively playing, and Derrick is a perfect example. He has an overwhelming amount of support from the teams at Athlete Ally and many other groups, and we'll do everything possible to support him."
Anthony Nicodemo was appalled. Gordon could no longer control the timing of his disclosure, which meant that he'd lost control of his own story. "What if it made Derrick change his mind?" he says. "Those emails made it to other coaches and student-athletes at UMass who had no business knowing. Derrick was ready to come out. But what if it was someone else?"
"You hope it wasn't for publicity," Nicodemo says of Athlete Ally's emails, adding that he warned Gordon about things like this: "People want a piece of you, to make you their own. This is going to happen."
---
Hudson Taylor is likeable. He's young, handsome, athletic, and knows magic tricks. He's a direct descendant of James Hudson Taylor, the famous Protestant missionary to China. His face and his patter seem perfect for fundraising, and it's not surprising that, even after his group's ouster from the LGBT Sports Coalition, other advocacy groups are still happy to partner with Athlete Ally. (Its current project, a series of discussions on LGBT and race issues called Voice to Voice, is done in conjunction with the National Center for Lesbian Rights. Athlete Ally's divorce from the coalition is "not that big a deal for us," says Carroll, the NCLR's sports project director.)
Hudson Taylor is straight, and that can present a problem in a movement dedicated to giving a voice to the long-marginalized. It's the million-dollar question: Who gets to be the face of the push for equality and tolerance in sports—the straight allies or the gay athletes themselves?
Not too long ago—even well after Athlete Ally first emerged—the latter wasn't an option.
"Two years ago, there just weren't the voices," Patrick Burke says. "The people who had to drive these conversations to start were straight people. Now we've found gay athletes, and those guys and girls are driving the conversation now. We've got enough LGBT voices in the space to do the work."
Burke, who is straight, was the face of You Can Play until last fall, when Wade Davis was named executive director. The next month, Burke announced his intention to step out of the spotlight, and called on other straight allies to do the same. "The dirty secret about the LGBT sports movement," he wrote at the time, "is that it's not an LGBT sports movement."
Burke is adamant that an ally never be on center stage. He notes that when he's invited to a speaking engagement, he brings three or four LGBT voices and moderates a panel. He draws a contrast with Hudson Taylor, who often has the lectern to himself.
"I offer very little to an LGBT athlete," Burke admits. "LGBT athletes offer everything to LGBT athletes. Jason Collins inspired Michael Sam, who inspired Derrick Gordon, who's going to inspire someone else."
Taylor says that's never been his goal. "You have allies who speak out, you have athletes who come out, and one fuels the other," he says. "I always envisioned Athlete Ally to serve one very narrow purpose within this larger movement.
"My audience is that straight community who doesn't think they should care."
But how to reach that straight community? "The single easiest way to create allies is by having those people know someone who's gay," Burke says. Taylor disagrees. This is a movement still in its infancy, he says, and it needs the participation of those with the power.
"There has never been a successful social-justice movement for a minority group without the support of the majority," Taylor says. "So our theory of change is sort of contingent upon this idea that until that straight player in that Midwestern locker room understands why this is important to him, then we're not going to get there."
For Anthony Nicodemo, who teaches social studies when he's not coaching basketball, an historical analogy comes to mind: the Freedom Riders and other white allies of the Civil Rights Movement. "Early in on a movement, you need the allies," he explains. "But when the movement reaches a certain point, the allies are still great, but they can't be out front."
Zeigler falls back on his own metaphor: football. "The allies are offensive lineman," he says, citing a commonly expressed analogy within the movement. "They block for the stars. The LGBT athletes are the quarterbacks and running backs. They get the attention. The allies are the silent supporters."
---
Taylor believes something pettier than ideology is at play here as well. He won't call it jealousy. He prefers to call it competition. He has an organization to run and to fund, and he makes no apologies for being successful at the job.
"I think a lot of it is competition," he says. "Personally, I feel like if we just did away with all the politics of it, we could actually end this [debate] in a very short period of time. It's not just people trying to change the world. It's also people trying to grow and run an organization, and that complicates things."
It's business—or, in the words of one media member who's dealt with numerous coalition organizations on various stories, "a dick-measuring contest." For a nonprofit, that business is publicity. You can't keep running programs without raising money; you can't raise money without exposure; and you can't get exposure if you don't get your hooks into the story of, say, the first openly gay Division I men's basketball player.
Taylor believes that some of the more powerful voices in the LGBT Sports Coalition have it out for him. He's not entirely wrong. While he still has friends in the movement, he lost others when he began violating its unspoken rules, which emphasize careful choreography on big announcements, seek to minimize the roles of individual activists, and always—always—strive to present at least the appearance of a united front. That last is why no one spoke openly against Taylor and Athlete Ally until the group had been bounced from the coalition.
Taylor says it's all counter-productive. "I get that we're all trying to stake this," he says. "But when we actively try to diminish the efforts of people we're on the same side as, it's inexcusable."
Taylor goes further, alleging that he's the victim of an attempted blacklisting. "There's an Iago in our midst," he says. He claims to have recordings of coalition members telling other organizations not to work with Athlete Ally. (Taylor declined to share those recordings with me, claiming he didn't want to play as dirty as his opponents. "We have a policy to say what we're for instead of what we're against.")
Taylor and Athlete Ally faced off against the LGBT Sports Coalition one last time in mid-April. For outing Derrick Gordon and other transgressions, members of the coordinating committee requested that Athlete Ally step down. For a week, the group refused—and, according to one coalition member, began to drum up support behind the scenes, just as it had when facing expulsion last October. Then, on April 23, the coordinating committee officially scheduled a vote. One committee member says it was clear that Athlete Ally wouldn't have the votes this time to avoid an ouster. The next day, Athlete Ally resigned from the coalition.
"My board is predominantly LGBT," Taylor explains. "The people I answer to are members of the community. They've given me the counsel: 'Hudson, this is slowing us down. It's hurting our ability to be effective, and we're going to be better served by stepping out of this body.'"
Taylor sent an email to the coalition. It read:
Dear Coalition Members,

My personal goal in establishing and building Athlete Ally has been to inspire athletes and coaches and those they influence to understand their responsibilities as leaders, to stand up against discrimination, and to actively show respect for the LGBTQ community. Athlete Ally believes there are different, but complementary, ways of doing this and we respect the diverse approaches being employed across this membership. At the same time, members of the community have shared tangible examples with us where other Coalition members have disparaged our theory of change and inaccurately portrayed our organization. We believe that such conduct puts all of our work at risk and undermines our common goal of ending anti-LGBTQ bias, bullying and discrimination in sports. That goal cannot be accomplished without good faith efforts from us all.

With regard to the events connected with Derrick Gordon of UMass coming out two weeks ago, we had prepared and sent our letter to the Coalition on Monday on the premise that it would be possible to explain our perspective to the core membership. I spent last week working carefully with our board and staff to identify the facts of the situation and prepare a comprehensive, accurate and informed reply. We had hoped the letter writers and Athlete Ally could identify misunderstandings and explore processes informed by these experiences. However, recent events have made it clear this will not be possible.

I'm writing now to notify you that Athlete Ally has decided to step away from our membership in the Coalition. This decision is not in response to the previous allegations, which we reiterate were based on inaccurate assumptions and mis-characterizations, as described in our previous letter. Rather, it reflects that events over the last several days have reinforced for us that the LGBT Sports Coalition is defining itself in ways that do not accommodate our theory of change.

My belief has been that collaboration would be best achieved from within the Coalition and that working through differences made more sense than creating distance between them. But, given recent events, our organization will reach out to individual Coalition members to identify opportunities to work together collaboratively from the outside and we will explore the process for us to potentially participate with Coalition activities as an affiliate. We will partner with, promote and respect the important work of this Coalition's member organizations and seek to support them through other channels. We would expect the same from the membership and trust that this will be a constructive path forward in which every party will prosper.

Together,

Hudson Taylor
"There are hundreds of organizations and groups that we have a wonderful, collaborative relationships with," Taylor says now. "We're going to continue to do that."
Taylor says Athlete Ally is currently drawing up a three- to five-year plan to determine what the organization hopes to be in the near future. Whatever else it decides, reaching straight allies will remain the key part of that mission.
"It is going to be challenging to keep the conversation going," Taylor admits. But he believes there's a silver lining in no longer being part of the coalition. "It will allow us to become the organization we believe in."
---
Image by Jim Cooke; photo via Getty.