The January transfer window is almost here, which means the rumor mill is just starting to rev up into the senseless, self-serving, outlandish, and dangerously addicting clusterfuck we've come to expect. And while some of the rumors can already be written off fairly easily—Barcelona to sell Busquets? lol—this whole Gareth Bale to Manchester United thing is curious because of how logical it all sounds.
Jokic? Embiid? The NBA MVP is obvious... right? | Keep it a Buck(et)
United's interest in Bale goes back to his days at Tottenham, when it was obvious the Welshman wasn't long for White Hart Lane. Reports from last summer had the Red Devils as an interested party in the transfer that eventually took him to Real Madrid, but neither Bale nor Tottenham were amenable to the move.
But if the papers are to be believed, there's been renewed interest. The picture up top is from yesterday's edition of Spanish sports daily AS, which features an article explaining that United would be willing to part with a staggering €153 million to bring Bale back to the Prem. The article goes into the reasons for the Red Devils' interest:
United are three or four high-quality players away from fighting with Manchester City and Chelsea. It's true that they are still not playing very well, that the system with three centre-backs does not quite work and that, aside from a comfortable win against Hull, they could have won or lost the rest of the matches that they played in the last month and a half. Van Gaal continues looking for the formula, although some of his tactical ideas confuse his players. He has already identified what he needs: he wants one or two centre-backs and a midfielder, someone who wins games.
G/O Media may get a commission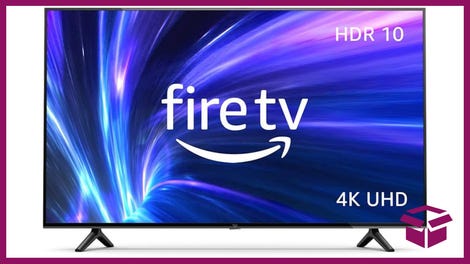 42% Off
Amazon Fire TV 50" 4K Smart TV
All of that is exactly right. United have enjoyed a positive run of matches lately, and while they've looked like serious contenders—and maybe even favorites—to lock down that all-important fourth and final Champions League qualification place, it hasn't been because of the beauty of their play. During this streak, they've been lucky to eke out victories, relying on the handful of studs in the side to carry the merely capable squad fillers they've been forced to shunt out on the pitch in the absence of better options. This very well might qualify them for Europe, but there will need to be significant investment in order to get them back to challenging for the big titles.
Despite this all making sense, AS then drops a wet blanket on the speculation:
And [United] would like Bale. But his clause is set at 1 billion euros and Real Madrid have no intention of selling the footballer. The Welshman's camp say that they don't know the origins of the stories, published in the UK, that claim that he would be willing to return to the Premier League. He is in his second season at Madrid and he is still very happy. [...] He scores in the finals, he has discovered how big the world is with Real Madrid and he does well enough to continue like so. In order to change his mind, United must use more than their financial power.
If neither Real nor Bale are actually willing to play ball, what looked like an intriguing option would revert to the same empty talk that pollutes every transfer window.
To understand any transfer rumor, you have to take a step back and try to recreate the steps of its inception. On United's side, the message's presence—which dates back weeks at least to the British press—here in AS is pretty straightforward. They would love to have a player like Bale, the only truly world-class Brit playing today, and are dying to convince superstars of his caliber to join their (hopefully, in their minds) one-year rebuilding project. This rumor's existence signals to Bale's representatives that they're interested if he is, and also signals to any future big-name transfer target that United is dead serious about spending to acquire the best talent.
But that AS—a Madrid paper that is often used as a way for Real Madrid's leadership to put out their own message—is reporting this with a certain level of seriousness is possibly suggestive that the proposal isn't as outlandish as they claim. The article is written by Guillem Balagué, a highly respected Spanish journalist, and you wouldn't expect them to put a heavy hitter on a topic if it were complete bunk.
As stuffed with goals and assists as Bale's stats sheet has been upon arriving to Madrid, he still isn't a perfect fit for how Real play. In manager Carlo Ancelotti's second year, the Blancos have drifted further from the muscular counterattacks of the José Mourinho era and have become more about possession, precision, and control. Slower attacking build-ups means less open space for Bale to gallop through, which is where his talents are truly unrivaled. Instead, the new system prioritizes more technical quality and intelligent interplay, something the 25-year-old Welshman still struggles with.
Bale also remains a total defensive liability, which is a problem for a team that already features the less-than-defensively-interested likes of Cristiano Ronaldo and Karim Benzema, plus frequently uses a midfield made up entirely of attacking mids.
For as well as Bale has performed, including goals in the Copa del Rey and Champions League finals, fans of the team are still a little unconvinced. AS coupled their story about United's interest with a poll this morning asking Real fans if they'd support selling Bale for €153M. Fifty-four percent said yes.
Adding pressure on Madrid to make a move are James Rodríguez's arrival, and especially the explosion of the young Spanish phenom, Isco. James has proven he was no World Cup fluke and is able to thrive in a number of positions besides his preferred number 10 role. Isco has exhibited a similar versatility, at times looking like Real's best non-Ronaldo player no matter where he lines up. Isco's taken the increased minutes he's earned with the injury layoffs of Luka Modrić and Bale himself and shown why he's one of the most promising young Spaniards currently playing.
James was already a guaranteed starter when Bale was healthy, but Isco is basically the player Bale can never be—a genie in tight spaces facing compact defenses, who never misplaces a pass, even the audacious flicks and through balls that unlock defenses. When Modrić returns and steps back into his position in central midfield, it isn't exactly clear whether the team would be better served playing Bale or Isco on the right wing.
(Isco's nationality plays a role here, as well. Real's president Florentino Pérez promised to incorporate more of a Spanish influence in the team to placate fans angry with watching a squad primarily made up of imports while Barcelona regularly ran out lineups dominated by not only Spaniards, but Barça youth players. Pérez has to understand the goodwill he could engender by cultivating the next great Spanish international.)
We also can't ignore another transfer rumor involving Madrid that could make a possible Bale sale make even more sense. It has to do with Borussia Dortmund's Marco Reus and his absurdly low buy-out clause that triggers this summer. Even before last season ended, Reus looked likely to join former teammates Shinji Kagawa, Nuri Şahin, Mario Götze, and Robert Lewandowski as young BVB ballers to make the move to one of Europe's elite clubs. And that was before the bottom finally dropped out on their run of replacing their departed best players with new stars, with this year looking more like a relegation battle than a title fight.
This past summer, there was speculation that Reus's contract included a release clause that came into effect in the summer of 2015, meaning Dortmund would have to accept any bid on the player that matched that price. Furthermore, the clause is reported to stand at a paltry €25M. On the free market, Reus would easily go for twice that amount. If the clause is anything close to that number, come July, every megaclub around the world is going to be circling Dortmund like vultures, trying to snap up what will probably be the best value purchase of the year.
Naturally, Real Madrid are one of Reus's primary suitors. If a player—a truly great one, as Marco Reus certainly is—wants to take the next step in his career and all but guarantee he'll fight for the world's most prestigious trophies, he typically has three options: Bayern Munich, Barcelona, or Real Madrid. Reus might want to avoid Bayern out of loyalty to BVB and his earlier club, Borussia Monchengladbach, or because Bayern already have about 16 elite attacking midfielders, which limits his potential role in the team, or simply out of a desire to try another league. Barcelona are currently facing a two-window transfer ban and probably won't be able to add anyone next summer. Real, on the other hand, offer the world's biggest club, the best team they've assembled in at least a decade, and the proven ability to win. The only thing standing in their way would be a place in the starting XI. Say, Gareth Bale's place.
Like Isco, Reus is at least theoretically a better fit than Bale for how Real Madrid want to play. He's never been technically overmatched a day in his life, is more committed to pressing and defensive work, and is better at connecting with the final ball. He's also a beast on the counter, with his lightning-quick speed, and can feint and dribble past anyone.
So, imagine this: Real Madrid make Gareth Bale the biggest transfer of all time by bringing him from Tottenham to Real for €100M, win their 10th European Cup with him in the side, win at least one more major trophy this season (as seems likely), then sell him off for a considerable profit and fill his spot with a player who might be just as good for a fraction of the cost, leaving over €100M for further investment.
There is one major potential monkey wrench in this scenario: Bale himself. At this point, as far as Bale is concerned, he is a shoe-in starter for the biggest and best club on the face of the Earth. Name-wise, he's probably the second biggest Galáctico behind Ronaldo, and is four years younger. As Ronaldo's grip on the club and its supporters slackens as his career winds down, Bale's influence will only grow, eventually placing him at the center of everything. Why leave this cushy setup for the unknown with United, in a league where Chelsea and Manchester City are the new hegemony, and who might struggle to put up meaningful wins in Europe?
The only way Bale's move back to England would make sense for him is if he wants to be the man now. Should he join United, he would automatically become the face of the club and of the league, really. With Ronaldo, Lionel Messi, Neymar, Luis Suárez, plus all the Spanish talent, Bale will probably never be seen as the prominent attraction for La Liga the way he would be in the Prem. At United he'd be what Ronaldo is at Real without the wait, and without the risk of another future teammate overshadowing him. It's hard to imagine United buying a player outshining the best British player in the world. It is a league he's already proven himself in, with a physical, athletic style of play that best suits him, and it's much closer to home.
Ultimately, we're still a ways away from seeing just how realistic this all is. The newspaper rumor game is just the first step of this process, and in any case, this would be a transfer for the summer, not next month. But it's not crazy to think there's at least preliminary interest on all sides. Of all the here-today, ignored-tomorrow transfer rumors we're bound to be burdened with in the coming weeks, this one will have staying power.
[AS]