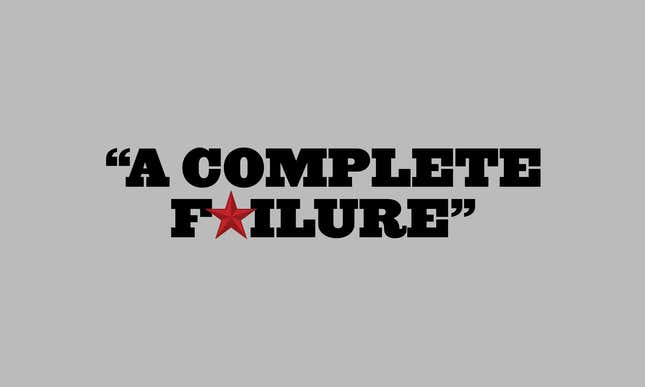 Last week, Vox Media's SB Nation published "Who Is Daniel Holtzclaw?", a 12,000-word profile of a 29-year-old former Oklahoma City police officer who this winter was tried for raping 13 black women while on duty; convicted on 18 of 36 charges of rape, sexual battery, forcible oral sodomy, and burglary; and sentenced to 263 years in prison. The story was reported and written by journalist Jeff Arnold and edited by Glenn Stout, head of the SB Nation Longform vertical. It was published at noon on a Wednesday, and the response was immediate and swift. Those who read it were furious with the story, which was so sympathetic that it comfortably qualified as apologia and read as an attempt to humanize a monster at the expense of his black, female victims. It was pulled within five hours by SB Nation editorial director Spencer Hall and replaced with an editor's note from Hall, who called it a "complete failure." You can read a cached version of the story here.

Two days after the profile was published and pulled, a pair of memos went out across Vox Media. In one, SB Nation vice president of editorial Kevin Lockland wrote that SB Nation had severed ties with Arnold and suspended the SB Nation Longform vertical, and that Vox Media was conducting an internal review led by Vox Media editorial director Lockhart Steele. In another, Steele divulged to the company that he, along with five women around Vox Media—Recode founder Kara Swisher, Eater executive editor Helen Rosner, Vox.com managing editor Lauren Williams, Katie Nimick of Vox Media human resources, and Miriam Nissly in the company's legal department—will "seek to reconstruct, from pitch to publication, exactly what happened with this story at SB Nation, and why."
Since the story's publication, Deadspin has worked along a similar track. We found, in the course of our reporting, that the failure here was in part a function of structural problems at SB Nation, which set up a system that would allow it to enjoy the benefits of running longform stories without actually having to do much work on them, and in part a function of the style and sensibility of Glenn Stout, who has, we can report, already been fired. [UPDATE, March 16: Stout has provided his version of events in a letter sent by his lawyer, along with accompanying exhibits; it can be found at the bottom of this post.] We also found that this failure could have been averted if only Stout and top editorial staff had listened to one of their colleagues, senior editor Elena Bergeron, who explicitly and repeatedly drew attention to the story's flaws in the days leading to its publication—and was, somehow, ignored.
---
To understand what happened here, it's important to understand the structure of SB Nation, a vast, tangled web of properties that exists in two parts. The first is SBNation.com, a website unto itself with a staff of about 30 writers, editors, and producers. Four people—Hall, Bergeron, Lockland, and managing editor Brian Floyd—oversee the site. The second is the SB Nation network, a community of over 300 sites dedicated to different teams, sports, and leagues around the world. Some of the sites in this network are run by a single blogger; others have rather large staffs; nearly all are basically autonomous. The site and the network are related but distinct.
SB Nation Longform is, or was, within the network. Stout, a 57-year-old author and editor who has curated the yearly The Best American Sports Writing anthology since the book series was launched in 1991, was its sole editor, brought on in 2012 after SB Nation's editors decided that a longform program could create a more adult, robust site. He was chosen because of his experience and also because he was the editor of The Best American Sports Writing, the prestigious yearly anthology. With Stout at the helm, the idea went, SB Nation would be able to attract the kinds of pieces that fill its pages.
Several people close to the site have described Longform as Stout's "fiefdom." It showed in the stories it ran, which just as BASW ran toward the overtly masculine and the stoic, and in the site's set-up, unique among network properties. He worked as a full-time employee, answering only to Hall, with the two selecting pitches from freelancers to commission and then Stout editing the stories alone. Longform existed as a website adjacent but tethered to SBNation.com; Vox Media's legal department looked over Longform stories where the law applied, Hall communicated with Stout, and SBNation.com's copy editors and producers made last passes over Longform pieces when they were ready to publish. Longform stories published on both sites simultaneously, and SB Nation enjoyed the perceived prestige Longform and Stout provide.
Arnold had written for Longform once before the Holtzclaw story, and also freelanced for the Associated Press, Chicago Sun-Times and The New York Times. Per the bio below "Who Is Daniel Holtzclaw?", he "covered Daniel Holtzclaw's entire Eastern Michigan football career for The Ann Arbor News" when Holtzclaw attended between 2005 and 2009. He pitched Stout and Hall a piece on Holtzclaw; according to an apology Arnold published on Feb. 22, 2016, this is what Arnold set out to accomplish:
I hoped to present a more fully-rounded portrait of Mr. Holtzclaw than had appeared in the press. I hoped to explore the question of what had happened to this once-promising young man. I and my editor at SB Nation hoped to find possible answers as to what could have led to him to become a convicted rapist and sexual predator.
Arnold spent two months reporting and writing the profile, which largely focused on and sought profundity in Holtzclaw's collegiate football career, which was that of a pretty good player who worked hard and liked to lift weights, but was too short and too slow, and, ultimately, not talented enough to contribute to a D-I powerhouse or play in the NFL. Holtzclaw was, as Jezebel's Kara Brown succinctly summed it up, unexceptional.
In reporting the story, Arnold spoke to Holtzclaw's lawyers, parents and old teammates, coaches, and friends, who were either shocked by or in denial about Holtzclaw's crimes and conviction. He investigated theories that Holtzclaw had possibly used steroids, or may have been suffering from CTE. Holtzclaw was sentenced Dec. 10, 2015; over the next two months, Arnold and Stout pored over the story together. Arnold declined comment for this story, but freelancers who have worked with Stout in the past have attested to his thorough editing. One recent Longform freelancer told Deadspin that his piece went through several drafts before it was ultimately published. Another, Matt Tullis, wrote about his experience on Twitter:
By the end of the process, what emerged was an overly long and painstakingly detailed account of Holtzclaw's time as a college athlete, wherein a case was made through well-placed character witnesses that Holtzclaw was a good person with a "number of black friends." The story gave voice to doubts about whether he raped these women at all, and floated the theory that if he did, it may have been because he'd "become unhinged" due to the heartbreak of not making the NFL and other circumstances outside of his control.
"Who Is Daniel Holtzclaw?" was to be a high-profile story for SB Nation. Sources with intimate knowledge of the editorial process told Deadspin that Hall, Lockland, and Floyd all read the story at various points over the course of the editing process, though Lockland tells us he did not. On Thursday, Feb. 11, Stout deemed the piece ready to publish, upon which, two sources close to the story said, he emailed the final draft to most of SBNation.com's senior editors—though, curiously, not Bergeron. (Why she wasn't included, we can't say; Stout repeatedly declined to comment throughout the reporting of this story.) He also sent the piece to an SB Nation producer tasked with adding photos, graphics, and pull quotes to make the copy more presentable to readers. The story was added to SBNation.com's editorial calendar to be published Wednesday, Feb. 17. On Monday, Feb. 15, Elena Bergeron was then forwarded Stout's email by Brian Floyd, and read the piece.
Bergeron is an experienced journalist; before she started at SB Nation, she spent a year as the editor-in-chief of Triangle Offense, Complex's basketball blog, and 11 years as a staffer at ESPN: The Magazine. At SB Nation, she works with staff writers and freelancers every day both on shorter posts and longer, more ambitious features.
"I couldn't believe what I was reading," Bergeron tells me. Bergeron, who's black, was so shocked by how bad the story was that she had to read it twice. She says she asked copy editors and a producer if they read the piece thoroughly while working on it, and that they told her they had and thought it was unpublishable, but didn't think it was their place to say anything to Stout. On Monday evening, she took notes and compiled a list of all the piece's shortcomings. Then she sent an email about her concerns to Stout, Hall, Lockland, and Floyd.
Bergeron says her basic critique was that the people Arnold spoke to hadn't been prodded or treated critically enough, which gets at the piece's real problem. For a story that centered on Holtzclaw to work, it had to look at the people around him, who thought they knew him best, not as sources, but subjects. Instead of retrying the case through one-sided interviews, it would be far more illuminating to explore exactly how and why these people couldn't reconcile the facts about Holtzclaw with what they knew of him. Here was a beloved son, friend, and teammate; here, too, was a prolific serial rapist. If Arnold weren't deluded, perhaps he would've seen that what he'd reported was a study of delusion.
"I wanted to go point by point and discuss it editorially," Bergeron says. "I didn't want anyone to misunderstand why it was harmful and offensive. I wanted people to understand why."
[UPDATE, March 16: Bergeron's email can be found as an exhibit in the letter at the bottom of this post, along with an email Stout sent Brian Floyd in response, in which he writes, "It's quite something to get a note like that from Elena five days after the story has been turned in and one day before it's running. [...] If people had concerns about this story, why was that not communicated to me days ago?" Over email, Stout told Deadspin that he "found no urgency in her remarks and no inferences that there were deep issues with the story."]
On Tuesday, Hall was on vacation and Lockland was traveling, so Bergeron held a conference call with Floyd and Stout. Bergeron said the tone was, from the very beginning, off. She repeated that there hadn't been enough journalistic due diligence, and that the stark reality of the situation—that the subject of the story was a man who had recently been convicted of using his station to rape and prey on 13 black women—was never met head on. If nothing else, given SB Nation's partnership with the national anti-sexual assault organization It's On Us, the very language used regarding the sexual assault was inconsistent with their new editorial standards. Stout, though, disregarded Bergeron's objections, and the intense conversation devolved into an argument over the phone. When the three hung up, the problem was unresolved, and it was still unresolved on Wednesday morning.
[UPDATE, March 16: Over email, Stout told Deadspin, "I thought the call unfolded in business-like fashion. [...] Voices were never raised by anyone." He also points to an email in which Bergeron responds to minor tweaks that were made in the story with "Works for me. Thanks for being so receptive!" as evidence that, in his view, her criticisms had been addressed.]
With Hall and Lockland gone, Floyd had more editorial power than he was accustomed to, but, according to sources at the site, still didn't feel he had the authority to unilaterally pull the article. Wednesday was Hall's first day back from vacation, so he spent much of the morning getting settled, and Lockland was still traveling. When a producer scheduled the story, Floyd didn't take it down, and at noon, "Who Is Daniel Holtzclaw?" went live.
The feedback was immediate, outraged, and, as one source remembered, uncannily articulate. SBNation.com's social media editors, charged with pushing the story onto Twitter and Facebook, were the first to feel the blowback. Then came the comments on the article itself. Finally, SBNation.com employees began reaching out to the editors themselves.
Five hours later, Hall pulled the story. SB Nation Longform and Stout were both suspended indefinitely. Arnold will never write for the website again, and the Associated Press has cut ties with Arnold, as well.
In Hall's apology, he called the fiasco a "complete breakdown of a part of the editorial process at SB Nation," which is correct, but probably doesn't go far enough. A breakdown—not necessarily one that attempted to redeem a monster while ignoring the suffering of his victims, but something serious and avoidable—seems in retrospect to have been nearly inevitable.
---
There is no such thing as longform writing. There is such a thing as features writing—profiles, investigations, essays—and if it's prestigious, that's mainly because of its association with careful selection of subjects and with vigorous research, reporting, editing, copy-editing, and fact-checking. A feature carries an implicit assertion that a publication has invested money, time, talent, effort, and care to produce something of depth. Longform is a variant of feature writing—a branding strategy, really—that confuses a secondary indicator (length) for the thing itself (quality). As the name implies, it asserts nothing more than that a certain mass has been attained.

When Stout launched SB Nation Longform in the fall of 2012, the idea was very much that Stout could bring prestige to the site by regularly running long stories—not stories aspiring to a certain complexity, note, but long ones. One freelancer said that per the terms of his contract, the story had to be at least 4,000 words long.
One problem here, as the name of the vertical implies, was the elision of the difference between features writing and longform. Another was that SB Nation never provided Stout with the infrastructure necessary to turn out work of consistently high quality, at whatever length. What he would have done with it is an open question; as he explained in the foreword to the 2007 edition of The Best American Sports Writing 2007, Stout believes that every additional edit by each additional editor strips a draft of its life: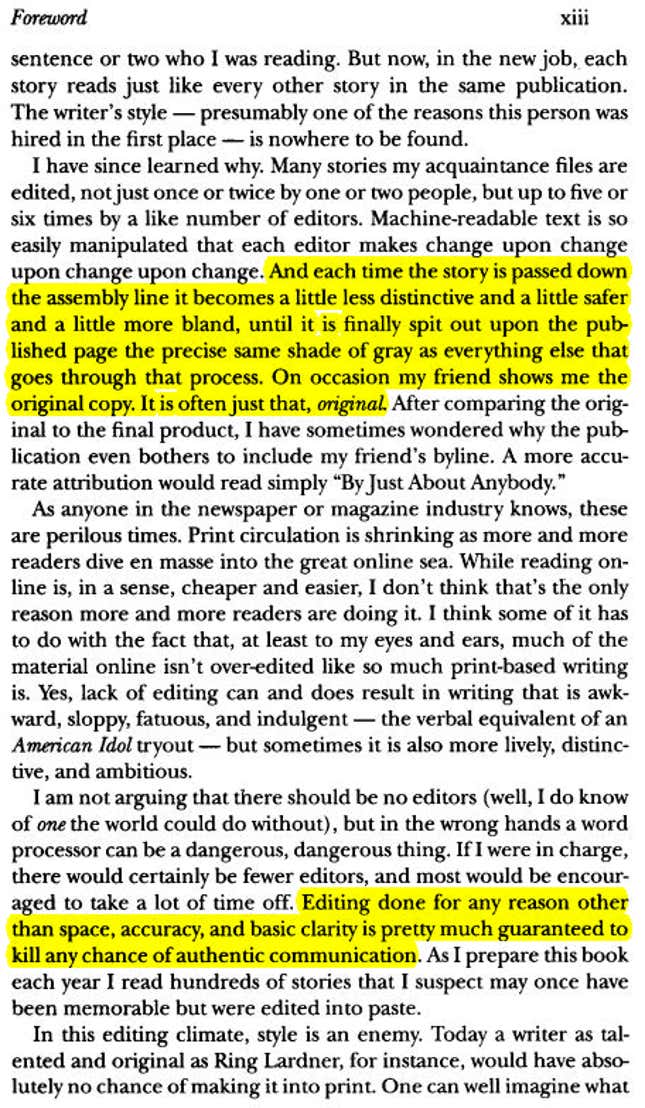 Over time, this sensibility showed itself in the work Stout was doing. Many SB Nation Longform stories are 6,000-7,000 words long because, per one freelancer, Stout feels that is the ideal length for a reporter to tell a story and add detail. Nearly all of these stories are about embattled men, many of whom are white; football dominates. Gravity drips from each word and every filtered lead photo, and in all, most every piece reads as if the writer is trying to make it into The Best American Sports Writing. A pitch about a college football player with professional ambitions who became a cop only to find himself rotting in a jail for the rest of his life was precisely the kind of grim, muscular story Stout would go for. It came out predictably.

In an article nearly twice as long as those that usually come out of SB Nation Longform, the word "women" appeared 17 times; "rape" and variants, 11. Arnold described just one of Holtzclaw's encounters with a victim, and never reckoned with the implications of the officer using his station to pillage the very women he swore to protect. The tone of the entire piece is fawning and forgiving; by the end, the terrifying, spectacular spree of rapes exists as little more than an unfortunate occurrence, and a 263-year sentence as an unjustly harsh burden Holtzclaw has to bear. Holtzclaw destroyed 13 women's lives; "Who Is Daniel Holtzclaw?" told the story of how they destroyed his.
Arnold, who pitched a story to which he probably couldn't do justice, forgot about the black women at the heart of this story. His feature could still have been salvaged with the right editors working through the piece, eyeing it from different angles, and interrogating the weaknesses of its assumptions and the reporting that went into it. But Stout, the older white man who worked alone with Arnold through the editorial process, also forgot about these black women. And nearly everyone else who touched it seems to have either forgotten about them or to have felt it wasn't their place to say anything. This was true, apparently, of everyone but Bergeron.
Among other things, this story serves as an example of why diversity in the newsroom is so important. It isn't because diversity is charity, or because giving opportunities to people other than white men is a Christlike thing to do, but because everyone has blind spots, and everyone fucks up. Bergeron was there, and the best-suited to work on the story alongside Arnold and Stout—not just because she's the only person of color and the only woman among SBNation.com's top layer of editors, but because she's capable and experienced. Not only did Stout never enlist her to cover his and Arnold's blindspots, though, but when she did so anyway, he disregarded her, and was empowered to do so. The habits of thought embedded in the name SB Nation Longform—the tendency to view the seriousness of a feature as a function not of rigor but of length—converged with the homogeneity of the senior staff and the structure of the operation itself, and ended in a disaster.
All media operations have flaws inextricable from their structure and the culture upon which they are built, which leave them open to very specific failures. Deadspin, for example, is both smug and defiantly skeptical; at our worst, we'll assert we've proved a negative when we haven't. Buzzfeed is an advertising shop with a journalism wing; at its worst, the company will pull its own articles at the behest of brands. SB Nation is a virtual monoculture, built to profit from writing done with minimal infrastructure devoted to it and deeply unserious about ambitious things. It's not surprising that at its worst, SB Nation would badly mishandle a story like this one.
Wednesday, there was a daylong Vox Media meeting in Washington, D.C. Company brass spoke about SB Nation's structure, demographics, and the failed safeguards that could have stopped the fiasco. After it was over, Hall told Deadspin, "Glenn has worked his last day at SBNation.com."
In our reporting, we found that lots of people within SB Nation and Vox Media were more than willing to point to Stout and Arnold as bad actors here, and there's no real reason to think they weren't. (What the company finds may well remain unknown; we're told the results of its inquest are unlikely to be made public.) With those two properly anathematized, though—Stout is gone and the SB Nation Longform program for all intents and purposes dead, with one well-placed source telling us that if it ever relaunches, it'll likely be in a different form—the company must now go about fixing what was very much an organizational failure. Perhaps it actually will.
[UPDATE, March 16: Below is a letter Glenn Stout's attorney sent to Deadspin on March 7, accompanied by exhibits which trace Stout's correspondence with various SB Nation staff.]
Image via Jim Cooke