When the NFL season got off to an ugly-ass start, the diagnoses came quickly and confidently: a lack of good quarterbacks, fewer quality offensive linemen emerging from the college ranks, reductions in offseason practice time and padded practices, defenses that are catching up. None of these root causes was wrong, necessarily. But now that the first quarter of the season is in the books, it's becoming clear that some offenses are finding ways to thrive by being innovative with what they do. Basically, smart coaches are overcoming the game's built-in obstacles by actually coaching.
The dearth of good quarterbacks is obvious, as anyone who's had to watch Scott Tolzien, Tom Savage, and Mike Glennon get fitted for clown shoes as starters could see. But even though it's true that most of the top-shelf QBs are currently in their 30s, the NFL has always been short on fine quarterback play—pick any year at random, and you'll find yourself sifting through a pile of dreck with at least 200 pass attempts. Take, say, 1991, where that list includes such luminaries as Don Majkowski, Steve Bono, Jeff Kemp, Tom Tupa, Jay Schroeder, Hugh Millen, Erik Kramer, Steve DeBerg, Mike Tomczak, and John Friesz. (Even while you've blocked it out of your memory, and probably only remember the six Hall of Famers on the list.) As a Steelers fan whose formative years were spent watching Cliff Stoudt, David Woodley, Mark Malone, and Bubby Brister try not to throw footballs into the Monongahela, I can assure you it's always been like this.
---
The O-line situation feels like something altogether different. The growth of quick-strike spread offenses in college has meant more O-linemen entering the NFL without having had to do many of the basic functions involved with playing their positions. This year, for the first time in the history of the draft, no offensive linemen were taken among the top 15 picks. Combine that with workplace rules that have shortened the offseason program and limited padded practices, and it's not hard to see the kind of detrimental effect this creates.

"You come in less technically ready, and offensive line is the position that needs the most reps in pads, because that's the game we play," former NFL offensive lineman Geoff Schwartz told me. "You might have one run play, and you might need to see it against the same look four times, and then a different look four times, and another look four times. You need a lot of reps, seeing everything happen fast—and you don't have that anymore. And then, if your technique is not very good, you don't have the time to work on it as much."

A couple of weeks ago, Patriots head coach Bill Belichick echoed this sentiment in one of his long disquisitions on the game's nuances:
"It's like, you go out to the driving range and hit drives and hit balls, but you can't go on the putting green. And then, to think that your putting is going to be at the same level as your driving when you can't really practice it, it's not really realistic. But, again, all teams are operating under the same set of rules, so it is what it is. But it's hard. It's hard at that position. It's hard to tell a guy, 'This is what you should do,' but he really can't go out and practice it."
G/O Media may get a commission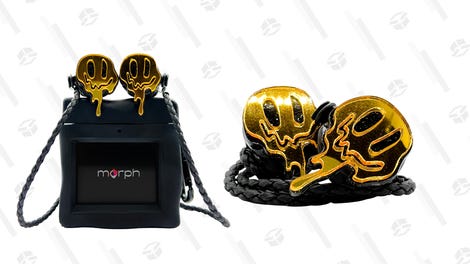 morph audio
Morph Earphones
Schwartz was an NFL offensive lineman for eight years. Even as he discussed the influence of the college game and the lack of practice time and the negative impact it's had on line play, he also noted that social media's immediacy and the proliferation of advanced stats that purport to measure O-line play has had a way of highlighting mistakes that weren't always obvious in the past. For the first time, a missed block is as noticeable as a missed field goal.
"I do think this is an issue, where every time a lineman has a bad play, it's on Twitter," Schwartz said. "And I'm guilty of sharing those, but I do it more from a learning standpoint, kind of, like, what went wrong here, rather than mocking somebody. But that's what we've done, where every bad play is magnified now. There are teams that have very bad offensive lines, and there are teams that have good offensive lines. I think what we're missing is the middle ground. There's not a lot of average, and that I think is a product of what the NFL is in general."
This speaks to a larger issue that's become manifest in the NFL's salary structure, whereby a rookie-wage scale is working to keep salaries low even as a handful of players make lots of money at the top end as the salary cap keeps rising. "There's not a middle class in the NFL," Schwartz said, and this is especially true along the offensive line. As The MMQB's Albert Breer noted, five free agents with a combined five Pro Bowls and one All-Pro selection between them signed free-agent deals with an average annual value of at least $11 million this offseason—high prices for players who aren't exceptional talents, sure, but nothing that did anything to substantially reset the market. And with virtually every team stockpiling cap space and rolling it over because league rules only mandate a cash-spending floor across four-year intervals, teams are less likely to sign a veteran who might provide exactly the sort of experience that's lacking. John Greco and Louis Vasquez went from being regular starters to out of the league in a hurry in recent years, though the Saints just signed Greco off the street on Tuesday due to injuries.
"There's no incentive to sign veterans," Schwartz told me. "So the rookie-wage scale has driven down the [compensation] to veterans, and teams get locked into a rate for the rookie, and they're just going to pay that rookie."
---
Defenses are starting to catch on to what offenses are doing with shorter throws, extra receivers, and running backs and tight ends capable of functioning as pass catchers lined up all over the formation. But the Chiefs, Titans, Texans, Rams, and (of course) Patriots have countered with creativity. And they've done it with various personnel groupings and formations, plus a combination of play-action, read-option, and run-pass option play calls.

Robert Mays of The Ringer recently provided an excellent breakdown of what the Pats, Titans, and Chiefs are doing. New England has found a way to create mismatches by running or throwing out of sets that might dictate the opposite, while the Titans this year have added capable pass catchers to their retro system, which makes great use of running backs DeMarco Murray and Derrick Henry along with the versatile skill-set of quarterback Marcus Mariota (who's now injured). I'll come back to the Chiefs in a bit. First I want to talk about the Texans and rookie quarterback Deshaun Watson, who just hung 57 points on the poor Titans one week after taking the Patriots to the brink in Foxboro.
The Texans drafted Watson 12th overall and quickly put him behind the wheel after Savage couldn't get out of his own way in the first half of Week 1. To make matters worse for Watson, the Texans are without veteran left tackle Duane Brown, who is holding out. Yet Watson's baptism by fire behind a dreadful line has since quickly given way to an efficient use of his threat to run. Head coach Bill O'Brien has more than made up for whatever brain fart caused him to start Savage by designing an offense ideally suited for Watson.
Basically, just by knowing Watson can do this if he needs to ...
... the Texans are able to set him up to throw by using lots of play-action fakes, like this:
Per Pro Football Focus, Watson has used play-action on 27.4 percent of his throws, which is second only to Trevor Siemian of the Broncos' 29.6 percent. When using play-action, Watson has completed 67.6 percent of his passes, with a passer rating of 121.0. Watson's overall yards per attempt is 7.1, but on play-action throws it's 8.5.
Watch Watson punch the Titans on Houston's second play from scrimmage. First, he sold a read-option fake that got the defensive end to bite inside, which bought him the time to step up in the pocket to avoid pressure. But notice the way Watson looked to his right to get the deep safety to step that way before whipping the ball deep up the left seam to Bruce Ellington for a 35-yard gain:
And as Danny Kelly of The Ringer noted, Watson used read-option—a staple of his game at Clemson—on two of the Texans' touchdowns. One was a pitch to Lamar Miller:
The other was a keeper:
Regular readers of this website know all about Jeff Fisher's incompetence as his tenure as Rams head coach petered out. But the early returns on first-year head coach Sean McVay's rebuilding project show just how close Fisher came to ruining Jared Goff and Todd Gurley. Goff has used play-action on 26 percent of his dropbacks—fifth-most in the league—and his passer rating is 115.5 on those plays, per PFF. Goff flailed around with a passer rating of 63.6 last year under Fisher; this season, he's third in the league that category (112.2), while also leading the NFL in yards per attempt (9.2) and yards gained per completion (13.7). And Gurley, who averaged a meager 3.2 yards per rush last season, is back to his 2015 rookie form with 596 yards from scrimmage, second only to the Chiefs' Kareem Hunt's 659.
This offseason, the Rams went out and signed a veteran left tackle in Andrew Whitworth and traded for a speedy receiver in Sammy Watkins. And, as Brian Baldinger pointed out, they're smartly using Gurley to create space elsewhere for Goff to do his thing:
Then there are the Chiefs, the league's last unbeaten team. In a year in which they traded up to draft their quarterback of the future, the Chiefs have found a way to get the best out of 33-year-old Alex Smith by having him run an offense that bears a lot of similarities to the spread system he played in college. As a result, the Chiefs lead the league in yards per play (6.78) and are third in red-zone percentage (66.7), while Smith has the NFL's best passer rating (124.2) in addition to having thrown for eight touchdowns without an interception.
Smith has been sacked 16 times—second only to the Cardinals' Carson Palmer's 17—but the Chiefs have found ways to limit his exposure to a lot of the hits outside the pocket that can come with playing read-option and run-pass option. They do this by taking advantage of Hunt's and Tyreek Hill's speed and Travis Kelce's ability as a pass catcher. But they don't just do it by simply lining them up and hoping to create mismatches. Instead, the Chiefs use jet-sweeps, the shovel pass as a read-option, and lots of pre-snap motion to create misdirection. As Jon Gruden put it during Monday night's broadcast, "So many different personnel groupings in this Andy Reid offense. [It's] head-spinning."
Geoff Schwartz, whose brother, Mitchell, is the Chiefs' right tackle, put together a terrific video breakdown of how this all works:
Coaches may not like what the colleges are giving them, and they can complain all they want about the practice rules. But a quarter of the way into the 2017 season, the coaches who are winning games are the coaches who are finding ways to deal with it.