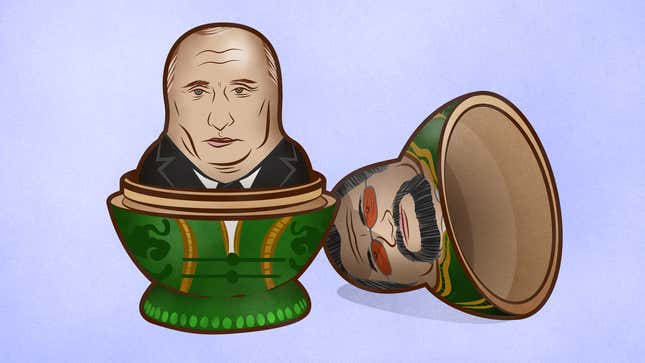 On a crisp November morning in Moscow, Steven Seagal found himself within the walls of the Grand Kremlin Palace, seated across from Vladimir Putin, the most powerful man in the Russian Federation. Dressed in a blood-red kimono and black trousers—a throwback to his days as a martial artist—Seagal observed the Russian president from behind his trademark amber-tinted glasses. The two men sat around a small marble table with a little red passport in its center. Cameras hovered around them to broadcast the meeting across the federation. Within a matter of moments, Putin would personally present Seagal, a U.S. native, with Russian citizenship.

How running an NFL team is like running a restaurant | Chef Emeril Lagasse
Once Putin handed Seagal the passport and showed the actor where to sign, the two men rose from their seats and shook hands. While the president later stressed that Seagal's citizenship was an "absolutely depoliticized act," the passport signalled Putin's interest in improved relations between the Russia and the United States. At the time, Seagal marked the latest in a list of Western celebrities that had been granted citizenships after befriending Putin.
Indeed, while Seagal did strike a well-publicized friendship with Putin, he has also been a useful ally for the president during his tenure in office. Seagal has publicly defended Putin's annexation of Crimea, referring to his policies as "very reasonable." He also claimed that Western media's opposition to Putin was designed to propagate the agenda of former US President Barack Obama. As a result of his loyalty to Putin, Seagal was rewarded with Russian citizenship in late 2016.

In the year since becoming a Russian citizen, Seagal has cozied up to several other dictators, including Chechnya's Ramzan Kadyrov and Belarus's Alexander Lukashenko. Each meeting served the particular purpose of bolstering the respective leaders' hard-man image. Yet why is retired martial artist turned actor a willing pawn in these political games? Understanding Seagal's strange pivot towards politics begins by understanding the various benefits world leaders have to gain by associating with him.

Steven Seagal Really Loves the Eastern Bloc
For those unfamiliar with his work, Seagal began his career as a martial arts instructor in Japan before making his acting debut in 1988. Over the next three years, Seagal would go on to star in several successful action movies that propelled his popularity in the United States. While his Hollywood career peaked in the early-to-mid '90s, he continues to produce and star in straight-to-VHS (and eventually DVD) releases. It was Seagal's acting career that initiated a relationship with Putin.
Putin and Seagal first met in 2003, when the actor was a guest at the Moscow Film Festival. During the multi-day event, Seagal seemingly expressed his deep respect and admiration for the president, which helped spark nearly 15 years of friendship. Naturally, the two men—both blackbelts in Japanese martial arts—bonded particularly well through a shared interest in combat sports.

Over the years, Seagal continued to return to Russia to meet with Putin, who seemed keen to associate with the retired martial artist as part of his cult of personality—a macho persona fashioned from television stunts, topless photoshoots, and choreographed public adulation—he propagated throughout Russia.
In attempts to bolster his hard-man image, Putin has associated with celebrities like Jean Claude Van Damme, legendary mixed martial artist Fedor Emelianenko, and others like Mickey Rourke and Sharon Stone. However, Putin only really began to find practical uses for his friendship with Seagal in 2013.
In 2013, Seagal and Putin were photographed at the Sambo-70 school, a renowned Moscow martial arts academy that dates back generations. The public appearance brought the necessary attention and media coverage for the president to promote the relaunch a nationwide physical training program originally introduced in the 1930s under Stalin. It was the latest attempt for Putin, who at the time had just begun another six-year term at the helm of the Russian Federation, to rekindle Soviet nostalgia.
The program, known as the GTO, the Russian acronym for "Ready for Labour and Defense," required all students in schools and universities to regularly pass physical tests. The training tests were supposed to help prepare Russian youth for service in the Red Army. However, the program lost momentum over the years and ceased to exist by the fall of the Soviet Union in 1991. Yet Putin believes a modern interpretation of the system would be useful for Russia's youth, whom he claims were in "significantly worse" shape than decades earlier.
"The revival of this system—in a new, modern format—could bring major benefits," Putin told school teachers and coaches during his appearance at Sambo-70.
Much of the day's events were choreographed, including Seagal's role. When Putin was surrounded by swarms of children trying to pose with him, Seagal rushed into the crowd and pulled the president out, as though playing the role of Putin's security detail.
The subliminal messaging behind Seagal's appearance with Putin was simple: Russia's youth should emulate the retired martial artist and aspire to be as tough as he was in his prime. Seagal helped legitimize Putin's presidency during a period where his popularity had plummeted significantly.
"I want to be polite and say I don't know him very well," said Seagal, when asked about his relationship to Putin. "I would like to think I know him well. But I know him well enough to know that he is one of the greatest world leaders, if not the greatest world leader alive."
Despite waning popularity in the U.S., Seagal became an unofficial celebrity spokesman for Putin. After the president's decision to annexe the Crimean peninsula in 2014—a decision that was vehemently opposed by his Western counterparts—Seagal publicly defended Putin's stance "to protect the Russian-speaking people of Crimea, his assets, and the Russian Black Sea military base in Sevastopol … [was] very reasonable."
The longstanding friendship between Putin and Seagal quickly became mutually beneficial. Seagal's faltering stardom was revitalized in Russia, while Putin gained a political ally to salvage his image in the West. The Russian president put this theory to test when he proposed to the Obama administration that Seagal be appointed as Russia's "honorary consul" in several U.S. states. The proposal would have positioned Seagal as an official envoy and mediator between Washington and the Kremlin when all other avenues had deteriorated. According to Buzzfeed News, Obama was "flabbergasted" by the proposal.
"Our reaction was, 'You've got to be kidding,'" said a U.S. official who was present at the meeting.
While Putin's offer was rejected, it emphasized his willingness to place Seagal in political intermediary situations for back-channel discussions. In 2013, Seagal accompanied a U.S. congressional delegation to Russia following the Boston Marathon bombings. Rep. Dana Rohrabacher later revealed that the actor "opened up some doors for us" which allowed for "high-level discussions."
While Seagal did not respond to Deadspin's numerous requests for comment, he recently told Good Morning Britain that his friendship with Putin is strictly non-political.
"Him and I started out becoming friends over the martial arts," said Seagal. "We don't have a political relationship. We really talk about the martial arts, philosophy, people and dilemmas in life."
---
Seagal's friendships with politicians and world leaders doesn't stop at Putin. Shortly after being embraced by the Russian president as a potential ally in 2013, Seagal was invited to Grozny, Chechnya's capital city, where he spent a few days with the republic's warlord, the Kremlin-backed Ramzan Kadyrov.

Seagal was pictured touring the Chechen capital with Kadyrov and his henchmen, where they admired military drills and took in the recently erected architecture. The straight-to-video actor even attempted to dance the Lezghinka, a traditional Chechen dance.
"Nobility. Willpower. Honor," read the caption beneath a picture of Kadyrov and Seagal on the Chechen leader's infamous Instagram account. "Qualities, characteristic of Chechens. So we can say he is almost a Chechen!"
Seagal returned to Chechnya just a few months later in May, where he attended a gala concert dedicated to the 195th anniversary of Grozny. Following the event, Seagal was quoted referring to Kadyrov as a "great leader" despite the Chechen dictator's well-documented and decade-long spree of human rights violations.
In 2015, Azerbaijan's President Ilham Aliyev became the latest authoritarian leader to extend an invitation to Seagal. The C-list action star visited Baku, the seaside capital of Azerbaijan, later that year to host an aikido masterclass for aspiring students. This proved to be an irresistible propaganda opportunity for the Azerbaijani government. State-media footage showed Seagal and Aliyev deep in conversation. According to reports, the TV announcer assured viewers that the actor had congratulated Aliyev on the success of the 2015 European Games during their talk.
Under Aliyev's regime, journalists, human rights activists, and dissidents, have been targeted by extrajudicial arrests, false imprisonments, and forced disappearances. According to Human Rights Watch, Azerbaijan continues to crack down on free expression and critical journalism. Despite this well-documented fact, Seagal seemed eager to work with Aliyev.
"I was lucky enough to meet with your president and look forward to working with you as my family," Seagal told students in Baku during his masterclass.
Seagal's tour of the post-Soviet dictators continued in August 2016, when he visited Minsk and stayed in the home of Belarusian president Alexander Lukashenko. The controversial ruler, dubbed the "last dictator in Europe," gifted the actor with two watermelons and a carrot during a bizarre excursion that has since gone viral on social media.
"Eat, this is very good for your health," said Lukashenko as he handed Seagal a carrot he peeled himself, which Seagal accepted and eagerly bit into.
Seagal's stay in Belarus certainly held less flair than his earlier trips to Russia and Chechnya. The actor toured the Belarusian president's lavish home before enjoying a traditional dinner. The two seemingly did not discuss politics. Seagal's devoration of the home-grown carrot remained the most notable moment from his first trip to Belarus.
---
As a result of dancing with dictators and courting controversy, Seagal's long-faded popularity has continued to plummet in the United States. Reduced to a shadow of his former self, the 65-year-old actor has been forced to rekindle his long-lost stardom by focusing on countries where his movies and persona are still of intrigue to the average consumer. Much of that focused on resuscitating his career with embarrassing straight-to-DVD flicks. And yet, what began as an act of desperation eventually evolved into a political opportunity.
The Michigan native's decision to associate with strongmen from the post-Soviet sphere is a bizarre decision that highlights Seagal's despairing efforts to salvage his 1980s reputation as a genuine martial artist and tough guy. His budding friendships with Putin, Kadyrov, and Aliyev, are particularly troubling relationships. Much of Seagal's efforts included submitting to these dangerous political leaders and allowing himself to serve as an unofficial spokesman for well-documented human rights abusers when needed.
This decade-long shift in Seagal's persona also emphasized his questionable political views at home. Apart from his ties to the Kremlin, Seagal, a noted republican, made headlines when he labeled peaceful protestors "disgusting" for taking a knee during the national anthem at NFL games.
"I think it's outrageous, I think it's a joke, it's disgusting. I myself have risked my life countless times for the American flag," Seagal told Piers Morgan on Good Morning Britain. He also referred to establishment Democrats as the "enemies within" who "feel they should sort of kind of, um, overthrow Trump."
Seagal's already diminished persona took another hit when several actresses leveled sexual harassment allegations against him. Portia De Rossi accused Seagal of harassing her during an audition for one of his films. The Arrested Development star revealed that Seagal told her "how important it was to have chemistry off-screen as he sat me down and unzipped his leather pants."
Later that week, The Good Wife's Julianna Margulies divulged her own harrowing encounter with Seagal, where she was invited to the actor's hotel room only to find him alone with a gun. Her accusation was followed by that of Jenny McCarthy. The model-turned-actress recounted a 1995 encounter with Seagal during an audition for Under Siege 2, where he repeatedly asked her to remove her clothes despite the role requiring no nudity.
Despite the ongoing decline of Seagal's star stateside, his reputation remains intact in the post-Soviet sphere. He holds various roles, from celebrated guest, martial arts envoy, unofficial chargé d'affaires, and even a close confidant to despots. His tarnished reputation as a washed up actor turned predator and political puppet will hardly matter among the values of tyrants.
Seagal can continue to make a living rotating between the various authoritarian regimes in Eastern Europe—a political puppet available to the highest bidder. In truth, he remains useful as the poster boy for martial arts propaganda, as well as an occasional political envoy given the shift in Western politics over the past year. Indeed, while Putin's proposal to use Seagal as a political intermediary between Russia and the United States failed during Obama's tenure, it may find new life under Trump's administration.
It is likely that Seagal will continue to play chess with eccentric millionaires in Kalmykia, ride through the Kyrgyz mountains on horseback dressed in armour, dance with despots who show an affinity for purging gay men, and eat carrots and watermelons from the gardens of Europe's supposed last dictator. Seagal's path from Hollywood to Russia—from high-grossing actor to Putin's pet—serves as a cautionary tale about the influence world leaders can hold over celebrities and athletes alike, and the dangers to which such propaganda can lead.