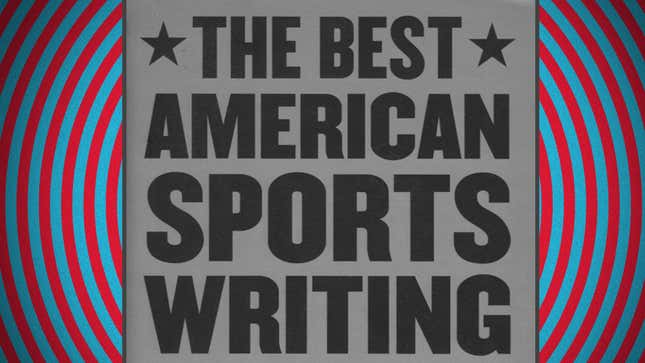 A lot of people want to buy me a drink.
Since I started serving as Series editor for The Best American Sports Writing in 1990, the book has featured the work of about 350 writers. Although the guest editor makes the final selections, each year I read thousands of stories, pass along about 75 for the guest editor to read, and therefore often receive a disproportionate measure of the credit (or the blame) for those selections. I also generally contact the writers to let them know their story has made the book.
This is often a surprise, and makes the writer happy, sometimes very happy. Every once in a while it makes someone so happy that he or she doesn't believe me—it doesn't help that sometimes the selections are made right around April Fool's Day—and I have to have the publisher send a confirming email. Some writers even cry, which makes me wonder what reception the guy who gives out the MacArthur Fellow grants receives. (I guess we could ask BASW 2013 contributor Karen Russell; she just won one.)
I understand the excitement. In ways large and small, appearing in this book can be a life changer. It was for me when I became the series editor, helping me transition from someone who worked and wrote on the side to someone who, a few years later, cobbled together enough to drop the day job. For some contributors, it can help get the next job, or more work. For others, it has helped them to keep the job they have, and even being listed in the "Notables" section can make a difference. That's why, as often than not, I try to use the back of the book to recognize younger writers whose work who might otherwise be overlooked, or who might most benefit from the boost.
Most of us who write spend our lives being told it's an impossible goal and nobody cares. I think that's why, when I make that call, writers are so pleased. Any evidence that someone is really paying attention justifies a great many meals of pasta and cheap beer.
A couple of calls to contributors stand out. When I made the first of these calls back in 1991, one was to Florence Shinkle, a writer for the St. Louis Post-Dispatch. I tracked her down, called and identified myself, then told her that a story she wrote for her Sunday magazine, "Fly Away Home," had been selected by David Halberstam to appear in the first edition.
I loved the story. It was very simple, quiet even, about an elderly couple who raced pigeons. Shinkle spent an afternoon and evening with the couple as they waited for their birds to return.
Nothing much happens. They sit outside, look at the sky, wait for the birds and make idle conversation. That's it.
And that was enough. Shinkle laid out their story so delicately, and in so doing captured their relationship so vividly, that, well, nothing needed to happen; the words were enough.
When I called Shinkle to tell her of the selection, she was very surprised. She hadn't heard of the book yet (no one had) and told me she wasn't a sports writer (which happens a lot). When I told her that David Halberstam liked her story... well, she laughed, maybe even a little louder and little longer than the occasion called for, and then laughed some more.
Then she stopped. "My editor," she said to me, "hated that story." I imagine she quite enjoyed the conversation she had with that editor soon afterwards. I like to think the fact that David Halberstam and I did not hate the story might have played a small part in the fact that she stayed with the paper 30 years before retiring.
Then there was Joel Reese. Growing up, he'd been a huge fan of Dallas Cowboys receiver Golden Richards. As a grad student in the journalism program at the University of Montana, he decided to write a long feature on Richards, who had retired and recently been arrested for forgery to buy prescription narcotics. Reese tracked Richards down and got a first-hand, up close and way, way too personal look at the way heroes aren't quite always the people they pretend to be. His personal naïveté, and slow realization of the same, was the perfect counterpoint to Richard's two-faced con. (The story was featured on Deadspin.)
The story took a while to find a home; as a grad student, Reese had no track record or clips and it was essentially his first story. Both Esquire and Playboy nibbled but passed. "Down and Out" finally landed at Texas Monthly, still one of the best magazines in the country. I loved it immediately and put it forward to BASW guest editor John Feinstein, who selected it for the 1996 edition.
When I called Joel and he told me the backstory, I was thrilled—my ideal BASW story has always been the most unlikely and difficult to find, the great story by a writer you've never heard of before, the kind that gives everyone else who writes hope. I know the feeling, because in 1986 the first story I ever pitched or wrote somehow found a home at Boston Magazine despite the fact that I didn't have any clips, either (see here for the full story). While hardly a recommended strategy for starting a career, I've never been without an assignment since.
It worked for Reese, too. He went on to write for the Chicago Daily Herald and Time Out Chicago, earn a National Magazine Award nomination and do a ton of other stuff. He recently wrote me that appearing in BASW "helped me get almost every job I've had since it came out. I mean, you pull out your clips and there's one from the BASW series? It's almost unfair, like an ace up the sleeve. I've seen many eyes widen from across a desk when I pulled out that clip."
It is what I like best about this job—not just reprinting work by those already established, but finding stories and writers that otherwise may never have been found, and maybe playing a small part in bringing them to a bigger audience and help them earn a living in words. I mean, Wright Thompson appeared in BASW 2005 when he was still with the Kansas City Star, Dan Wetzel was in the 1996 edition with a story from Basketball Times, Paul Solotaroff made BASW 1992 with something from the Village Voice, Tommy Craggs first appeared in the book in 2004 for a story in SF Weekly, Mike Mooney made it in 2009 and Robert Andrew Powell in 1998 with stories from the Miami New Times, and a number of women writers appeared in the book when the power structure was still debating whether they should be allowed in the locker room. As Reese wrote me ,"It also gave me a certain confidence—like, 'Wow, I've somehow made it with the big boys [and girls] here. Maybe I actually can do this.'" I hope other contributors feel the same way.
BASW may not quite be the bird dog who first discovered anybody, but I like to think we've been pretty good at spotting talent, first from newspapers and magazines, and now, since making our first internet selection in 2000 (Pat Toomay's "Clotheslined," from the now-defunct Sportsjones.com), from the online world as well. Although there is a certain randomness and dumb luck to the process, it's also as much a meritocracy as I can make it—stories are forwarded to the guest editor blindly, not identified by source or author, just words on the page.
Now, 23 years later, when I make those calls or talk to writers as a consulting editor for SB Nation Longform, some tell me they've been reading BASW their whole lives and appearing inside the covers is a lifelong dream. It is for me as well. Today I can pick up just about any magazine or look at any established website or walk through any bookstore and encounter names I knew and read before just about anybody else.
That's where the drinks come in. Because at the end of that phone call, almost everybody tells me, And Glenn, if you're ever in Godforsaken, South Dakota, the drinks are on me.
I've hardly ever taken anyone up on that, at least so far. I've always valued my independence and have never been particularly well-connected in this business. (One well-known talking head recently accused me of being part of the "old boy network" when I know about five people I'd feel comfortable calling on the phone just to bullshit.) I'm purposely kind of isolated up here on the border between my two countries, and I get down to the lesser 47 about as much as anyone else gets up here.
But one day I might just cash in those invites, hit the road, and drink and talk my way across liquid North America. I know I could make extended stays on the West Coast in Los Angeles, San Francisco and Seattle, then Denver, Dallas, Chicago and Cleveland, with all sorts of small town stops in between, before I wash up on the Atlantic; first New Orleans, then maybe Miami and Washington, before finally landing in New York (or, more likely now, Brooklyn). Once there, I figure I could probably cash those tickets for at least a month, one long extended talk-about-craft-drinkfest with one writer after another until my hosts can't bear another story, my back can't take another couch, or my wit another round.
Someday, I just might do it. Until then, it's nice to know I have a standing invite. In the meantime, I've got more reading to do.
Glenn Stout is the author or editor of more than 80 books. For more, see his website (www.glennstout.net) or follow him on Twitter (@GlennStout). He is currently editing longform journalism for SB Nation.
Art by Jim Cooke