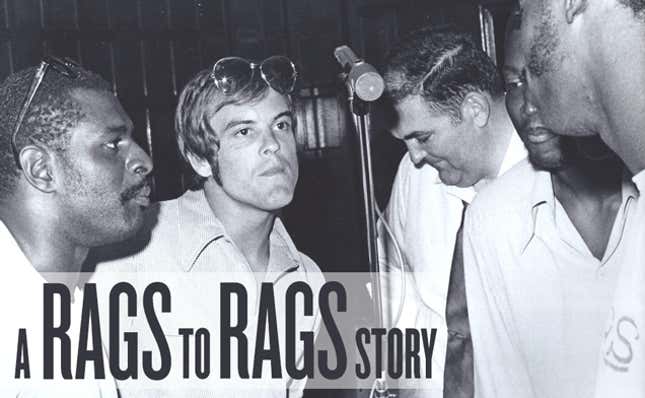 For the entirety of my childhood, my brother, mom, and I spent one day a year—usually a Saturday two or three weeks out from Christmas—being serenaded by the 1970 Oakland Raiders. Specifically, we would spend the day putting up our Christmas tree while Daryle Lamonica, Jim Otto, and others mooed Christmas carols from an old LP called The Oakland Raiders Present: Holiday Halftime that popped and crackled on my mom's old record player. It's one of those things that comes off like an inside joke, something that sounds stupid when I try to explain it to other people, because, yes, the quality of the singing is about what you'd expect, and we played the eight-song album two or three times before moving on to real Christmas music.
Blue Jays pitcher Alek Manoah learns what karma means
For years, I thought this record was the only one of its kind, some accident of public relations history that's been forgotten by everyone outside of my family. Turns out I was only half right: There are in fact 26 Holiday Halftime records—one for each NFL team that existed in 1970—but they weren't strictly the result of an NFL PR stunt. They were born from the mind of a New York ad man who was looking to hit it big.
The records were forgotten almost as quickly as they were produced, but the story behind the creation of the Holiday Halftime records is a quintessentially American one about a big, entrepreneurial idea—involving an accomplished Broadway composer, a hunt for cheap musicians in Belgrade, a barnstorming trip across the country, and Ed Sullivan—that nearly brought on a million-dollar payday, but instead found its anonymous end in the forgotten corner of a Jackson Heights storage facility.
The Holiday Halftime records were the brainchild of a New York native named Mike Tatich, who made his living working for advertising conglomerate BBDO. His specialty was producing a particular style of record commercial that was popular in the '60s and '70s, the ones featuring records with names like [Beloved Singer] Sings The Classics! and track listings scrolling up the screen in big yellow letters. "He did Tony Bennett, he did Johnny Mathis, all those commercials were his," Mike's adult son, also named Mike, told me.
The elder Mike Tatich passed away in 2010, but his son vividly remembers the production of the Holiday Halftime records. Tatich Jr. describes his father as a guy who always had "big ideas"—convincing every NFL team to sing Christmas carols for him was just another one. He started by convincing a few of his friends to pool some money together to kickstart the project, and then went about haranguing the NFL to get on board.
As Tatich Jr. remembers it, the NFL was eager to throw its weight behind his father's plan. The 1970 season was the first to follow the official merger of the AFL and NFL (the merger was announced in 1966, but 1970 was the first time the two leagues combined regular-season schedules) and Tatich's idea was an easy way to drum up publicity for the newly whole league.
"The NFL embraced the whole idea, and that made it easy to get in contact with every team. I think the NFL actually told every team they had to do it," says Tatich Jr. "I think the NFL, at the time, was looking for PR. Because, literally, no money was paid [by Tatich] to the NFL, which probably wouldn't fly today."
Jim Otto, who played center for the Raiders for 14 years and sang on the album, also remembers the league's involvement being motivated by the need for PR. "The merger was just barely coming about at that time," he told me. "I think it was something of a public relations-type action, to show that both divisions of football could work together. As I recall, it was a kind of kick in the pants. We had a good time doing it … It was a thrill for all of us guys."
If nothing else, these records represent a rather remarkable time capsule of a different NFL: A moment when the league, still decades away from becoming the all-consuming, billion-dollar industry it is today, was willing to go all-in on an ad man's harebrained idea for a novelty record. The NFL was so committed to the project that Tatich maintained a strong relationship with higher-ups within the league, including the Mara family, for years. These connections left behind a number of childhood memories that Tatich Jr. recalls fondly.
"As a kid, I went to every Jets game and every Giant game, and usually after the game I'd go down to the locker room, because I knew all the players," Tatich Jr. says. "I'd just go down and bang on the door and say, 'Tell Bob Svihus that Michael Tatich is here.' Next thing you know, the security guard would come back and say, 'OK, you can come in.'" Svihus played tackle for the Jets from 1971-73. He took Tatich Jr. to see his first James Bond movie, and the two remain friends to this day.
"I mean, Spider Lockhart taught me how to run backwards," says Tatich Jr., remembering one of the days he was hanging out with the Giants defensive back after a game. Lockhart told him that the secret was staying up on your toes, and Tatich Jr. made good use of that knowledge when he went back to school. "I went back to elementary school and challenged to other kids, and I won every time." Everyone wanted to know where he learned to run backwards so fast, and the 11-year-old Tatich Jr. would reply coolly, "Spider Lockhart taught me."
But before Tatich Jr. could spend chunks of his childhood palling around with NFL players, his father had to complete the rather monumental task of actually making the records. With training camps starting, he had about six weeks to record the music, hit every camp in the NFL to record the vocals, and then get the records pressed in time for holiday sales. And he didn't even have a composer yet.
Tatich found his man in Jacques (Jack) Urbont, an accomplished composer whose credits include the Mission: Impossible theme, the theme music for The Marvel Super-Heroes cartoon, and a musical called All In Love. Urbont lives in New York with his wife, Rosalind, in an Upper West Side apartment that is thick with his accomplishments. Multiple Emmy awards sit on his piano; every inch of wall space is covered with photos of him with various Broadway and Hollywood stars, expensive-looking paintings, and framed collector's items. (One of his favorites is a letter, addressed to Richard Wagner, written by Italian composer Gaspare Spontini in the 1840's.)
Urbont and his former collaborator, Bruce Geller—the guy who wrote and produced Mission: Impossible—had ambitions of becoming, as Urbont puts it, "The next Rodgers and Hammerstein. But it was tough to make a living at it, so to do that, we went into television to make a few bucks." He got into writing music for commercials, too, which is how he met Mike Tatich.
(Urbont used to make extra money playing piano in mob clubs, too. He once played for Crazy Joe Gallo, a famous New York gangster who probably murdered Albert Anastasia and was something of a fixture in the Greenwich Village counterculture of the 1950s. "He came over to ask me if I could play a song. I did a jazzy version of "'O Sole Mio," and he liked it. He gave me a big thank you, and I said 'No problem, paisan,' and he gave me $100.")
The composer didn't know a lot about football, but he liked Tatich's idea, and, more importantly, he had a plan for getting the orchestra music recorded on the cheap. Urbont had done the music for a few famous quiz shows— What's My Line?, Play Your Hunch—and the production company had asked him to record the music in London. "The upshot of that was, that I mentioned to Mike Tatich that I noticed the English were recording a lot in Yugoslavia in order to save money, and Mike was worried about money," Urbont explained to me.
"Maybe I shouldn't tell you this, because I was a union member, and as a union member you're supposed to record in America, but what we did was record in Yugoslavia. All those music tracks were done in Belgrade. You could hire the musicians in Yugoslavia for maybe $40 for the day."
Tatich and Urbont weren't the first Americans in show business to go hunting for cheap labor in Yugoslavia. In the aftermath of World War II, the country created one of the biggest film industries in Europe, thanks in large part to Communist strongman Josip Tito's fondness for movies. In the 1940s and 1950s, the Yugoslavian film industry was pumping out big-budget, state-funded propaganda films that were mostly about Tito leading the Partisans into battle during WWII and kicking the shit out of the Nazis. By the 1960s, though, the industry had become more liberated from state control, and that's when American filmmakers started rolling in.
Yugoslavian production companies were just as competent as the ones in America, and they could provide foreign directors with easy access to the country, cheap hotels, fantastic shooting locations, and cheap labor. In a 2008 article about Jadran Films, a Yugoslavian production company that helped produce 145 foreign films in the country, historian Ivo Skrabalo explains part of Yugoslavia's appeal for foreign filmmakers (translated via Google):
Film business requires security, and Croatia has long been a free country with open borders, they came without visas, they had no trouble importing equipment. In other countries were rigorous, browse their recordings. In addition, Jadran film at that time had very skillfully director named Sulejman Kapic, who is in the business thought socialism in a capitalist manner. Due to the needs of co-production Jadran Film was educated at least three parallel teams that could do more complex co-production. Everyone knew at least two languages.
Sophie's Choice, The Tin Drum, and David and Goliath were among the many movies made on the cheap in Yugoslavia.
This is the tradition that Tatich and Urbont were working in when they went to Yugoslavia in search of day-rate musicians. A German colleague of Urbont's put them in touch with a contractor in Belgrade who cobbled together a few players from the Belgrade symphony orchestra.
"The best musicians were in Dubrovnik for the summer," says Urbont, "so I didn't get the pick of the top musicians in Yugoslavia, but I did get a good orchestra."
As Urbont remembers it, he and the musicians didn't get off on the right foot. "The musicians at first played lousy, and I didn't like it at all, but then I found out what the problem was. The musical contractor had hired his father, and his father was an old guy who couldn't play in tune. So I had to tell him, 'If you can't play in tune, just don't play at all.'"
Things eventually turned around, though. He picked up a few Bosnian words from the translator they had hired, and he asked what he should say to the orchestra when they actually played well. He was told to exclaim, "Odlicna!" which means "great."
"Finally, when the orchestra played well, I said, 'Odlicna!' and then they started to like me. Before that, I was the dirty capitalist," says Urbont.
Tatich got along great with the musicians in Belgrade. "It was an amazing trip. They were totally embraced by the people in the band," recalls Tatich Jr. "I remember when he came home, my dad boxed up a bunch of disposable diapers—which they had never heard of in Yugoslavia—to send back to one of the musicians he'd befriended there who was about to have a baby." A few of the musicians, who had also served in the military, even sent Tatich home with some of their medals. "He came home with all kinds of medals, which I still have," says Tatich Jr. "Tank commander medals and stuff like that. Being 10 years old and getting pinned with a military medal was the coolest thing in the world."
After a few days of recording in Belgrade, Tatich and Urbont headed back to the U.S. to record the vocals. It was August, and they had to hit every NFL team before the preseason was over.
The two decided to divide and conquer. Urbont would cover half of the teams, while Tatich and another conductor, Jack French, would take care of the rest. Tatich and Urbont were on the road for weeks, booking studios near NFL training camps around the country for recording sessions that could last longer than five hours.
Along with the logistical struggles came the problem of convincing hundreds of exhausted NFL players to actually give a shit about singing dopey Christmas songs. "My dad was the life of the party, always," Tatich Jr. says. That was the angle from which he came at the players, turning the recording sessions into big parties, complete with beer, pizza, and sandwiches. "By the time I'd finished that tour of all the teams, I'd put on about eight pounds," says Urbont with a laugh.
Tatich's plan seems to have actually worked. A September 1, 1970 article from the St. Petersburg Times portrays the Washington recording session as lively and light-hearted:
Vince Promuto, the Holy Cross baritone who doubles as a Redskins' guard, had some reservations before the start of the session.

"Wait," he said. "We have a problem. We gotta get one thing straight. We can't do 'White Christmas.' We're a team. It'll be 'Gray Christmas.' Okay."

Charley Taylor and Brig Owens led the other black players in applause.

Urbont, taking the first delay of game in stride, urged his charges into "Frosty the Snowman," but the result was not acceptable.

Urbont called for a retake.

The second time around such a success that guard Ray Schoenke applauded—too soon. He was hissed.

"Winter Wonderland was next, and it was a toughie. Conductor Urbont stopped the music and asked, "Where's the bad voice?"

All 30 players raised their hands.
Urbont remembers all of the players he worked with having a great attitude about the recording sessions. There was, however, a sensitive question: Which players' voices should be most prominently featured? "The black guys were the best singers," says Urbont. "So I said, 'No offense, guys, but I'm putting the best singers in front.' Here I was bossing around these big guys who could squash me like a cockroach, and they were very responsive. They were all excellent."
Tatich Jr. also has fond memories of the sessions. He accompanied his dad to both the Giants' and Jets' recording sessions, and remembers being taken aback by how many of the players actually came.
"It was just amazing to see all of these players show up. I think the Jets, it was virtually everyone except Namath," he told me. "I even sang with the Jets and the Giants. My voice is somewhere in that cacophony."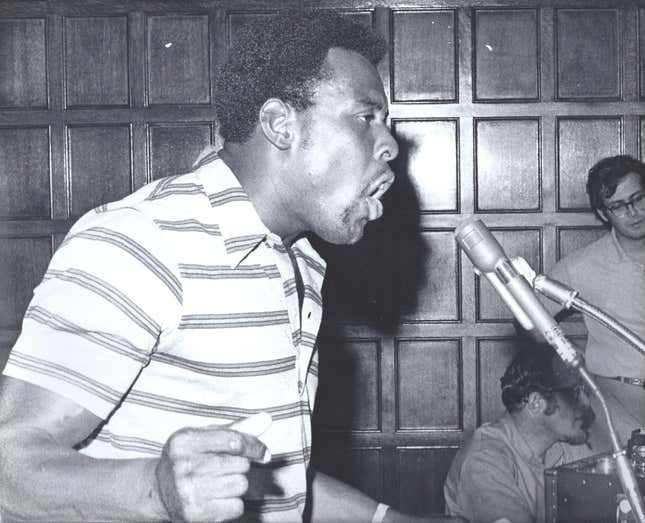 San Diego Chargers tight end Willie Frazier at a recording session. Photo via.
---
Urbont and Tatich did manage to get all 26 Holiday Halftime albums recorded, but the project hit a snag when it came time to get the records into stores. Tatich decided at the beginning that he would try to distribute them himself; it was that decision, more than anything else, that would doom the project to obscurity.
The sleeve of each Holiday Halftime record says that it was produced by "Manlius Records, a division of Mike Tatich And Partners, Inc., NY, NY." This was just a pop-up company—there are no public records indicating that Manlius Records or Mike Tatich And Partners were ever officially incorporated—that Tatich created for the sake of selling these albums. Without the financial and logistical backing of a real record label, Tatich didn't have the means to actually get the records into stores, and to consumers. "They never had the distribution ability that a real record company had. And that's why it never worked," says Tatich Jr.
Tatich did score one major coup, though: getting the albums plugged on the Ed Sullivan Show. An episode of the show that aired on December 6, 1970, featured 12 players from the Jets, Giants, and Raiders—Fred Dryer, Gene Upshaw, Don Maynard, and Jim Otto were among them—singing "All I Want For Christmas Is My Two Front Teeth" at a competence level that I would describe as "not entirely humiliating." They all wore suits and generally looked like they'd rather be somewhere else, and Sullivan razzed them a bit when the performance was over.
"Gentlemen," he said, "I think you all have budding careers in show business, but maybe you should stick to football a little while longer."
(This clip doesn't exist anywhere online, and we can't embed the copy of it that we have due to exorbitant licensing fees.)
There's something else about the Ed Sullivan clip, though, that makes it just as much a relic of a bygone era in the NFL as the Holiday Halftime records themselves. Interspersed with the musical performance are clips of violent NFL game footage that would horrify even the sort of modern fan who can't stop griping about the "sissification" of the game. There are shots of scrambling quarterbacks getting clotheslined, receivers being upended in mid-air and landing straight on their heads, and more than a few forearm shivers deliberately delivered to the faces of quarterbacks and tacklers alike. Three of the more brutal tackles—all guys taking elbows and forearms directly to the face—are synched up with the players roaring "Teeth! Teeth! Teeth!" through the song's bridge, a bit of auditory and visual congruity that was met with chuckles from the audience.
"Football has changed tremendously in recent years," Otto said when I told him how startling I thought the violence in the footage was. "I was one of the guys who played in that era, and I thank God every day that I'm not full of dementia or heading for the Alzheimer's shed." Otto has had 74 surgeries resulting from football-related injuries, including the amputation of one of his legs.
Despite the bump from Ed Sullivan, Tatich's records never sold. He held onto them for years afterward, keeping them in a storage facility in Jackson Heights. He would dust them off every now and then to try and sell a few on his own, but most of the records never made it out of storage. Tatich Jr. remembers his dad feeling very disappointed about how the project turned out. "They just never sold the way he wanted them to," he recalls.
The financial failure of the project was made all the more bitter by the fact that Tatich had an opportunity to cash in early on, but refused. "He had been offered a lot of money when it first started," says Tatich Jr. "Columbia Records or someone came in and said, 'Look, walk away from it. Give it to us, and we'll give you a million dollars.' And he said, 'Oh no, we're gonna make so much more than that.'" In the end, most of the records ended up being sold to scrappers for their vinyl.
I've always been weird about Christmas. Even through my high school years, I was intent, in a way that could be described as "obsessive," on my small family—it's always just been me, my brother, my mom, and my aunt—adhering to a strict set of (often very odd) traditions. Listening to the Raiders' Holiday Halftime record while we set up the Christmas tree was one of those traditions. My brother and I would always wait for my mom to put it on the record player, responding with the kind of faux-outrage that all kids are required to display any time a parent suggests something, but we never complained enough to stop her from running the record back a third or fourth time. If she hadn't, I'm sure I would have done it myself. I was the kid who, on multiple occasions, got more than a little heated while explaining to mom that we did in fact need to watch It's a Wonderful Life from beginning to end on Christmas Eve, and that we definitely needed to get up at 5:00 a.m. on Christmas morning to open presents—just like we do every year.
I think that I was like that because a small family like the one I described above, my family, is also a fractured one. Maybe some part of me understood that Christmas isn't quite the same for families that don't have fathers, uncles, grandparents, and cousins all gathering around the tree at Nana's house. I think I obsessed over all those dumb traditions—the Raiders' album chief among them—because it was the clearest way for the four of us to remind ourselves that, yes, this is a family that doesn't make much sense, but it's still a family. Haven't you noticed all of these traditions? We are still here.
In addition to the classic Christmas songs on each Holiday Halftime record, there is an original song called "A Tropical Winter." The music was written by Urbont, and Tatich came up with the lyrics. It's a solid Christmas song, if for no other reason than that during the countless number of times I listened to the Raiders' album, it never stood out from the rest of the classics. When I talked with Urbont, he showed me the original sheet music for that song. I told him my mom would love to see it, and he offhandedly told me I should just take it with me and give it to her.
I responded like he had just casually offered me one of the Dead Sea Scrolls. I awkwardly mumbled something along the lines of, "Oh … no. I mean, I couldn't possibly …" and waited for the conversation to head elsewhere. Objectively speaking, that was a pretty embarrassing way to react to being presented with an artifact from an unmitigated failure that most people in the world have never heard of and that the rightful owner probably never wanted to see again. It was the best I could do.
Top Image by Jim Cooke. Photo via