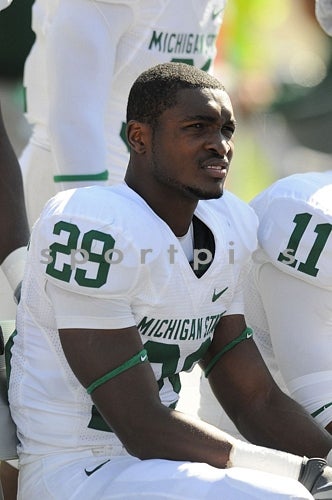 Michigan State CB Chris Rucker got drunk and backed his car into another vehicle. It's the kind of thing that happens all the time, except for the part about the vehicle's owner, an MSU student, pleading with police to let Rucker go.
Early on the morning of Oct.10, Michigan State cornerback Chris L. Rucker backed into another car in a 7-Eleven parking lot and was arrested after recording a .095 blood-alcohol level on a breath test.

About a half-hour later, Rucker and the car's owner had struck up a friendly conversation as he was sitting in the back of a police vehicle, and the owner pleaded with two officers to set Rucker free, thinking he was under arrest for the wreck.

"If I don't press charges, could you let him go?" asked Patrick Weaver, an MSU junior and the car's owner.
Weaver now claims he didn't know Rucker was a football player, and that he just felt bad for him. That would be more believable if East Lansing didn't have a history of going easy on its athletes, and if this wasn't so common at big sports programs.
Baylor guard LaceDarius Dunn's girlfriend denied that he hit her, even denied that she had a broken jaw at all, despite the fact that she had emergency surgery to put two metal plates in her jaw.
And lest you think it's the age-old story of a domestic violence victim not wanted charges pressed, the girlfriend's father also called the whole thing just a misunderstanding.
It's not even as if the school and community put overt pressure on victims and witnesses to cut athletes a break. As a fan or supporter of the program, there's the natural desire not to hurt the team, despite what happened off the field. (It's the entire plot of Big Fan. And, you know, get used to it if you're not already. Athletes will always be treated differently at sports schools. They bring in money, they add cachet. The better the player, the more untouchable they are.
Rucker reached a plea deal to avoid charges of driving while intoxicated. His team suspension is expected to end soon.