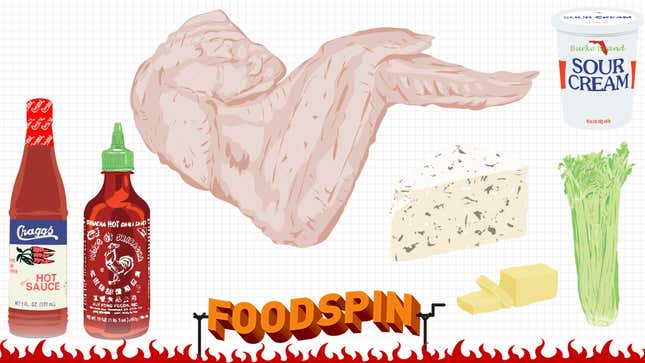 So the Super™ Bowl® is here, and that means some sucker—maybe even you!—will be hosting a Super™ Bowl® party which they will feel weirdly obligated to refer to as a "Big Game" party, because the NFL likes to sue people for liking it. You will have to bring something to this shindig—especially if you are hosting it!—as that is the agreed-upon social cost of the privilege of watching 63 hours of overproduced commercials, lipsynched Katy Perry performances, and football players standing around, interspersed with maybe four or five minutes of actual sports action, in the company of your friends and loved ones.
Bass' ERA stinks, but not compared to who he is off the mound | Worst of the Week Countdown
What will you bring to this thing? Your winning smile and bare-minimum fulfillment of standard personal hygiene practices will not cut it. Nor will a two-liter bottle of grape soda. No! You must produce greasy, meaty food. Below you'll find links to instructions for preparing some of the kinds of greasy, meaty food people like to eat at their Super™ Bowl® parties. Pick one, cook it, and bring it, and people will be glad you're there.
These are the standard Super™ Bowl® food. Here's a good, straightforward way to make 'em, and some blue cheese dressing for them, instead of ordering them from a pizza delivery joint like a scrub.
The fun part is the part where all the other dudes at the Super™ Bowl® party bicker with you over whether your chili recipe is more authentic or purist or has more fire alarms in it than theirs. Actually, no, that's the terrible part. The fun part is eating some good-ass chili.
Bag o' shredded cheese, bag o' chips, paper plate, microwave, right? Nah. Have some fun with your Super™ Bowl® nachos! These have some shredded chicken and other fun stuff on them, like actual real food for grownups and not sad bachelor chow.
This is just a criminally under-appreciated foodstuff. It's hearty and beery and bacony and satisfying, and when it's available people eat it compulsively. Bring a bag of chips, too.
Hell no I don't need to sell you on the virtues of pulled pork. Hell goddamn no.
OK, so it's not greasy or meaty. Shut up. It's good and it'll go over like gangbusters.
Yes, with their gross-lookin' heads! These are great finger food: Fiery hot and crunchy and compulsively eatable. Also, unlike chili or wings, there's no chance anybody else was already planning on bringing these.
Everybody likes hummus. It's just a fact.
Another great finger food: Crispy-fried and hearty and fun to dip in stuff.
This is a little more ambitious. You can do it! And everyone will love you for it. These are lightly breaded and lightly fried and amazing, and they come with instructions for whipping up some stuff for dipping them into.
Listen. Maybe you are noticing a theme, here. People like to eat greasy fried finger-food while they watch football.
OK, so there's a buncha stuff to make and bring to this friggin' Super™ Bowl® party. They won't know what hit 'em! Go forth, and feast, and be merry.
---
Hey, Foodspin is on Pinterest, now! Go pin our stuff to your stuff, or however that works.
Albert Burneko is an eating enthusiast and father of two. His writing appeared in Best Food Writing 2014 by DaCapo Press. Peevishly correct his foolishness on Twitter @albertburneko, or send him your creepy longform hate-missives at albertburneko@gmail.com. Image by Sam Woolley.
Peruse the complete Foodspin archive here; you can find lots more Foodspin here.