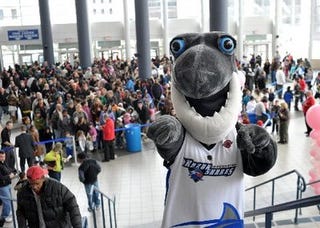 Mark Cuban take note: three teams in the Premier Basketball League have left the organization after some decidedly one-sided refereeing in the finals.
Last night, the Rochester RazorSharks beat the Lawton-Fort Sill Cavalry in the third and deciding game for the PBL Championship. Rochester won by three, no doubt helped by going 32 of 43 from the foul line. Lawton-Fort Sill were just 9 of 14. Overall in the series, the RazorSharks went to the line 132 times, to just 47 for the Cavalry.
Did we mention RazorSharks CEO Severko Hrywnak is also the PBL's founder and chairman?
The Cavalry is peacing out. It was "a disgrace to professional sports, especially to minor league basketball," said coach and former NBAer Micheal Ray Richardson.
The Halifax franchise will also not be returning to the league, citing poor officiating. "I could not go to sleep (Monday night) knowing I was still a part of the league," Rainmen owner Andre Levingston said. "That was the last straw."
This leaves the PBL with a grand total of two teams for next season.
[h/t Jon]