Albert Burneko is off. Your guest Foodspin columnist today is clean person Jolie Kerr.
The existence of this corn relish was inspired by two things: my inherent cheapness, and the compulsion I have about keeping a tidy-looking icebox.
Oh, well, and one other thing: I was in charge of bringing the steak salad to a recent luncheon and wanted to tjuz it up. By "luncheon," I mean three of us sunning ourselves on my friend's deck while getting tanked on white wine at noon on a Sunday. Not exactly a cloth-napkin affair. Still though, serving a tjuzed-up steak salad needs no real excuse in my mind.
Corn relish is an under-appreciated condiment, I think. It's a real, real Southern thing—almost a salsa, sort of a dip, entirely delicious. I'd put it in the same family as chow-chow or piccalilli, in that they're all semi-sweet vegetable based relishes. At its most basic, corn relish consists of corn kernels cooked with bell peppers, sugar, and vinegar. Maybe a peppercorn or mustard seed tossed in for good measure/flavor. There are, of course, a million (rough count) variations on it. It's also a thing that is almost always canned and put up. That tidbit will become important later.
There are many commercially available corn relishes, sometimes called corn salsa, which might be helpful to know about. (Trader Joe's makes a good one. It's really good in salads of all stripes. Just a lil' tip from me to you, friend.) But honestly? For the absurdly small amount of work and time it takes to DIY this stuff you might as well make your own and revel in the praise your friends, lovers, enemies, et al inevitably will bestow upon you when they taste the fruits of your labor.
G/O Media may get a commission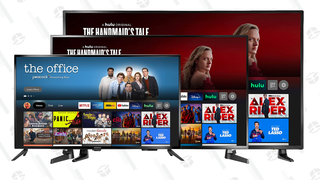 Up to 44% off
Prime Early Access - Insignia Fire TVs
That TJ's corn stuff was essentially what I was aiming to replicate at home, because I had a box of frozen corn lingering in my freezer, as boxes of frozen corn are wont to do. To the Google I went, first searching for "corn relish recipes" which seemed like a promising set of keywords. It … wasn't. This was where I ended up and wow that sure does look delicious but it yields 12 PINTS and I do not live on a prairie, I live in a tiny box in the Manhattan sky. I do not have any sort of space in which to put things up, as the saying goes.
Back to Google, this time for "corn relish recipes small batch" because I can learn real good. And oooh this sounds pretty tasty! And then a crushing defeat: Sure, it turns out a smaller batch but I still don't need four pints of corn relish in my life. This one also looked good, but again, it called for far more corn than the 10-ounce package I had languishing next to my homemade stock. (We'll get to that stock eventually, don't you fret.)
But with three recipes taken in concert I was able to sort out with a fair amount of certainty that the ratio of vinegar to sugar to vegetables in a good corn relish is approximately ½ a cup : ¼ cup : 2-3 cups. Everything else beyond that is just gravy (and creativity). So here's what I came up with; do feel free to read all of these measurements with an -ish at the end. That's why they call it relish. (Oh, of course I made that up, come now.)
Vegetable stuff
10 oz box frozen corn
½ a small shallot, diced
¼ of a Vidalia onion, diced
5-10 pickled jalapeno rings, halved or quartered
The small, tender ribs from the heart of a bunch of celery, maybe 4-6-ish, plus leaves, diced
½ c bell peppers of any color or an assortment of colors, diced (note: I had those darling and somewhat twee but still so darling, seriously, mini bell peppers, so I cut them into rings)
Flavor stuff
½ c cider vinegar
A scant ¼ c sugar
1 t salt
1-2 T grainy (very, very grainy) prepared mustard
Instruction stuff
Bring vinegar, sugar, salt, mustard and the vegetables you're using to a boil in a medium saucepan; reduce to a simmer and cook, stirring occasionally, 30 minutes.
THAT IS ALL. It's, like, stupid easy to make this stuff and the recipe is insanely forgiving. You'll notice that the vegetables I used are on the hodge-podge side—I dug up whatever was in my crisper drawer. You should do the same!
You can, of course, use a different kind of vinegar if you'd like. You can use a different kind of mustard—I liked the grainy stuff because the mustard seeds gave the thing a nice appearance and I am vain. And also because it allowed me to use the final dregs of a jar of mustard that was, to be frank, a disappointment. Man, I hate a disappointing mustard. I'm such a collector of mustard; I don't even want to tell you how much time I've spent puttering around on the Mustard Museum website.
Actually maybe I do want to tell you about how much time I've spent puttering around on the Mustard Museum website. I feel like you might understand completely.
The Foodspin archive: Chicken thighs | Popeye's biscuits | Salad | Candy corn Oreos | Chili | Red Bull Total Zero | French toast | Sriracha | Halloween candy | Emergency food | Nachos | Meatloaf | Thanksgiving side dishes | MacGyver Thanksgiving | Eating strategies | Leftovers | Mac and cheese | Weird Santa candies | Pot roast | Bean dip | Shrimp linguine | Go-Gurt | Chicken soup | Lobster tails | Pulled pork | Pasta with anchovies | Sausage and peppers | Bacon, eggs, and toast | Indoor steak | Cool Ranch Doritos Tacos | Chicken breasts | Baked Ziti | Quiche | Pimento cheese sandwich | Potato salad | Popeyes Rip'n Chick'n | Crab cakes | Mother's Day brunch | Cheeseburgers | Uncrustables | Peach cobbler | Alfredo sauce | Kebabs | Soft-shell crabs | Ruffles Ultimate | Omelet | Pesto | Poached eggs | Bivalves | Ribs | Caesar Salad | Nutella | ​Reuben sandwich
Jolie Kerr is the author of the upcoming book My Boyfriend Barfed In My Handbag … And Other Things You Can't Ask Martha (Plume, February 25, 2014); more of her natterings can be found on Twitter, Kinja, and Tumblr.
Image by Sam Woolley.