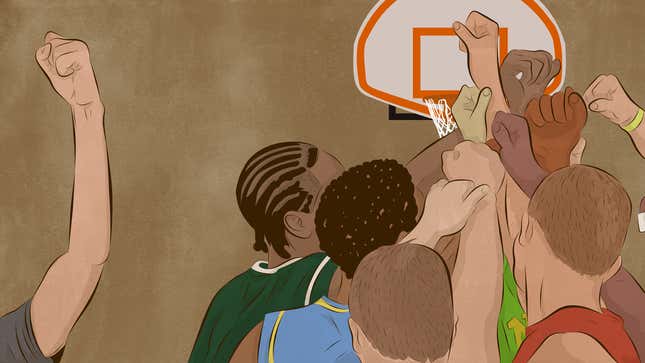 For most of my adult life, I have managed to play basketball two or three times a week. I do this because it is significantly more fun than, say, spending a joyless half-hour on a worn treadmill in some windowless YMCA basement, and at 29, my knee still has yet to explode like poor Shaun Livingston's. But like every Millennial with an overpriced graduate degree, I have also moved around plenty, logging stints in five major cities (or four, depending on how you feel about Boston) over the past ten years. This means that I am very familiar with the feeling of showing up to a court full of total strangers, high tops in hand, and hoping for the best.
Aaron Rodgers should go full Joe Namath | Comedian Bert Kreischer
Joining an informal pickup game, by definition, should not be complicated. Yet doing so is often much more difficult than any social interaction should be among purportedly functional adults. At every new spot, one must figure out the pecking order and learn to take in stride the deafening screams of the token player-coach who, for some reason, really wants his team to switch to zone. The dynamic is not much different from being the new kid in school, but with more testosterone-laden shouting matches and wily, older gentlemen who set screens with their astonishingly bony elbows sticking straight out.
If this happens to you, fear not. (Finding a new game, I mean. You should be afraid of geriatric elbows.) Here are some simple DOs and DON'Ts to help you navigate court politics without having everyone hate you and openly refer to you as "Fuckin' New Guy" until you sigh resignedly and decide to give squash a try after all.
DO interact like a normal human being. Day one. You stride into the gym, purposefully meeting every wayward glance with a hard-eyed stare. Time to show what I'm about, you mutter under Gatorade-laced breath, cranking up the volume on your earbuds and sticking out your jaw because it looks intimidating when Kobe does it. It's about to go down, you vow as you start shadow-boxing in the far corner of the gym and occasionally rapping along to the most violent lines from "Hit 'Em Up."
Yes, even well past the age at which it is acceptable to treat Ball As Life, some bros still feel that their on-court interactions are one continuous referendum on whether they possess the killer instinct. Do not be one of those people. Pretend you are at Thanksgiving dinner with your significant other's family, but with less nervous sweating. Smile. Use full sentences, and consider (gasp) introducing yourself. As in any other social situation, first impressions are everything. Don't let Kobe Face ruin yours.
DON'T talk shit. If you insist on doing so in an unfamiliar setting, I personally guarantee that one of three things will happen:
The target of your barbs turns out to be really, really good, and vows to make you look really, really bad, now and forevermore, amen.
You unwittingly pick someone that all the regulars like. They telepathically unite against you, and ten minutes later the meatiest one lays you out with a moving screen that would make Kevin Garnett wince.
Your nemesis turns out to be your direct supervisor at the new office, and you start desperately filling out a Peace Corps application that same day.
Friendly reminder that you are an adult. You have a family (possibly), a job (hopefully), and student loans to pay (definitely, until you are dead). You are not playing for a title, a contract, or anything else that could possibly justify deciding to tell a stranger, to his face, that he is a weak, soft [insert deeply offensive noun of your choice]. Don't do it.
DO ask for a rules primer. Find out how the game is scored, which lines are out-of-bounds, how jump balls work, and the like. Someone on your team will probably fill you in, in part to make you feel welcome but mostly to ensure that you don't turn the ball over because you forgot which lines to mind. But if no one speaks up, ask. Otherwise, you'll be forced to err on the side of caution, jogging up and down the middle of the court between the three-point arcs like Celtics-era Rasheed Wallace. Celtics-era Rasheed Wallace was fun, but not good. Don't be Celtics-era Rasheed Wallace.
DON'T call a bunch of fouls. Look, if someone Draymonds you, say something, assuming you're physically able to make sounds other than a low, inhuman moan. But otherwise, smile, resolve to finish next time, and keep running. People will note and appreciate that you do not feel a compulsive need to stop the game with every bump, real or imagined. Plus, once they like playing with you, they won't get nearly as upset when you're tired and jog up and down the court like Celtics-era Rasheed Wallace.
DO guard who you're told to guard. Did your teammates match you up with some dude wearing New Balances and cargo shorts? Are they flagrantly disrespecting your ability check anyone, anytime? Before you start angrily mouthing 2Pac lyrics again, remember that no one here knows you from Anthony Bennett, so no one expects anything of you, either. This is not disrespect. It's insurance against you being, well, Anthony Bennett.
Taking this personally and insisting on guarding whoever you think you should guard is a very bad plan. At best, you'll do fine, but because your teammates tried to help and you angrily waved them off, you're a dick. Worst case, they know something you don't, New Balances Guy torches you all afternoon, and you're still a dick. So take it easy. If you indeed go all Kawhi on this chump, you'll be shuffled to a better matchup soon enough, and before long it will be you telling the new people what to do.
DON'T lose perspective. Here is a true story. After months of trying, I finally scored an invite to a certain pickup game—shoutout YMCA National Capital, rest in peace—which its members quietly organized by email and zealously guarded to keep numbers low and headcases out. They scored by twos and threes (the correct way) to thirty, so with the day's last game tied at 27, both teams naturally forgot that two-point shots existed. Finally, a guy on the other team launched the game-winner, but while squaring up he put his foot on the line. As the shot floated in mid-air, I called it—"Two!"—like an idiot. The ball sailed through the hoop, both teams began exchanging high-fives and, horrified, I tried to melt silently into the hardwood.
This plan did not work. "SOMEONE SAID 'TWO.' NEW GUY?" Dammit. The result of this game did not matter one bit, to me or to anyone else. But once pointed out, I couldn't disavow the call, or I was a liar, which is the only thing worse than a toe-watcher. So I meekly copped to it and hoped that the universe would correct my mistake. Alas, my teammate promptly hit the actual game-winner. (His feet were well behind the arc.) We won, but EVERYONE was mad at me: the other team, because I took away their game, and my team, because they had to play with Dumbass New Guy Who Messed Up The Run. You won't believe this, but I was not added to the listserv that morning.
Vince Lombardi (among others) famously observed that winning isn't everything, it's the only thing. But Lombardi probably said this because if he didn't win, he would get fired. No matter what happens, you still have to go to your office and file TPS reports when the game is over. So give the benefit of the doubt to hustle plays, ignore the occasional foot shuffle, and don't wipe out a cool, fun sequence because you were so carefully scrutinizing toe placement. Everyone will have a better time if you let stuff go.
DO go beyond basketball. Assuming no one acts like a sociopath, on-court chemistry leads to off-court friendships, too. At each game of which I've been a part, the regulars do things like get together for drinks, look after each other's kids, help with job searches, and go in on a thoughtful gift each time another player gets married. At this VERY post-Hoop Dreams stage of your basketball career, this is what actually matters.
So yes, the politics can be hilarious and inane. But navigating them is just a silly hoop (sorry) through which you have to jump, and becoming part of a genuinely meaningful community on the other side is well worth it. Good luck out there, don't sleep on New Balances Guy, and save me a spot for next.
---
Jay Willis is a lawyer, writer, and despondent Mariners fan in Seattle. His writing has appeared in Deadspin, Gawker, the Seattle Times, and Crosscut, among others. Find him on Twitter: @FarragutWest.