I had a nightmare the other night. Usually, this isn't anything noteworthy. Everyone has the occasional nightmare, and then shakes it off and goes back to bed. Or masturbates to get the demons out and THEN goes back to bed. Sex cures fear, I tell you.
But this... this was different. In the nightmare, I was walking around town and someone was talking about a serial killer being loose, then the dream shifted to my bed, where I was asleep with my wife. I was lying on the bed with my eyes open and suddenly a dark, obscured figure walked into the room and stood before me. And I instantly assumed that this man was a serial killer who was going to tie us up and kill us with a serrated Commando knife. SHIT WAS ABOUT TO GET REAL. So I flipped the fuck out. I leapt out of the bed and starting screaming at the man. Real screaming. That kind of, "I can't believe I'm actually making this sound" screaming. And I was yelling WHO ARE YOU?!!!!! WHO ARE YOU?!!!!! And I was rushing at him and went to bear hug him. Because that's a perfectly rational way to stave off a serial killer, to go HUG the guy. Outstanding tactic.
This is all fairly standard nightmare stuff. What was different this time was that, unbeknownst to me, I actually DID leap out of bed (while still asleep), began screaming WHO ARE YOU?!!!! at the top of my lungs, and rushed to the door of the bedroom. All while still dreaming. And my wife, who was sleeping peacefully up until that moment, was awoken by my screams and assumed (justifiably) that there WAS a serial killer in the room and that I was about to attack him and shit was about to go down. She cried out in horror, "OH MY GOD!!!!!"
And as I went to embrace Ted Bundy in my dream, he disappeared like a phantom and I woke up to find myself screaming like a little girl and standing there, hugging the air. I could hear myself yelling until I realized I had the ability to stop myself and so the scream sort of wound down. WHO ARE YEEEAAAUUURGGGHHHHH... Then I just stood there in shock, like a complete idiot, staring at my empty hands. It was very dramatic. At least, to me it was.
Movies and TV shows all portray waking up from a nightmare the exact same way. The person having the bad dream ALWAYS sits up in bed and lets out a terrified exhalation — HUNNNGHHHHH! Cold sweat may or may not be optional. The bad dream is meant to signify some sort of past trauma or portend some coming evil. Real nightmares aren't like that. Real nightmares are totally random. They exist as fragments. They don't really have an end or a beginning. They have no set time frame, because when you're asleep time doesn't mean anything. Often, two or more images can intertwine, or things that would never normally scare you are scary to you in the dream. But usually, the gift of a nightmare is that it's forgotten quickly. Like seeing a shark fin pop out of the ocean for a second. It's gone so quickly so you don't even remember what it looks like, and you wonder if you ever really saw anything there to begin with. That's how a nightmare usually works, at least for me. It happens and then it disappears.
G/O Media may get a commission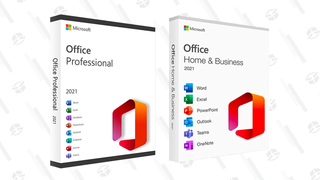 89% off
Microsoft Office Professional 2021 Lifetime License
But here was a nightmare so real and so vivid that I physically acted upon it. And I was left completely shaken by it because A) It was so real, and B) That apparently would be my response to an actual home invader, which isn't reassuring at all. I mean, I acted like a complete pussy, and it was all out in the open for my wife to see. My inner gash was exposed. I spazzed out like a complete jackoff who knows absolutely no self-defense tactics. And so when my wife went to comfort me - which always should be the great reward for having a shitty dream, when the person with you strokes your head and tells you you're gonna be all right - I couldn't enjoy the moment fully, because both of us were lying there wondering, "Christ, if a serial killer really did walk through that door, we'd be screwed." Because I apparently become a shrieking epileptic when faced with a legitimate mano-a-mano situation.
If you've ever had an embarrassing episode with nightmares like this, by all means share them in the comments. Surely, I'm not alone here. I am? I really am, aren't I? Oh, God. I'm the weakest man alive.