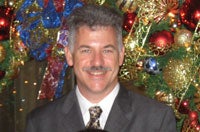 No one understands the NBA salary cap better than Larry Coon. That's because no one on Earth understands the NBA salary cap besides Larry Coon.
Naturally, Larry Coon—yes, we've heard all the Saban jokes, thank you—is not a lawyer or a labor expert or even an employee of the N.B.A. He's just a bored computer programmer who wrote the "NBA Salary Cap F.A.Q.", a lengthy online explanation of the league's collective bargaining agreement that fans, media, and even the occasional NBA employee turn to when they get flummoxed by the league's labyrinth of rules. He's very popular.
Larry and his site even got profiled in The New York Times this week, thanks to the Darius Miles situation, which has anyone who reads about it scratching their heads.
He first compiled the FAQ (frequently asked questions) in 1999, and has updated it periodically since then, making his biggest changes in 2005, when the last C.B.A. was adopted.

"Part of it's just a fastidious nature, and being a voracious reader," Coon said of his motivation. "You just slowly accumulate knowledge, and eventually you get to the point where you're reading stuff in the media and stuff is conflicting."

Coon's work has endeared him to reporters for years. He estimates that he has answered 3,000 cap-related e-mail messages in the last 10 years. Inquiries usually spike around the February trading deadline and the July free-agency period.
Every move that an NBA team makes is somehow dictated by the C.B.A.'s incomprehensible rules, so it's good that at least one person has taken the time to figure it out. (The C.B.A. explanation page on the player's union website is simply a link to his site.) If only Isiah Thomas had been give this guy's email address, the entire course of league history could have been altered.
Got a Question About the N.B.A. Salary Cap? He's Your Man. [NY Times]
NBA Salary Cap FAQ [Larry Coon]