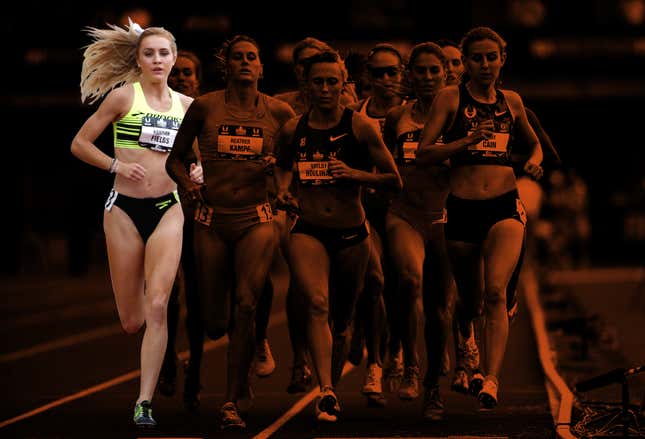 Carolyn Helker's daughter, Hannah, is quite competitive. She gets that from her father, Eddy. When Hannah was young, her dad coached her soccer team and challenged the kids to juggle a soccer ball 100 times. Knob-kneed and determined, Hannah did it. Then he sweetened the deal, saying he'd pay anyone who could juggle the ball 1,000 times $100. "He should have known better," Carolyn says now.

Is Texas or Florida State a bigger national title contender? | Agree to Disagree
Carolyn and Eddy's oldest child, Hannah Fields, nee Helker, now 24, still will not back down from a challenge. It's not about soccer or a hundred dollars; she just does not want to lose. That competitive drive has powered Fields's journey from Edmond, Okla. to the top ranks of middle distance running, via the unlikely route of a small NAIA college.
In the span of three weeks this past June, she busted huge personal best times of 2:00.5 for 800 meters and 4:05.3 for 1500 meters, effectively hurdling from decent college runner to world-class athlete.
At 5-foot-11 with a winning combination of endurance and finishing turbo, she certainly has the infrastructure to be a top runner. But gifts like competitiveness and athletic talent, unfettered, can be self-destructive. "Being terrified of losing is not enjoyable and it's not sustainable," Fields said of the other side of that coin.
First confronted with this intense personality, Carolyn Helker remembered five-year old Hannah being really distraught when her soccer team lost: "I thought, Oh my gosh, who are you?"
The daughter of a pastor, raised in a conservative town, schooled at Oklahoma Baptist University, and married before she earned her undergraduate degree in math—these things tell a misleading story. There's not a hint of Oklahoma in her voice, and that was the first clue that I was in for a surprise. To find a more complete answer, I came at the question of who Hannah Fields is from several different perspectives—from the Brooks-sponsored runner herself; from her mom, 54-year-old Carolyn Helker; from her former coach, Oklahoma Baptist University track and cross country coach Ford Mastin; and from her present coach, Seattle-based Brooks Beast coach Danny Mackey. This is what I learned.
On choosing running over soccer
Hannah Fields: "Mostly I played soccer. Running was something I did to stay in shape for soccer. I didn't like running much, but honestly, my time to shine in soccer was when I got in trouble and had to run. I did middle school cross country and track. It wasn't until junior year [North High School] that running became my primary sport. I was always getting injured in soccer, and once college track coaches started recruiting me, they were like, 'You should quit soccer.' We didn't have the money for college, and track scholarships covered more than soccer scholarships did. I thought, I can do this to help my family out."
Carolyn Helker: "Our kids knew that [scholarships were] how they were going to go to college. We wouldn't be able to send them without huge loans. We knew she didn't looooove running, but we also knew she was a gifted runner. She honored our request."
On an intense personality
Hannah Fields: "I loved competing but I hated running in high school. For one thing it hurt, and you can't sub out like in soccer. I hated the nerves, but mostly I was terrified of losing. Also I was comparing myself to others. Running became unenjoyable."
Carolyn Helker: "Well, she's a typical firstborn—type A. She's always been an intense girl. Hannah's really, really creative. She's got this artsy brain that does stuff, like at age three, creating a 3-D art project. She would lose herself in creating things. She gets the competitive side from her father. He's very competitive; I am not. I'm not bragging or anything, but we weren't used to her losing. Winning everything—I thought, we've gotta balance all this. Not being a competitive person, I was speaking that into her. We tried to show her there's more to life. We went on mission trips to Mexico where people were living in shacks. It keeps things in perspective, you know, living in Edmond, which is a wealthy town compared to rest of world."
Ford Mastin: "The most important gift a runner can have is the will not to lose, not to be passed. But sometimes the fear of losing, sometimes the gift is bad."
Danny Mackey: "She's a natural competitor. She's confident, she's got tactical awareness."
On running
Hannah Fields: "No one really enjoys being in pain, but I've learned to embrace it because there are few sports that bring you to that breaking point. It's sort of rare. When you run, you're brought to this raw state. You're suffering, but you're doing more than you think you can. Running is more objective than soccer. Time doesn't lie. It's a lot more pure in that sense. Like math, there's an answer to everything. Plus, it's temporary—you only hurt for two minutes or so."
On choosing Oklahoma Baptist University instead of a D1 school
Hannah Fields: "Yeah, I didn't love running. I was recruited by D1 programs, but I wanted to be in a place where the running aspect didn't consume me. But I also wanted to improve. OBU had that—quality runners come out of there, but there's balance. It's the best of both worlds. I could tap into my potential as a runner without being consumed. I didn't necessarily go there because it was Christian: It was a good for that time in my life. People there had similar beliefs as me at that stage of my life. You can stack academic and athletic scholarships at an NAIA school, so it covers more. My dad and I met Coach Mastin [of OBU] at a meet. I don't think he was even trying to recruit me. I think I set up the visit."
Carolyn Helker: "I think Ford [Mastin] was amazed that she was interested in OBU. It was the perfect spot for her, and he was the perfect coach for her."
Ford Mastin: "I sat with Hannah and her dad at the meet of champions her junior year in high school. I started the conversation, asking if she'd be interested in coming to OBU, and she said yes. I wasn't pushy. I knew the only way she'd actually come to us was to be honest. I said, 'We could really use your help.' It's not like we were awful—we had some good Jamaican sprinters—but we didn't have distance runners at the time. I think she was thinking, this guy's low-key. I think she was attracted by the balance. She was afraid a D1 program would dominate her life. I insisted on balance—social life, school, lots of relationships. We try to do a good job of getting to big meets. When recruits see our schedule [some big D1 meets] we sometimes get good runners. One of the reasons we got Hannah to come was I said, 'If you don't want to run cross country, don't run cross country.'
"Hannah stood out in every way, but what I remember most is that she's the only girl in 22 years of recruiting visits who wore a dress."
How Hannah came to love running again
Hannah Fields: "I was wrapped up in thinking running was about me and winning and losing. I was blowing it up in my head. But gradually at OBU, I started thinking, Oh wait, it really is just running. The team environment there was so awesome, so close, and the coach was like a second dad to me. The relationships I got out of running were so much more fulfilling that I focused on my identity outside of being a runner. The feedback I got from the team and Coach Mastin helped me release that tight grip, that fear of failure. They loved me for me. Alumni of OBU say the same thing—the coach created this community, he leads people to love each other, and now we have these lifelong friends. No matter how you did, he valued you for you. Coach Mastin gave me the freedom to enjoy running for running instead of the performance side."
Ford Mastin: "When she accepted herself, she really took off. She didn't have to be perfect, she didn't have to be the best in world. She could enjoy her friends. She found this balance of school, social life, and running. Her freshman year she wasn't going to run cross country, and that was fine, but she would run informally with a group of 400m and 800m girls. About mid-September we had a two-mile time trial. She was 12:20. Two weeks later she broke 12 minutes, and her longest run had been five miles. So I said, 'Do you want to give cross country a go?' She ran the last four meets on talent alone. Before a race, I'd text her things like: 'God made you fast, you feel his pleasure when you run, this is a chance to enjoy your relationship with God.' If I'd talked about form or strategy, it would have taken the joy out if it. And she's never had bad form. We talked like, You gotta run free, let's just have some fun with this. Let's just do this, de-emphasize the extra mental things. That's how she grew to love herself, and love running."
On her eating disorder
Hannah Fields: "It began the end of my freshman year of college and progressed on and off the next three years. I was stressed about things I felt I couldn't fully control—school and running and being in a new environment. And I knew that being lighter would help with my running. It just developed as I saw the progress of being able to control my weight and what I ate. Just like my personality made me prone to anorexia/bulimia, the eating disorder made me prone to isolation, self-loathing, depression, all that. All this time though, I was also pissed off because I felt like such a cliche—skinny white girl with self-image issues. I felt petty and selfish because the world has a lot bigger problems than what was going on in my little head. Sophomore year I noticed my relationships were deteriorating because of it. Coach Mastin was the first one to really call me out. It was a long process, but with this unconditional love of my family, friends, and coach, I spent less time feeding detrimental behavior and more time giving of myself to others. It's hard to express the magnitude of what they did for me. I don't think I'll ever be fully recovered. We all have weaknesses and struggles to remind us we can't do this life thing alone."
Ford Mastin: "There was not one year that was not a struggle to overcome some issue—knee injury, hip, and anorexia her sophomore and junior year. She came in as a freshman at 142 pounds and as a sophomore was at 121 pounds. We would take her blood count before races just to see if it was dangerous for her to run. But there was a handful of girls on the team then who were just perfect for her, a wonderful support team. They kept involving her and taking her places, they were with her all the time. These girls were so grounded, just average wonderful people, they helped her be normal and do things normal girls did. Those girls fed her life in a lot of ways. Her boyfriend [now husband] Ryon really took care of her—he's like a guardian angel. Slowly we fought through this."
Danny Mackey: "We've had a lot of conversations about it. It's been a huge struggle."
On Ryon Fields
Hannah Fields: "We started dating when we were 15, but he went to University of Central Oklahoma, only an hour away. We thought it would be good for us to go to different schools. Oh no, he's a terrible runner. It was several months into dating until he knew I was a runner. He still doesn't know much about running, which is good. He's an accountant. Being around someone who doesn't see me as a runner is really valuable. I don't want to make it sound like he's totally un-athletic: He's really good at golf. He's like 6-foot-5, super lean. Looks like he could run. One time he tried to go with me on a one-mile shake-out—he can't last. We go on walks. I'm bad at golf."
Carolyn Helker: "He's such a nice nice guy. I hope you get to meet him. Ryon balances her out; he loves her well."
Ford Mastin: "You have to know Ryon. He's always said, I'm going to be with her, take care of her—he's just there. He doesn't try to change her or overshadow her, and he's never wavered from that commitment. It would be hard to find somebody who could do that. He's like a guardian angel. And, they have math in common [she's a math major, he's an accountant]."
Danny Mackey: "Husbands are usually controlling. Her husband, Ryon, is awesome—super supportive, just a cheerleader."
On getting married at 21
Hannah Fields: "Yeah, we got married the August before senior year in college. In Seattle [where she lives now], it's unheard of to get married that young. People are like, are you crazy? But at a small Christian school, as they say, ring by spring. I was one of five married people on my team. My husband and I dated for six years—for some people who get married young, it's not all about lasting commitment. They just don't want to have premarital sex, so they get married! I've seen successful marriages but I've seen the other side of it too—where they were so young, they didn't know what they were getting into. I recognize it's weird and not the norm. But there are positives: Neither one of us came into marriage with baggage. From my friends who use dating apps, I understand that's a good thing. I got lucky—we grew together instead of apart. We learned from each other, and didn't criticize. Running can be really selfish. Being married has helped me to be less selfish because I've had to make decisions with two people in mind. Having a partner in life has helped me to have that perspective. I love it—my roommate is my best friend."
Carolyn Helker: "We had no doubt she'd marry Ryon, but I didn't know they were going to get engaged junior year. I thought they would graduate from college, travel, do what you do when you're young and single. But nobody ever listens to me [laughs]. For her, it just made sense. They didn't need to be apart any more."
Ford Mastin: "I was surprised when she said I'm engaged. Selfishly I was hoping it wouldn't affect her running."
On the transition from a small NAIA college to the pros
Hannah Fields: "Freshman year at OBU I never ran more than 30 miles per week, and by senior year that was up to 50 miles. I signed with Brooks at the U.S. Championships in 2015 and went to a couple pro races, but I didn't think of it as much different than college. Last year I was plagued with injuries. Part of it was going up to 60 miles per week, but also I was more aware of not being the best anymore. I realized I can't face every race and think, I can win this thing. Now I have to think, Okay, I probably won't win this thing. I started to make competition about, Oh this is my job, or comparing myself to others again. My body carried the stress of transition: I was having trouble sleeping—not over 5 hours a night. My body was breaking down, I didn't recover, I had two stress fractures, I tripped and broke my elbow. It was the Twilight Zone. Last year was a disaster."
Carolyn Helker: "She had the worst first year of being a pro, being injured the whole year. She was so defeated, but still determined to find out who she was as a runner, as Hannah Fields, not comparing herself to Jenny Simpson. So when we talked with her on the phone, we talked about anything but running: What are you reading? What movies have you seen? I went for a visit to Seattle in January, just to follow her around, a day in the life of Hannah Fields. We went to all the different places she goes to train, and one of those was the pool. For 90 minutes. I felt guilty doing nothing, so I did the elliptical and then the hot tub and then the sauna, and she was still swimming. We got her waterproof earbuds."
Ford Mastin: "The last two years at OBU, she worked out with the slower group of guys—like 2:01 800 runners. Man, those guys hated that, but they were super motivated to run with her. They had to work hard all the time. That really contributed to her last two years. Just for fun at our last home meet, she did the steeple and got school record, 10:44. An hour after that she ran 56.1 in the open 400. She's always had good turnover and a good kick. You know, she was undertrained for six years but I knew if she could train without injury, she'd be great."
Danny Mackey: "She was training with guys, and had never had a group of women at her ability. On the first tempo run with the women on the team, she got the shit beat out of her. It was a hard adjustment. At 22, winning was all she knew. In the pros, you can PR and get 8th. That might be easier for an athlete coming from a D1 program. We focused on resilience—in college you can have a bad race and still win. In the pros, if you have a bad race you're way back. We're working on nutrition balance and training volume. Now she runs 40 miles per week and another 10 to 15 miles in the pool. She does her long run in the pool. A key performance indicator is avoiding training gaps."
On a wider worldview
Carolyn Helker: "Because of our ministry [nondenominational Christian] we always had people in our house—all ages, different backgrounds. She's well rounded. We've tried to give her perspective on real world stuff. I know, girls who get married young from Christian schools—there's a stereotype, for sure. We talk about her being Hannah and what does that look like. You know, she's not going to be an athlete forever. I don't care if she's successful in the athletic world—it's fun, but I'm more concerned about her character and integrity."
Ford Mastin: "She's a giver, a breath of fresh air. She's just interested in stuff."
Danny Mackey: "She has a healthy view of the world, super approachable."
On setting huge PRs, and mixing it up with the big girls
Hannah Fields: "I knew I needed to break 2:02 [in 800, to qualify for T&F World Championships] which seemed a big goal [she came in with a 2:03.9 PR]. I hadn't worked up the courage to think beyond that. I wasn't obsessing about what if things go wrong or what if I fail. I'm running with peace and freedom, just really trying to enjoy it and be grateful for it. I mean, last year, I wasn't even at the Olympic Trials." [While both her 2:00.5 800-meter and the 4:05 1500-meter are qualifying marks for the World Championship, they were not run at the U.S. National Championship, which is the qualifying meet]
Carolyn Helker: "We were in the stands in Sacramento [U.S. National Championship]. It was scary and exciting. I kept thinking, that's my little girl out there. Just wow! She has worked really hard; we're so excited for her in this amazing journey."
Danny Mackey: "She's starting to show she can definitely be a force in the 1500. But the next big thing? We don't really think that way. We just want to keep knocking at the door, keep winning races. She's had 16 solid weeks of training. I was not surprised [by her big improvements]. I told her she could run 2:00 and 4:05. I think she has 1:59 and 4:03 fitness yet this season."