I wasn't yet in Gainesville for the first press conference, held immediately after the season opener. Will Muschamp's Florida Gators had just demolished Toledo in a tune-up, an easy victory foreseen by just about everybody. The Gators had gone 11-1 the previous regular season, and only BCS politics kept them out of the national title game—where, admittedly, they would have been creamed by Alabama. Florida opened 2013 with a national ranking in the top 10. All summer and right through that Toledo win, the aspirations of Gator Nation hovered way, way up there: an SEC title at the least, and a national championship with a little luck, if everything were to break the right way.
I've since watched that first press conference online. Muschamp bounded into the briefing room, visibly pumped. He smiled at first as he dispatched the basics. How pleased he was with his running game. How pleased he also was with the offense's time of possession. Wonkish specifics about red-zone defense and special teams were peppered with words like "outstanding" and "fantastic." At one point he even said, of scoring on his team's first possession, "That's a heck of a deal." And then, right before he opened the floor for questions, he got a little cocky. He stopped talking for a moment. His left hand tightened its grip on the podium. He leveled his gaze at the reporters scribbling notes in their seats.
"I'm really pissed off!" he bellowed in a scratchy voice, pitched boyishly high. Several newspapers and at least one website had reported that six players had been suspended prior to the game for violations of team rules. Turns out one of those Gators, a freshman, wasn't suspended, and he would have played in the game if needed. Including that freshman on the list, Muschamp wailed, was "very irresponsible journalism, OK?" It was fine to attack the coaches or the athletic director or whatever. But it was definitely not OK to ding a young player. "When you take a shot at a kid and it's inaccurate and it's written inaccurately, I got a problem!"
As rants go, it was a bit of a rehash. His criticism so closely resembled an old screed by Oklahoma State coach Mike Gundy that I half-expected Muschamp to shout, "I'm a man! I'm 40!" It was also a curiously volcanic response to what looked like small potatoes. The journalists who reported the suspension came from such different outlets, and held such a wide range of professional experience, that it was clear the kid had been suspended at one point, at least initially. That didn't matter to Muschamp, though. He wanted to look tough. He wanted to make a statement. And he felt secure enough in his position to make it.
"Our trust is done, I can assure you that!" he declared. He was going to try to bar the offending reporters from covering future Gator games. Groveling would be nice. He told the journalists they needed to apologize to the player and his parents. And he made a big, showy demand for transparency.
G/O Media may get a commission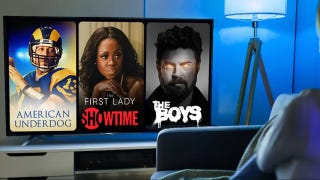 UNDER $1
99¢ Prime Video Channels
"Why don't you come up and tell me who your source was?" he asked, knowing full well there was more than one source, and that those sources came from inside his program. "That's what I'd like to know. Who was your source?"
No one volunteered a name.
"Quiet as church mice," Muschamp concluded. Anger. Bravado. Righteous indignation. If his microphone hadn't been bolted to the podium, he might have picked that moment to drop it on the carpet.
That, it turns out, was peak Muschamp. When I look at the video now, I see a man at the height of his confidence. He's the reigning coach of the year in the SEC, freshly embarked on his third season at Florida, with his system fully in place and the players he personally recruited out on the field. He's a proven winner earning some $3 million a year. Aglow after his team embarrassed a patsy in front of 83,000 fans, he felt more than assured enough to strike a match and hold it to a few straw men. It was a performance, a coach's version of an end-zone dance. He surely thought that things were only going to get better from there.
---
I spent most of autumn in Gainesville, a college town carved from pine trees close to Georgia and far from both the gulf and the ocean. Plaques commemorating a Confederate victory bronze a plaza outside City Hall. A Confederate memorial stands at the corner of University and 2nd, the crux of a small downtown. The great attraction was that for the first time in my life I'd get to spend quality time in a capital of college football, and do so in season.
"It's the local religion," the publisher of the Gainesville Iguana newspaper assured me.
I was in Gainesville to investigate Gators football, which for a brief period over the summer had become the rogue program of the moment. Aaron Hernandez had been arrested on murder charges up in Massachusetts, and his arrest inspired police to take a look back at his time at Florida—at least 100 times I drove past the spot where bullets were fired into a car occupied by locals who'd argued with Hernandez and his friends at a downtown nightclub—and prompted a re-examination of the Urban Meyer era.
There was a time when Meyer was seen as an avatar of first-class football, a coach capable of winning while doing things the right way. Meyer "has zero tolerance for misbehavior," Florida's athletic director, Jeremy Foley, boasted back in 2005, shortly before the program began the run that saw it win two national championships in three years. This was one of those things you're supposed to say, though in retrospect it was a little excessive, given that 31 players were arrested during Meyer's tenure, from 2005-2010. For the most part, the charges—ranging from underage drinking to aggravated assault—were either pleaded down or dropped altogether, but the raw numbers were pinned on Meyer anyway. The criticism was post hoc and borderline incoherent: Meyer had created a culture of permissiveness at Florida, the pundits said, conflating arrests with convictions, misdemeanors with felonies. Meyer was bringing in bad eggs, they said, as if a coach, perhaps through some combination of phrenology and predictive policing, could suss out the criminal nature of his teenage recruits.
All that hung over my conversations in Gainesville. Everyone had enjoyed the championships, as expected, but I found near-universal agreement with something Meyer himself had admitted, that he'd left Florida a "broken" program. I heard the world "entitlement" a lot, referencing player attitudes and a general way of doing things that did not fully comport with the exalted image of Florida football.
Which is why, when Will Muschamp arrived in Gainesville in 2010, he made a great show of insisting that he was going to run one of the cleanest programs in college football.
"There's a certain thing that I'm going to refer to as The Florida Way," he proclaimed at his introductory press conference, "and that's the way they need to act and that's the way they need to represent our university. If our kids don't want to get their degree, they don't need to be here. If they're not going to go to class and act the right way, they don't need to be here."
Not long after he accepted the job at Florida, Muschamp summoned his best player into his office. Janoris Jenkins had just been arrested for marijuana possession. It was Jenkins's second such arrest in three months, and it came on the heels of a third arrest for fleeing police after a bar fight. According to several reports, Muschamp told Jenkins he would be suspended for five games.
"Do you know who you're talking to?" Jenkins reportedly replied. Jenkins was an all-conference cornerback, the anchor of Florida's defense. His jersey, upon which was sewn the coveted number one, indicated his place atop the football hierarchy. He was a certain NFL player.
Muschamp immediately kicked Jenkins off the team. Florida's most talented tight end followed him out the door, after an altercation with his girlfriend. The back-up tight end left the team, too, after being caught resisting arrest and driving with a suspended license. Linebacker Chris Martin transferred to a junior college in California after an arrest for marijuana possession. He ended up at the University of Kansas, until he was kicked out of that school, too, following an arrest for breaking into a man's home and stealing cash and marijuana at gunpoint.
All of these players had been recruited by Urban Meyer. Losing them put Florida at something of a competitive disadvantage. It also left the program in a position where any difficulties could be written down as intimately related to noble intentions. A sort of performative high-mindedness now obtains in Gainesville, with Muschamp as the sports equivalent of the Washington insider running against Washington.
"I think Florida has this elevated image of itself," Bernie Machen, the university's president, told me. "Meaning we're better than everybody else. Meaning we can win by doing it the right way. It would be a devastating blow to me if we have NCAA violations, for example. There's a cohort of lunatics that want me fired. But most people are very understanding that what [Muschamp is] trying to do is different."
---
Just before a home game against Arkansas, my first on campus, Will Muschamp and his team looked formidable. Yes, they'd followed their trouncing of Toledo with a loss to Miami, which instantly killed the national championship dream, but they came right back with conference victories over Tennessee and Kentucky. Heading into the Arkansas game, they could still win an SEC title. If nothing else, they were, at this point, still nationally ranked.
It was a night game, broadcast on ESPN. Tailgate barbecues spilled out beyond Archer Road, forcing me to park in a distant subdivision draped in Spanish moss. A tenement of recreational vehicles hoisted orange and blue flags. Televisions hummed, run off of portable generators. Sorority sisters tossed orange-and-blue bean bags while sipping from brown bottles of beer. When I finally reached Ben Hill Griffin Stadium, I looked in on the shrine where they keep the crystal footballs awarded for the Gators' three national championships. I saw three Heisman trophies, too, and then, in a garden outside the stadium, bronze statues of the quarterbacks who had won them—Steve Spurrier, Danny Wuerffel, and the sainted Tim Tebow. (A security guard stood next to the Tebow statue, preventing fans from climbing on for photos.) I read a historical marker announcing the spot where Gatorade was invented. And then I stepped inside the Swamp, as Spurrier nicknamed the stadium, where I drank in so much of what I love about college football.
The play, above all. College athletes are so fast and strong, and also so young; they haven't yet been beaten down by the game, or by life. Also the bedlam in the student section when Florida defender Loucheiz Purifoy returned an interception for a touchdown. And the acrobatic cheerleaders, and even the baton twirlers, of which Florida fields more than a dozen. Chris DiMarco, a professional golfer and alumnus, led 90,000 fans in the traditional cheer: Two bits! Four bits! Six bits! A dollar! All for the Gators stand up and holler! The Fighting Gators marching band incited cries of C'mon Gators! and then played the theme from Jaws, the signal to clasp arms together in the Gator chomp. At the end of the third quarter, the stadium swayed to a rendition of "We Are the Boys From Old Florida."
"A night game in The Swamp," quarterback Tyler Murphy would say afterward. "It doesn't get much better than that."
I knew only the basics about Muschamp before the game: that he grew up in Gainesville, that he played safety for the Georgia Bulldogs, and that he'd coached at Auburn and LSU, as well as with the Miami Dolphins. He'd last worked as the defensive coordinator at Texas, where the school had locked him down as their head coach-in-waiting. He nevertheless abandoned Texas for Florida, because there was a vacancy—this was back when Urban Meyer was claiming health problems, and then a desire to spend time with his family, and then, ultimately, a preference to coach Ohio State—and because Florida is one of a dozen or so schools with the resources and the commitment to compete for a national championship year in and year out.
The Gators won easily, 24-10. When the clock expired, I rushed down to catch Muschamp's postgame press conference, held in a fallout shelter of a room under the stadium. I sat in a padded leather seat embroidered with the smiling alligator logo of Florida sports. Create an Edge, Be the Edge, commanded a slogan painted on a wall. Also on the wall: the words "National Champions" and the years 1996, 2006 and 2008. There was space left for the addition of one more year.
"Well, obviously, we're pleased with the win," Muschamp said. He gripped the podium so tightly I worried he was about to rip it off the floor. He's an intense guy. On the sidelines his eyes will bug out at some call he disagrees with, his lips will curl into a snarl at a player who has screwed up, and his knuckles will swell after smashing a whiteboard to get the team's attention. In the briefing room, he may not have blinked once. Slabs of muscle in his neck made his head appear a size larger than most. With his dark hair parted on the side and his chin up and out, he reminded me of the patriarch of American Dad!
He spoke of turnovers recovered and touchdown passes completed, his thin voice grown hoarse from yelling at young men. He came across as confident and assertive, a winner. The next week, on the road, the Gators lost to LSU. The week after that, also on the road, they lost to Missouri, and dropped from the national rankings.
---
The University of Florida opened in 1906 in Gainesville, a city chosen largely for its promised access to free spring water. Women—white women only, for decades—were not allowed to enroll until some 20 years later, around the time the school began to seriously promote its football program. Then-president John Tigert, who'd played halfback at Vanderbilt, wedged bleachers into a ravine on the edge of campus. As the sport grew in popularity in the city and across the South, additions to what was initially called Florida Field coalesced into the largest stadium in a state full of large football stadiums.
"We can't run away from it," Bernie Machen told me. "That's what it's evolved into here. It's very popular with the students; we have more student tickets than just about anybody. Of course it's very popular with the alumni. As an administrator, if it's run so that it's not an embarrassment to you, it's fine."
Despite the administration's early emphasis on football, the Gators remained mediocre until the early 1980s, when a coach named Charley Pell set out to raise the quality of the program. He improved the training facilities significantly. He reached out to alumni from across the state and targeted potential fans who'd never attended the school. He installed luxury boxes atop the stadium. His team's play improved. The 1983 Gators finished the season nationally ranked in the top 10 for the first time.
Pell's successes unraveled in one of the bigger scandals in college football history. His program was ultimately hit with 107 charges of major rules violations. Spying on opponents' practices. Loaning money to players. Straight up giving money to players. "There wasn't room for anything but winning," Pell once explained. "Nothing. Winning was the sole obsession, to a fault." Pell was fired after the sanctions came down in 1984. Ten years later, having been blackballed out of football, he tried to asphyxiate himself in a car parked in some woods outside of Jacksonville. He died of lung cancer in 2001.
"The ghost of Charley Pell still haunts this place," Machen told me, "because of the messes he got into. And it's been positive for me. They're so risk adverse here, we never have had a whiff of an NCAA anything in my 10 years here. It's partly because a lot of the old guys remember how awful it was when they got in trouble."
The sanctions against Pell sent Florida football back into mediocrity. But his ambitions still laid the groundwork—the bigger stadium, the alumni donations—that allowed one of his successors, quarterback-turned-coach Steve Spurrier, to win Florida's first SEC championship, in 1991. Spurrier won four more conference titles in the decade, and the school's first national championship in 1996. Florida is now a national power, so attractive that Urban Meyer turned down Notre Dame to take the head coaching job in 2005.
Meyer had been the head coach at the University of Utah under Bernie Machen, who was Utah's president for six years. When Machen moved to Gainesville to take his Florida post, Meyer soon followed. He replaced fired head coach Ron Zook, a skilled recruiter with a won-loss record that wasn't as stellar as Gator fans had come to expect. Meyer promised victories, and delivered. In only his second season in Florida, Meyer won a national championship. He won a second title just two years later, in 2008.
It's interesting to read over articles from when Meyer first arrived in Florida. He was credited with immediately turning around a permissive culture. Unlike his predecessor Zook, it was written, Meyer closely monitored his players, turning trouble makers into trouble stoppers. Legal incidents involving players dropped from seven in Zook's last year to zero in Meyer's first eight months on the job. Meyer, in essence, was portrayed as a coach above the usual compromises of college football, a necessary man to be admired not mainly for his success, but for what he was doing to scrub the stain his predecessor had left on the program. It all seemed somehow familiar.
---
"I'm a good football coach," Will Muschamp told me when I met him. It wasn't long after the loss to Missouri, and he was feeling defensive. Mizzou had pounced from the whistle, scoring effortlessly and often, and you'd have had a hard time telling which program, exactly, was supposed to be elite. Florida's record was down to 4-3, and people were asking whether Muschamp, just one year removed from an 11-1 regular season, really had the stuff to be Florida's head coach.
"I know how to win," Muschamp added. He did not blink.
Florida's 23rd head coach received me in his office, inside the stadium. The place is arranged both for work—his desk faces a projection screen, on which he spends his Sundays breaking down film—and as a stage set. There is a Dolphins helmet, from when Muschamp coordinated their defense. I've been to the pros, the helmet says. I know what it takes to get to the pros. Three championship rings glitter on a coffee table in front of small seating area. Play for me, the rings say, and you will win. And mounted in a shadowbox is a 17-inch metal rod. When Muschamp was growing up in Gainesville, he wanted more than anything to play football for the Gators. It looked like he would until, in his junior year of high school, he broke his leg, and the Gators withdrew their interest. Muschamp reluctantly enrolled at Georgia instead, where he eventually became a defensive captain. That 17-inch metal rod was what held his leg in place. I have faced adversity, the metal rod says, and I've learned to overcome it.
"That was one of the best things that happened to me," Muschamp said of his injury. "It was the first time I'd faced adversity. Learning how to overcome it is something that serves me to this day."
I asked him about Aaron Hernandez. He told me, appropriately, that all that trouble had taken place before he got there, so that he couldn't really speak about what happened. I asked about the latest supposed rogue program of the moment, the University of Miami, the subject of a bungled and deeply crooked investigation by the NCAA into "impermissible benefits." Sanctions had come down that morning. Muschamp shrugged his shoulders in response, which also struck me as appropriate. What was he going to say about that, either? We talked about football instead.
"There's no better team sport in my opinion," he said, his mood brightening. "Just because there are so many working parts. Offense, defense, special teams, and players with different personalities requiring different motivations. It's the purest form of competition."
He said that there was still time to turn the Gators' season around, and that he was going to pull it off. He said that he was working hard. He and his assistants were paring down the playbook to the basics his quarterback would be less likely to screw up. He said that he and his staff had adopted a bunker mentality.
"We've certainly had some frustrating Saturdays," he concluded. "At the end of the day this is a bottom-line business, and we understand that as coaches. Our job is to focus on the things that can help us win football games. Worrying about what other people think? That's not going to help."
Not long after our interview, the Gators lost their third game in a row, in Jacksonville, to Muschamp's alma mater. Florida fell behind Georgia right after the opening kickoff, just like it did in the losses to Missouri and LSU. "Write something good about us," a Florida fan begged me at halftime, with Georgia leading 23-3. In deference, I'll note that the Gators played better in the second half, coming back to make the final score a respectable 23-20, though they never once took the lead. Florida's record fell to 4-4. After the game, as he was walking off the field, Muschamp snapped at a Florida fan who was taunting him from the stands. After the fan swore at him, Muschamp reportedly replied, "Why don't you come down here?"
"I made a mistake," he'd later say of the interaction. "I make a real mistake."
---
Vanderbilt was going to be the save, a certain win. Though the Commodores program is improving, the game was to be played at the Swamp, where Vanderbilt hadn't won in almost 70 years. They hadn't beaten the Gators at all, anywhere, since before any of the Commodores were born. It was also Florida's homecoming, usually a real advantage. Gainesville elementary schools shut down on the Friday before the game so that kids could watch the parade.
Mayor Ed Braddy waved from a convertible. Students from the law schools and the engineering schools peopled humble floats. The football team rolled down University Avenue in the bed of a construction-site Dumpster.
When Will Muschamp was a child, he would stroll to the Florida campus on game days to watch Wilbur Marshall, Cris Collinsworth, and his other Gator heroes. When he returned as the head coach, he wanted to make the players accessible to other kids, even those who might not be able to afford a ticket. So he started up a new tradition called Gator Walk. Three hours before the kickoff of the Vanderbilt game, the bus carrying the football team rolled to a stop in front of the stadium. Muschamp stepped off the bus first. He wore a black suit with a gold tie, and smiled when he shook my hand and wished me good morning.
"We've still got the best-looking coach in the country!" cheered a woman, one of a couple of hundreds fans pressed against a rope for a better view of the coach and the team filing in behind him. The Fighting Gators played that C'mon Gators! song of theirs. The mascot Albert Gator walked in lockstep with his wife, Alberta. Cheerleaders beamed at Muschamp, who remained Gainesville royalty even with a .500 record. He stopped at one point to talk to a boy who'd recently injured himself in a farm accident.
When the team disappeared into the locker room, I went out to the parking lots to take the temperature. A booster sat by himself in the bed of his truck, eating deviled eggs. Another man unfolded a lawn chair while listening to the radio, also by himself. There wasn't nearly the energy from the Arkansas game. I walked a half mile down to where most of the big RVs park. There wasn't much happening there, either. I approached one guy as he punched codes in a keypad to lock up his motorhome. Homecoming is more muted than I'd expected, I told him.
"Oh, it's way muted," he said. "That's 'cause we suck this year."
I watched the game in the east stands, roasting under the still-hot November sun. Again I took in the spectacle I so appreciate, focusing a bit out of necessity on the sideshow: the band, the cheerleaders, the swaying to the school song before the fourth quarter, by which time by which the game was essentially over. Vanderbilt won in easily, 34-17. Tyler Murphy threw three interceptions and fumbled the ball once, and the Gators committed more penalties than they had all season. The Commodores celebrated on the field afterward, raising their helmets to the blue sky.
The win over Florida certified Vanderbilt coach James Franklin's status as a hot prospect, perhaps as hot as Muschamp was back at Texas. Immediately after the game, he entered his briefing room smiling and pumped up, filled with winnerness in a way that reminded me of Muschamp after the Toledo win. Franklin spoke of how the Commodores get better each week, which, he said, is a sign of a good program. He also made a point of listing all the players on his team out with injuries, a direct attack on the Gator injuries Muschamp had begun leaning on as an excuse. After Franklin finished his briefing, Florida's athletic director, Jeremy Foley, stepped over to the podium to shake his hand.
"Never seen him do that before," a Gators beat writer said after the conference ended.
Foley did not attend Muschamp's conference, which was more muted than even the pregame tailgates out in the parking lots. ("Somber and dejected," the Miami Herald reported.) He slumped his shoulders when he stepped behind the podium. His hands didn't grip the stand so much as they leaned on it for support. He read from his notes without looking up. His voice came out soft, and maybe one octave lower than in previous weeks. After he opened up the floor for questions, he continued to stare down at his podium when he answered, sometimes looking up only after long pauses, as if remembering that there were reporters in the room and a half-dozen video cameras trained on him.
"It's a woe-is-me mentality right now," he said. "And we've got to overcome that."
A sign on the wall noted that it had been 22 years since Florida missed out on a bowl game. Florida now needed to win two of its last three games just to become bowl eligible. People were clearly betting against that happening. While Muschamp remained at the podium, under attack by the same reporters he had humiliated after Toledo, I noticed a representative from the Chick-fil-A Bowl ducking out early, having heard enough.
The Gators didn't play very smart, Muschamp offered. The offense didn't take care of the football, either. He resolved, once again, to turn things around. The goal, he concluded, was to "find some things we can do well offensively. And regain some confidence defensively and head to Columbia and play a good South Carolina team."
Florida would lose that game, too. A week later, they lost to Georgia Southern, a team that plays a full division below them, in the collegiate minor leagues. Worse, the game was played in Gainesville, making it a rare second consecutive home loss for Florida. No Gators stayed on the field after the game to sing the school song, as they usually do, in one of those Swamp traditions I like so much. Instead, Florida surrendered home turf to Georgia Southern players who hugged and jumped into the stands and raised their helmets in the air, just like Vanderbilt's players did after their win.
---
"I know generally when you recruit a young man from high school and he's had issues in high school, that's not changing," Muschamp told me in our interview. "That's been my experience. We have chosen to move on without some players who maybe had some issues."
There were issues all over the SEC, covering a wide range of scandalous behavior from the amusing to the horrifying. Texas A&M's Johnny Manziel spent the summer answering questions about the possible sale of his autograph to collectors, a violation of the NCAA's ever-persnickety rules. At Alabama, winner of three of the past four national titles and coached by Muschamp's mentor, Nick Saban, top players were linked to agents and cash handouts from coaches. At Vanderbilt, four of James Franklin's recruits were arrested and charged with raping and sodomizing an unconscious female classmate. One of the players "wanted to have sex with the victim but could not get an erection even though he'd used cocaine," according to evidence read aloud in a Nashville courtroom. A fifth football player, star wide receiver Chris Boyd, was charged with obstruction. Boyd cut a deal with prosecutors, and is expected to testify against the other players. A text Boyd admitted deleting from his phone included a photograph of the unconscious victim being sodomized "with an object."
Then there were the issues that were all anyone was talking about as the Gators prepared for what would turn out to be their final opponents of the year, Florida State. Their rival had started the season ranked behind the Gators, but while Florida lost and lost, the Seminoles went undefeated, earning head coach Jimbo Fisher a five-year contract extension and gaining a spot in tonight's national-title game. Florida State won so many games largely because of the sensational play of Jameis Winston, the redshirt freshman quarterback.
Before joining Florida State, Winston was Alabama's high school football player of the year, and was the top-ranked high school quarterback in the nation. He first took the field for the Seminoles in September, playing almost flawlessly in a win over the University of Pittsburgh. Four games later, in a win over Boston College, his Hail Mary touchdown pass announced Winston's candidacy for the Heisman trophy he would ultimately win.
The issues surfaced in November, a few days before Florida State hosted Syracuse. A reporter from Tampa, investigating a tip, learned that Winston had been accused of sexually assaulting a woman at an off-campus apartment nearly a year earlier. A teenager who claimed she had been raped had spoken with police on the night of the incident. A month later, the accuser specifically identified Winston as her attacker. Yet the quarterback was never interviewed by police. The case was quietly downgraded to inactive, where it remained until the reporter filed a public records request.
National attention followed. The woman's family, in a statement, claimed that a detective with the Tallahassee Police Department "specifically refused to collect Winston's DNA or interview Winston's roommate who witnessed the attack."
The family also claimed that the detective told the accuser's attorney "that Tallahassee was a big football town and the victim needs to think long and hard before proceeding against him because she will be raked over the coals and her life will be made miserable."
It was only after the story had hit the papers that the state attorney in Tallahassee became aware of the incident. (In Florida, it's the state attorney's decision whether to file charges.) Two weeks before the Florida game, DNA taken from Winston was matched to DNA gathered off the accuser's underwear. Winston proceeded to lead the Seminoles to a 78-7 win over Idaho, a blowout that advanced his campaign for the Heisman. Florida was the next scheduled opponent.
Winston arrived in Gainesville flanked by bodyguards. Despite the reactivated and ongoing rape investigation, Winston got the start, and showed why he was the best college football player in the country. He used his "howitzer" arm, as Muschamp would later describe it, to throw three touchdown passes, leading his team to a very easy 37-7 win.
The loss to FSU ended Florida's season. (Days later, the state attorney would announce that there would be no charges pressed in the Winston investigation, in a press conference in which he repeatedly referred to the accuser as "the victim.") The Gators had lost more than they won for the first time since 1979, and there would be no bowl game for the first time since 1990. Muschamp, as always, was required to give one final press briefing. He did not look happy.
"You know, a very frustrating difficult day that ends a very frustrating, difficult season," he said. "That's the best way I can, uh, sum it up."
He spoke in the same briefing room where I'd first seen him, after the long-ago Arkansas win. The painted exhortations to Create an Edge remained on the walls, as did the blank space reserved to honor the next national championship. Muschamp's famous intensity had fully leaked out of his body, like air from a punctured tire. He ran through a short self-assessment and then an injury report, as required. He clearly didn't want to say much more than that. When he opened the floor for questions, again as required, he didn't look up from his podium.
Winston is a great player, he said, answering one query. He gave credit to Florida State for being "a darn good football team." It's a great lesson to be humbled in life sometimes, he insisted. He planned to "work really hard" during the longer-than-expected off season.
"We're a much better football team right now than we were my first season, regardless of what the record is," he insisted. He specifically thanked his senior players. "Those guys have persevered through some tough times. Certainly this season being the iceberg of it all. But they continued to hang in there and represent us in a first-class manner."
And there it was. First-class manner. It was the one thing there was left to sell.
There wasn't one arrest while I was in Gainesville. There were no "issues." Not once all season did a Gator player do so much as flip off rival fans, as one of Meyer's Ohio State players did in a game against Michigan in Ann Arbor, one of the more memorable moments of the season. Janoris Jenkins, the star player Muschamp ran off when he first got to Florida, probably felt vindicated.
"No doubt, if Coach Meyer were still coaching, I'd still be playing for the Gators," Jenkins once told a reporter at the Orlando Sentinel. "Coach Meyer knows what it takes to win."
Muschamp remains in Gainesville, backed in full by the athletic director and by the university president. "There's no way I'm firing Will Muschamp," Bernie Machen told me. "He's doing what we've asked him to do."
College football is a vast and unremitting bordello that still puts on a great floor show. A coach can score some points in the media by positioning himself as too good for the former; he won't be around long, though, if he can't give fans the latter. Muschamp will have the next few months to figure out how not to get fired next year. He's tossed out his offensive coordinator. He's allowed his starting quarterback to transfer to another school. He'll spend the offseason in his office and on the recruiting trail, the head salesman for the last honest program in Gomorrah.
[Corrections: The story originally misspelled Charley Pell's name. We also referred to the game against Tennessee, played in Gainesville, as a road win. Those sentences have been fixed.]
---
Robert Andrew Powell is the author of Running Away: A Memoir, to be published in April.