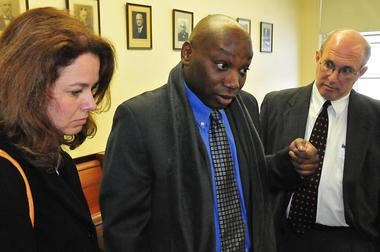 Bryant and his wife Veronique gave an interview to the Springfield Republican, challenging the reported series of events that led to his arrest Saturday and charges of domestic assault and resisting arrest. Most notably, they maintain that Bryant never choked his wife.
"It wasn't an assault or a battery," said Veronique Bryant. "I was not scared. He was not touching me. We had a discussion. The police reacted in a totally inappropriate way."

Veronique Bryant added that she did not press charges against her husband.
According to the Bryants' lawyer, customers in the pizza parlor saw the verbal argument and called police, but they and the arresting officers overreacted because the incident involved a black man and a white woman.
"This case is about the fact that racism still exists in America, and Howard Bryant is a victim of it," said attorney Buz Eisenberg.
Bryant also disputes that he struck a State Trooper with his elbow while being arrested. Police maintain that their initial account is correct, and reject any claims of racism. A pretrial date has been set for April 21.
Lawyer claims racism in arrest of ESPN reporter Howard Bryant [Springfield Republican]