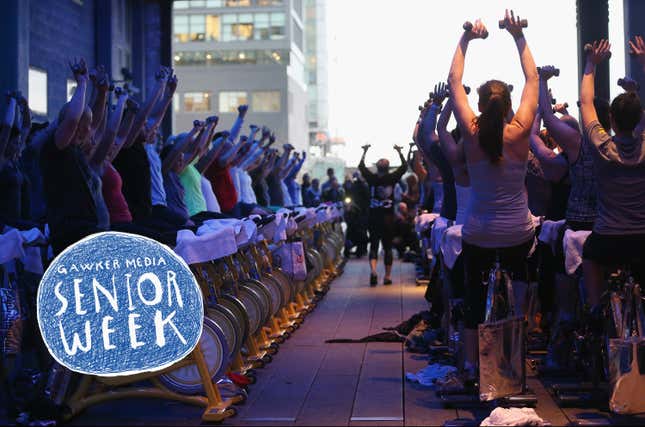 Confession: I like SoulCycle. More than "like," even. I love it.
I don't believe in God, but I believe in SoulCycle. (Yikes, haha!) I wake up early most weekday mornings to go to SoulCycle. On weekends, I also wake up early to go to SoulCycle. My husband comes, too. (We don't SoulCycle next to each other but usually across from each other; I find it less distracting to be within eyesight of him but not directly next to him.) I know this makes me sound like the worst.
I also know that a lot of people don't like SoulCycle, including some people who work at Gawker Media, the company whose current acquisition proceedings has led us here, to Senior Week, where we get to blog about whatever stupid thing we want, and which will render this particular post of mine in the top few pages of my Google results for years. I know that people don't like SoulCycle, and I get it: It's a hilariously expensive, carefully and ruthlessly curated part of the "boutique fitness" trend, one that's often paired with things like green juice and leggings and fucking annoying Instagram posts with captions that namedrop annoying shit, like chia seeds and mind-body wellness. I understand all of this hate and mockery. But fuck it. I'm tired of hiding.
I used to be "cooler," I guess. I used to run obsessively, I boxed for awhile, and I did other workouts less likely to be described as "a cult" or "a pseudo-yogi schtick" or, as one of its own co-founders described it, "a mini-production." Now I pretty much only do SoulCycle. (Okay, I also do yoga.) Yeah, I went full fucking yuppie—I once took an Uber to SoulCycle during a blizzard, come at me—and I regret nothing. Not even the amount of money I spend to ride a stationary bicycle in the dark.
SoulCycle isn't really "cool" in the same way that "running a marathon" is cool, nor is it "cool" among the cynical New Yorkers I spend most of my time with. And yes, as a deeply cynical person, I'm admittedly shy about sharing that I spend an absurd amount of money to engage in a feel-good exercise ritual. But here's the deal: It's fun, it makes me happy, and it's better for my mental health than most of the other shit I could spend my money on. (Don't bother asking how much money I spend on SoulCycle, because it's none of your business! I'm not rich, but I rarely socialize and I buy my clothes in bulk on Amazon and have no other hobbies, okay? Leave me alone.)
This post was supposed to be a listicle about why I like SoulCycle so, shit, here are some things you should know:
1. The best SoulCycle studios in New York are those in Brooklyn and downtown Manhattan. They have chiller vibes than the studios uptown. There is also a good SoulCycle in Miami Beach that I tried this year. I will say that I once found a cockroach in the locker room at the Union Square SoulCycle, just a gentle warning, no judgement. :)
2. My favorite SoulCycle teachers—highly recommend!!—are Eve, Danny, Ross, Sidney, Kym, and Karyn (she's a new one for me and, boy! is she hard). Pointer: If you go to the SoulCycle website, you can read little bios about each teacher and see what kind of music they play. I like working out to shitty dance music or 90's rock, but maybe you're different! That's cool, do you!
3. I own one piece of SoulCycle apparel, and it's a pair of socks that my husband purchased (for $14!) when he forgot to bring his own. A good tip is that you don't actually need to wear the branded apparel to take the classes, even though a lot of people do. Unnecessary IMO and needlessly expensive.
4. This is a really hard workout, but you actually have to try in order for it to feel hard. If you don't try, then congratulations, you just wasted $34 worse than I did, because I came and at least tried. But if you try, you'll end up with a nice endorphin kick, a feeling of accomplishment, and the ability to walk up several flights of stairs without getting winded.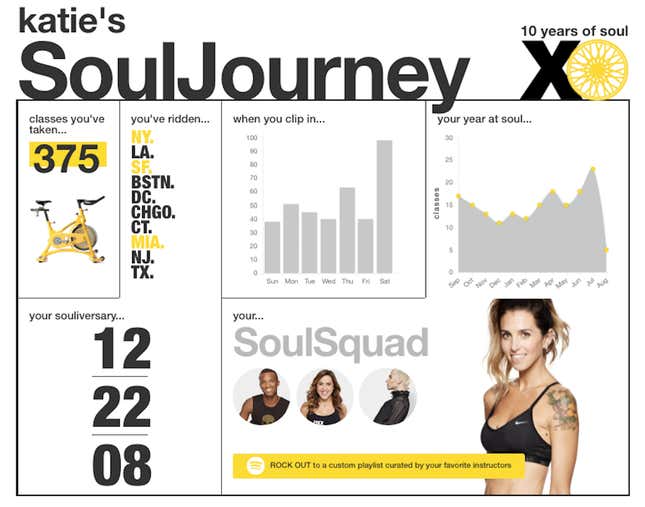 5. If you're self-conscious or have some deeply rooted exercise-mental-health shit, this is a good workout for you. Yes, it's addictive, so be careful. But it's also a workout you do in the dark and—at least at the studios I go to—your fellow classmates will be a big hodgepodge of different ages, body types, and fitness levels. People are chill! People accept you! The vibe is good! I used to run a lot of miles, most days, and it became a grim psychological place—this is the opposite of that for me. It's fun.

6. Speaking of mental health shit, I'm a control freak! You too? The nice thing about SoulCycle is the vigilant environmental control, unlike the uncertainty of the great outdoors and existence in general. At SoulCycle, there is air conditioning, someone is picking the music for you, there is gum and there are hair elastics and there is plentiful shampoo, and there is no risk of being run over or rained on. It is 45 minutes of control in an otherwise uncontrollable life.
7. The people at SoulCycle—staff and fellow attendees—are very friendly. I run a blog at Gawker Media and work on the Internet. Do you know how many friendly people I talk to every day in the course of my work? Let's just say the friendliest part of my day ends around 7:45 AM.
8. $34 is cheaper than therapy. $34 is cheaper than therapy. $34 is cheaper than therapy. $34 is cheaper than therapy. $34 is cheaper than therapy. $34 is cheaper than therapy.
9. SoulCycle will help you drink less, if this is something you think you might like to do. I promise. This is because you have to cancel your class by 5:30 PM the night before, so if you don't do that, and then you drink too much, you just wasted $34 sleeping through your SoulCycle class plus the cost of the alcohol (and probably the bar snacks am I right pals?). Here is a good guide to drinking that is compatible with a morning SoulCycle routine and with getting older, in general.
10. If this feels like an ad, fuck it. Here's the truth: I really enthusiastically enjoy SoulCycle, I strongly encourage anyone to give it a try, and I would love to work in SoulCycle PR if Gawker Media's acquisition doesn't go the way I'd like. Peace.
---
Katie Drummond is the Editor-in-Chief of Gizmodo.
This is Gawker Media's last week as an independent media operation, and while that shouldn't affect you much one way or the other as a reader, we're still going to take advantage of a pretext to run some especially fun and stupid posts. If you have any ideas for such posts, hit us at tips@deadspin.com.