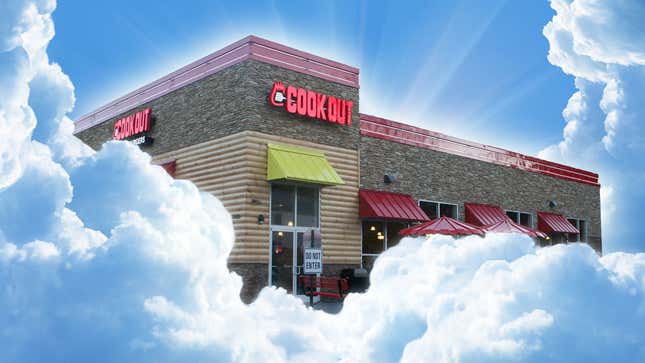 I went down to the Research Triangle area of North Carolina last week. This is the area comprising Durham, Chapel Hill, and Raleigh. It's a very pretty area, surrounded by tall trees that are so perfectly spaced out it's almost as if the entire forest were landscaped. And the forest floor itself is pristine, with barely any underbrush cluttering up the place. You can walk right into the woods and start smoking weed any time you like. It's the perfect spot for getting stoned in the woods. It's also the perfect spot for getting shitfaced and drinking milkshakes.
Bass' ERA stinks, but not compared to who he is off the mound | Worst of the Week Countdown
I was told before I went to Durham that I needed to go Cook Out, a fast-food joint that is located in North Carolina, South Carolina, Tennessee, Virginia, and NOWHERE ELSE in the U.S.. I was also told that it would be best if I showed up at Cook Out drunk off my ass. I am a domesticated man, and so I'm very good at being told what to do. I had my marching orders.
I promptly went to a bar with a handful of Deadspin readers, many of them Duke students. I had walked the Duke campus earlier, which is gorgeous and bucolic and is the perfect place to live if you feel like being completely isolated from opinions other than your own. I walked through the quad, and there was a RON PAUL banner hanging out of one of the dorm windows, which was the most Duke thing ever. Anyway, the Dukebags in person couldn't have been more pleasant, and they didn't try to rape our waitress ONCE. Well done!
We got shitfaced, called a cab, and made the journey to the Cook Out location on Hillsborough Road. The restaurant itself isn't a restaurant. It was just a box sitting in the middle of a strip mall parking lot. You can either drive up to the window to get your food, or you can show up at the walk-up window and order there. We got out of the cab, walked up to the window, and were greeted by a dour Indian dude who had clearly spent more time serving food to shitfaced Dukebags than he had ever planned on.
I was told that when you go to Cook Out, you need to order a combo. A combo is a main item, with two sides and a milkshake. You can pick from a burger, a footlong, a grilled or fried chicken sandwich, and barbecued pork for the main item. The sides included items such as a BLT sandwich, a corn dog, and a chili cheese sloppy joe served in a hot dog bun. That's right. A BLT is a side dish here.
And then, there are the milkshakes. Here are the flavors you get to choose from:
• Banana
• Banana Berry
• Banana Nut
• Banana Fudge
• Banana Pineapple
• Banana Pudding
• Blueberry
• Blueberry Cheesecake
• Caramel
• Caramel Cheesecake
• Caramel Fudge
• Cappuccino
• Cheesecake Chocolate Chip
• Chocolate (Hershey's)
• Chocolate Cherry
• Chocolate Nut
• Cherry
• Cherry Cobbler
• Chocolate Malt
• Heath Toffee
• Hi-C Punch
• Mint Chocolate Chip
• Mocha
• M&M
• Oreo
• Oreo Mint
• Orange Push Up
• Peanut Butter
• Peanut Butter Banana
• Peanut Butter Fudge
• Pineapple
• Peach
• Peach Cobbler
• Reese Cups
• Snickers
• Strawberry
• Strawberry Cheesecake
• Vanilla
• Walnut
Before I die, I will try every one of these flavors. This combo meal costs roughly five bucks. Five bucks, for THAT. IT IS THE GREATEST VALUE IN THE HISTORY OF SHITFACED MOUTH-STUFFING.
I got a footlong chili dog with fries and hush puppies and a peanut butter fudge shake. The moment between ordering and receiving my food was perhaps the most exciting two minutes of my life. All we talked about in that time was what we had ordered and how good it was gonna be. And then my combo arrived and I set it on a nearby covered trash can and started digging in. I nearly died from ecstasy. I did that thing where you pretend you're Anthony Bourdain and you're like, "Oh, that's AWESOME. That's so fucking good. I want to rape my mouth with this." There was a greasy bun and a hot wiener and old chili and pre-chewed relish commingling together, and I was obscenely happy. The shake was so thick that it hurt to try to suck it through the straw. I just started spooning that shit. No one talked while we ate. There's that moment during a good meal when you block everything else out—work, money, pussy, whatever—and you focus on nothing but what's going on inside your mouth. A lot of people pay a lot of money for such a dining experience. I paid five bucks.
People, this restaurant needs to be available in every state. On every street. There is a Starbucks on every block in this country. The food at Starbucks is ASS, and your drink costs more than an entire combo meal at Cook Out. Every suburb in the universe has some fucking boutique cupcake shop started by some asshole baker's wife where the cupcakes cost seven bucks each. And still, NO COOK OUT. If there were a Cook Out on every street, no one would complain about the economy, because even hobos would be able to afford delicious, fap-worthy milkshakes on a daily basis. I knew that Cook Out was gonna give me diarrhea, and when that diarrhea finally arrived, all I could do was smile, because it was all so eminently worth it.
Cook Out is awesome.
Top image by Jim Cooke. Cook Out photo by Mike Shaw/The Burgs. Clouds photo by LilKar/Shutterstock.