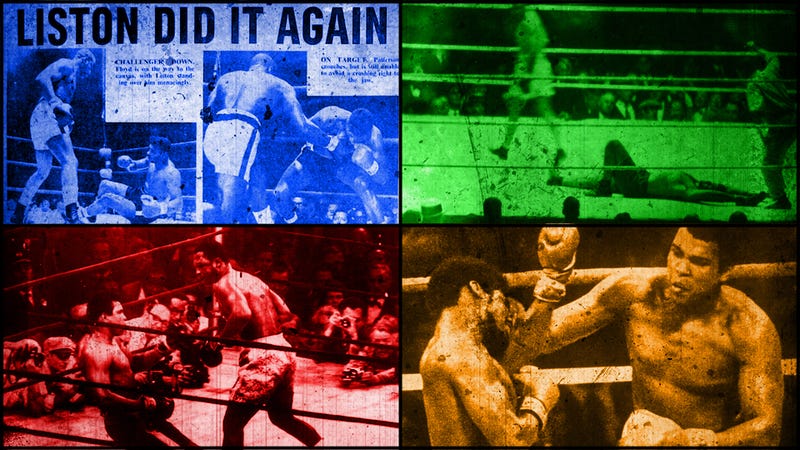 Earlier this week, an e-mail from John Kaye showed up in my inbox. I didn't know Kaye but soon learned that he'd written the 1980 film Where the Buffalo Roam, the ancestor to the Hunter S. Thompson movies of recent years. Kaye had just published a lengthy piece in the Los Angeles Review of Books entitled "Love, Boxing, and Hunter S. Thompson." He wanted me to take a look. I'm glad I did.
The piece was originally commissioned by Victory Journal, which is put out by our friends at No Mas. But in Thompson-esque fashion, Kaye's "brief reminiscence of a weekend in New Orleans" turned into a 12,000-word meditation on sex and drugs and fisticuffs, a tale about hooking up with flight attendants and watching Fats Domino play in a whites-only club, and, yes, about having a famous dope-addled writer raid his stash in the middle of the night while wearing "khaki shorts over sheer panty hose and high-top sneakers with no socks," a red spandex brassiere around his chest, lipstick on his mouth, a gun in his waistband.
Victory just didn't have room for it all. So Kaye took his story to Los Angeles Review of Books, which has allowed us to adapt the excerpt below. But please read the whole piece, which, if I might apply a dab of sentiment, is really about a man meandering on his life's way, reflecting poignantly on the encounters that shape him. The story is, as LARB editor Tom Lutz puts it, an exercise in the "art of being sidetracked, of being shanghaied by errant attention." And it's great.
—Luke O'Brien
Dempsey-Firpo, 1923
I inherited my love of boxing from my father. When he lived in Manhattan, he palled around with a Broadway crowd that included writer Damon Runyon, and he and Runyon, along with gangster Owney Madden, attended the famous Jack Dempsey-Luis Firpo brawl at the Polo Grounds in 1923. Considered by many to be the most thrilling (and controversial) heavyweight prize fight in history, there were a total of 10 knockdowns before Dempsey finally prevailed, the end coming in the third round but not before Dempsey had been knocked out of the ring.
"He should've been counted out," my father told me, "but the ref gave him a break." As a boxing aficionado, my father appreciated Muhammad Ali's skill, and he was entertained by his brashness, but he was convinced that he would've been no match for Dempsey in his prime. Or Joe Louis. And no matter how many times I corrected him, he still referred to Ali as Cassius Clay.
I'd say, "But that's not his name."
And he'd say, "It is to me."
I'd say, "He changed it."
And he'd say, "Stop bothering me, Johnny."
It also annoyed me when he referred to black people as "colored."
I'd say, "Dad, call them black."
And my mom would say, "Leave your dad alone."
I'd say, "Watch the news. Nobody calls them colored. They'd get fired."
And my dad, a Republican, would say (in 1974, around the time of Watergate), "Walter Cronkite hates Nixon."
I'd say, "What does that have to do with black people?"
And my mom would say, "How come your brother never comes by and visits?"
And then my father would say, "Cassius Clay should've joined the Army. I served. You served. So did your brother."
"In the reserves. Not in Vietnam."
"But if you were called up, you would have fought for your country."
Would I? Probably. I know my brother would have. Still, I was a glad it was a choice I didn't have to make. Also, as long I'm talking about my brother, especially in a piece that partially pertains to boxing, I should mention that Mike was a legendary street fighter on the Westside of Los Angeles during the latter part of the 1950s. Not only was he skilled with his fists, he was wholly fearless. In Marine boot camp, he knocked out the battalion's reigning light-heavyweight champion, and when I followed him into the Corps a year later, I was stuck being the younger brother of a legend. Unfortunately, when I was offered the chance to fight and refused, my drill instructors were infuriated, and to punish me—not that 12 weeks of boot camp wasn't punishment enough—they instigated a couple of scraps with other recruits in my platoon. Satisfied that I would display the requisite amount of courage to defend myself, they even stopped calling me by the nickname they'd hung on me: Jew-College-Pussy! After that I was "maggot" like everyone else, except for the black recruits, who were sometimes referred to as "Rainclouds."
Liston-Patterson, 1963
Toward the end of July, a few months before I quit my job and left New Orleans—my next stop would be Jamaica, and after that, in the spring of 1964, I would enlist in the Marines—I attended the heavyweight championship fight between Floyd Patterson and Sonny Liston. This would be the second time they'd fought. In the first fight, Liston, a stone-faced ex-con born to a sharecropping family in Arkansas, had been favored to win, but his total domination—he'd knocked Patterson out in the first round, the quickest ending to a heavyweight championship fight in history—was still surprising. The second bout was being broadcast live from Las Vegas to hundreds of theaters around the country, including the RKO Orpheum on University Place, a former vaudeville house that held 1800 seats, including 500 in the balcony.
I went to the fight with Stoney, a folksinger I'd met in the French Quarter not long after I moved into my new apartment. On the road like myself—he was temporarily unstuck from a chaotic marriage—Stoney had gone to Vanderbilt and was a big-time reader with an unquenchable lust, two virtues that added to the bond that was created between us. Today he's a published poet and professor of English at a university in the Northeast, but in the summer of 1963 (before his fractured domesticity had healed), in this beautiful period of both our lives, carried along by the beneficent atmosphere of the city, he was just Stoney, a very handsome guy who could stand on a street corner with a guitar and sing protest songs to an attentive crowd.
When we got to the RKO Orpheum, the smoke-filled lobby was packed with an anxious mob of mostly furtive, unsteady-looking white men, their hectic faces containing a kind of lazy dissatisfaction. In contrast, the crowd of stylishly dressed black men—some even in tuxedos—who Stoney and I followed up to the balcony, chatted and laughed easily, connected not just by the color of their skin but by an unrestrained optimism: No matter who won the fight, the arm raised by the referee would be black.
Stoney and I found two seats in a row near the front of the balcony. We didn't understand the bewildered looks we received (or why the underlying gaiety around us suddenly, mysteriously dwindled and then stopped) until a teenage usher appeared in the aisle and motioned for us to get up. He said we had to sit downstairs.
Stoney said, "Why?"
"Because this is where the colored folks sit."
Until this moment, it had never occurred to us that the theater was segregated, and Stoney, who could be stubborn and intimidating—he was 6'5" and solidly built—began to interrogate the usher, demanding to know under what law we were being asked to leave. Although he didn't have the brightness of mind to argue with Stoney with any kind of logic and coherence, the usher was imperturbable, his manner both courteous and unpolemical, and he made it clear that if we didn't immediately abandon our seats the police would be summoned to physically remove us. At that point I told Stoney I was leaving, that I came to watch the fight and was unwilling to be part of a political protest that I could see only ending with our arrest.
I went downstairs and found a seat just as the fighters entered the ring. Patterson's expression, compared to Liston's, which was intensely hostile—a face without warmth or pity—was slightly distracted. Where Liston conveyed an almost sightless indifference to the noisy atmosphere surrounding him, Patterson looked shy or slightly intimidated, his eyes watchful. And when they removed their robes, the imbalance in their physiques was startling. Next to Liston—with his expanded chest and massively thickened neck—Patterson looked not just outweighed but ... small.
When the ring announcer introduced Liston, a roar exploded from the balcony of the theater, the cheers cresting and then breaking like a great wave, prompting the hard white faces around me to fill with obscure alarms, their shared disdain barely concealed. Patterson was by nature gentle and respectful, though he was also subject to mysterious mood swings, and he would become mildly aggrieved if he felt either his talent or courage were being questioned, as they seem to be in the days leading up to the bout. But among the whites at the RKO Orpheum, Patterson—light-skinned, self-effacing, polite, almost servile—was the fan favorite.
Once again the fight was brutally short, lasting less than one round, although this time Patterson remained on his feet four seconds longer. When his seconds jumped into the ring and carried him back to his corner, the theater slowly emptied, and I found Stoney in the lobby speaking to a short black guy dressed in a bright green suit. Standing next to him was a tall, splendid-looking black woman wearing a gardenia behind her ear and a tight black dress. They were all going to a party and I was invited.
"Time to celebrate," Stoney said.
I remember starting to perspire, and while I remained silent, trying to understand why I was imagining a threat that wasn't there, the black woman said, "We'll give you the address. Drop by if you decide to join us."
"Don't worry," the black man said. "We make sure you're treated right."
I made a noncommittal sound and Stoney, when he saw the hesitation in my eyes, just shrugged his shoulders. How he was able to stay and watch the fight in the balcony remained a mystery that he was in no hurry to clear up. I saw the usher in the lobby, but he made a point not to look in our direction. Finally, I told Stoney I was going to head home, and he turned to the black couple, explaining that I worked at D.H. Holmes and had to get up early. He wasn't making an excuse for me—I think he was actually pleased that I'd decided to pass—but just stating a fact.
I told him I would catch up with him later. I walked home, feeling a little guilty but also content to be alone. A few days later, Stoney came by my apartment after work. Smiling broadly, he said I'd missed a great party. Among the guests were some local jazz musicians who put on an impromptu performance, and he'd joined in on a couple of tunes, playing a borrowed guitar.
He said, "Me and this chick from New York were the only white people in the room."
"I should've gone with you."
"You were tired."
"I wasn't that tired," I said, and I didn't have to tell him the real reason I decided not to tag along, which he already knew: I was just not brave enough.
When I finally asked him how he was able to remain in the balcony on the night of the fight, he smiled, and I saw both satisfaction and pride mingling in his face. "I just told the usher to shove it and refused to leave. When he came back with this big redneck manager, they both seemed unsure of what to do. Nobody did, including the black guys sitting around me. Finally, the manager said that because it was a boxing match and not a movie I could stay, but he made it clear that it was a one-time-only deal. If I tried it again, I would be in serious trouble. I think what surprised him most was when he heard my voice. He couldn't believe a Southerner was pulling this shit."
Frazier-Ali, 1971
In the spring of 1971, I was co-producing and writing a 90-minute, live, late-night television show on KNBC, the local NBC affiliate in Los Angeles. A precursor to Saturday Night Live, this satirical program was hosted by Al Lohman and Roger Barkley, two extremely popular and sweet-natured (when sober) morning disc jockeys. The writers and sketch performers we hired had never worked on television, and among the long list of people who got their start on the show were Barry Levinson, Craig T. Nelson, and John Amos. Amos, who later appeared in Roots and as a regular cast member on the Norman Lear sitcom Good Times, was an ex-pro football player and a huge boxing fan, and he idolized Muhammad Ali.
Johnny and I became close friends, and when the first Ali-Frazier fight rolled around—this was only Ali's second fight since he was unjustly stripped of his title and denied a license for refusing to be drafted into the military—we made plans to go together. Because the Fox Wilshire theater was located in the heart of Beverly Hills, the seats around us were filled with a glittering dazzle of industry movers and shakers, laughing and talking at the tops of their voices. Along with big-time producers and studio executives—none of whom I knew, but whose names I recognized from the trades—I spotted actors Warren Beatty and Jack Nicholson seated in our row. Sitting next to them were two beautiful young women in see-through blouses and skin-tight bell-bottom jeans, their eyes a little frantic as they tried to project an air of remote amusement.
The fight, while exciting and hard-fought, did not quite live up to its inescapable hype. The crowd in the theater was clearly for Ali, but as the rounds passed with Frazier methodically and dogmatically gaining command, their confident anticipation of an Ali victory began to dissipate. If he lost, it would be his first, and the thought, once impossible to imagine—his mastery in the ring was so complete—now became a real possibility. Johnny, his vocal support of Ali beginning to wither, became unnervingly dispirited, and at one point, around the 12th round, he even suggested that we leave. "No way," I told him. "All it takes is one punch."
"He ain't gonna win, pal. It's over."
Johnny was right, but there was a moment, in either that round or the next, when Ali seemed to rally, the speed and potency of his punches unexpectedly reappearing. In the theater there was a sea of noise, and I remember that after one brutal exchange Johnny suddenly jumped to his feet, his voice rising above the crowd, as he screamed, "ICE THE MOTHERFUCKER! ICE THE MOTHERFUCKER!"
Comedians Milton Berle and Buddy Hackett were seated in front of us. When they turned and looked up at Johnny's face—a face that was black and menacing—their expressions went from sympathy to incomprehension to almost pure terror. The change was swift and almost imperceptible. Unlike Bill Cosby and Sidney Poitier, both fervent supporters of Ali who were also in attendance, basking in the infatuated glances of their fans, they mistakenly saw in John Amos a man who represented danger and assault: a genuine nihilism. At least that's the way it seemed to me.
In the 14th round, when Ali was knocked down for the first time in his career, the silence in the theater was clear and startling. Ali survived that round and the 15th, but we left before the decision was announced. On the ride back to his house Johnny was utterly miserable, his mood plummeting into an abysmal despair. I tried to cheer him up by talking about our upcoming show and a sketch I was working on, but he remained silent, inconsolable, and I worried that the bond between us had become strained. Then, suddenly, he looked over at me and burst out laughing.
"Did you see Uncle Miltie's face?" he said, almost doubled over. "Man, when I went off, his eyes got all big and he looked at me like I was Nat Turner or something. Fuck Ali! He fought his ass off. He'll be back."
A few weeks after the first Ali-Frazier fight, I was fired from the Lohman and Barkley Show, but Johnny and I kept in touch, and when I relocated to Mill Valley he occasionally came up to visit with his wife and kids. In our reminiscences, we would always return to that night at the Fox Wilshire theater, and how he'd freaked out Uncle Miltie. But I never told him about the conversation I'd had with my father when I called him the following day. He and my brother were also at the theater, seated a few rows behind us.
After we chatted about the fight for a few minutes, he said, "Is that colored fella a friend of yours?"
"You mean the black guy I was sitting with."
"You know who I'm talking about."
"John Amos. He's on the show. Don't you watch?"
"It's on too late."
"Johnny's a talented actor."
"That's what your brother said."
"Maybe I'll bring him by the house."
"Not when your mother's home," my father said. "He might scare her."
Later that year, when Johnny became a semi-regular on the Mary Tyler Moore Show—he played the weatherman, Gordy Howard—my father, uncharacteristically, said he wanted to meet him. When I repeated what he'd told me after the fight, he just shrugged it off, saying he was just kidding around.
"Bring him by," he said. "It would give your mother a thrill."
I told him I'd think about it, but, in the end, I resisted the offer.
Ali-Spinks, 1978
After all the pre-fight hoopla, the Ali-Spinks rematch itself was letdown. Ali, dancing and jabbing, grabbing and holding, coasted through the early rounds, built a commanding lead, and made history by regaining his title for an unprecedented third time, something he'd trained hard for and desperately wanted. The monster crowd, which was on his side from the opening bell, cheered the unanimous decision, but everyone knew they'd witnessed a fight that was painfully dull. Pat Putnam in Sports Illustrated summed it up this way:
"As a fight it was not so much a contest as it was a demonstration by an old master educating an inexperienced youngster in the fine points of the craft."
I've recently re-watched several rounds on YouTube and, despite admiring Ali's masterful strategy, I found myself once more sinking into a trance of boredom. And then, mysteriously, as if a secret doorway had been opened, a hazy memory drifted out of the wings of my mind, interrupting my passivity, and a scene slowly came to life:
I'm standing in the hotel ballroom where the weigh-in is set to take place. I'm talking to Hughes Rudd. We're in the rear of the big, overflowing room, gossiping about the restless and shifty-looking characters who are milling about. Spinks is already standing by the scale with his three trainers, one of whom, Georgie Benton, would later leave his corner in disgust after the fourth round. The promoters, Butch Lewis and Bob Arum, are off to the side, quarreling over something, and Hughes, who has just finished telling me that Arum had graduated from Harvard with a law degree, just shakes his head and says sardonically, "Boxing was cleaner when you could tell the gangsters from the lawyers."
Behind me a ruckus seems to be taking place, the voices immediately around me louder than the rest. Before I can turn to look I feel a solid mass of bodies pushing against me, and for several steps it's as if I am being carried along by a slow-moving river. Trying frantically to twist away, I feel two large hands grip my shoulders, holding me steady, and what I can only describe as a preternatural calmness settles over me.
People are screaming, "Ali! Ali!" and I realize, with a kind of suppressed excitement, that the hands propelling me forward belong to him. Hughes told me later that I had this blissful smile fixed on my face, as if I'd achieved a cheerful oneness with universe. This fairy tale moment lasted for no more than five seconds, until Bundini Brown, one of Ali's handlers, roughly pushed me aside and took my place.
Like many of my generation, I didn't just admire Ali, I loved him in a way I don't feel capable of describing here. But from that moment when he put his soft, strong hands on my shoulders—hands that seemed mysteriously weightless—making me feel more substantial than I really was, I felt like I had discarded an awkward burden. And for a long time afterward there was, somehow, a new appetite for wonder in the trajectory of my life, and it seemed like anything was possible.
Adapted from "Love, Boxing, and Hunter S. Thompson." Read the whole thing on the Los Angeles Review of Books website.