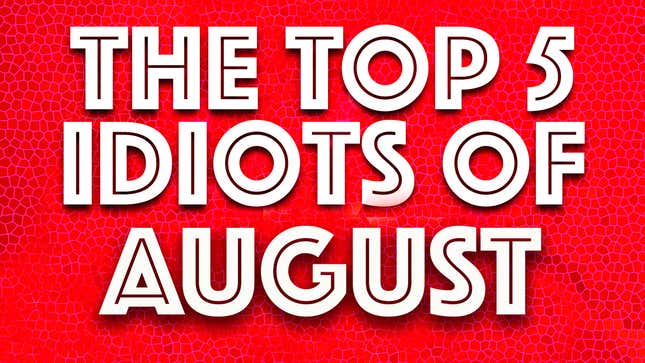 It's another month in human history, and you know what that means: people did idiotic things. Let's investigate!
5. Dustin Penner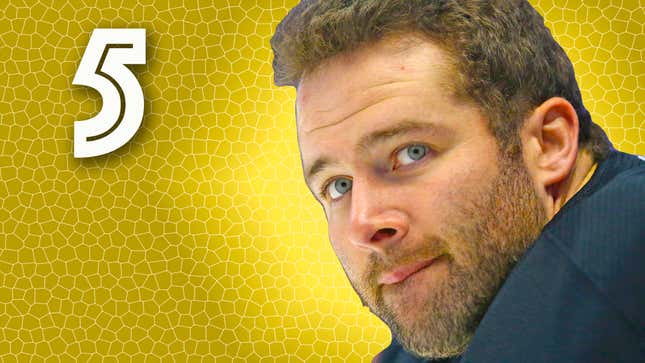 Dustin Penner won the Stanley Cup with the Ducks in 2007 and the Kings in 2012 as a left winger.
As a right winger today, QAnon follower Penner is more fit to lift a roll of tinfoil than hockey's holy grail, as he could then wrap it around his head and have a nice hat that would suit him well.
There are, unfortunately, lots of anti-vaccine idiots around sports right now, but Penner took things to a really disgusting level on August 23. Reacting to the death of former NHL forward Jimmy Hayes at the age of 31, Penner insinuated that the tragedy was the result of Hayes having gotten the COVID vaccine.
The medical examiners in Massachusetts, meanwhile, "could not conclude anything" in their initial investigation of Hayes' death, and continue to await toxicology lab work. But why let that get in the way of getting some tweets off? You can't say "rest in peace" and then use the person's death to advance a storyline that has no grounding in reality.
To be fair, at this point, this is what constitutes reality for Penner. He's gotten in much too deep and lost any connection with the actual world around him other than fellow travelers like Theo Fleury or Brandon Prust. Hockey, as white and aggro as sports get, is ripe for this kind of mindset, and Penner is at the top of the list.
Penner's feed on Twitter is just a repository of retweeted conspiracies and MAGA brainworm nonsense, plus Penner's own dumbass contributions, from asking "which puppet have the globalists" chosen to install as Canada's prime minister, to continuing to question the already-decided 2020 American election, to celebrating Andrew Cuomo's exit as New York governor.
Wait, that last one is fine. It feels gross to agree with Penner about anything, but that's just how much Cuomo sucks.
4. Rachel Luba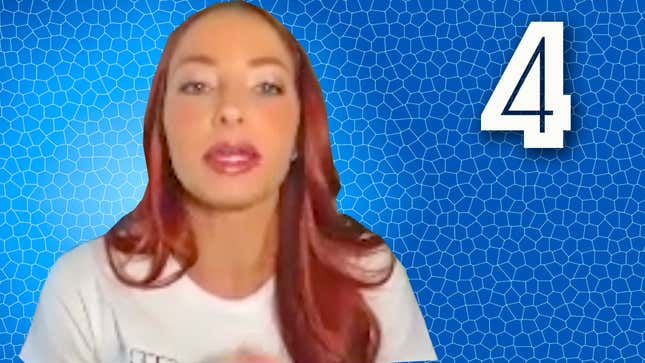 The "clients" page on Rachel Luba's website is devoid of any actual names, but then, it's hard to #GirlBoss when your two most famous clients are accused of violent sexual assaults (both clients deny the allegations). There's long been speculation in the media as to what exactly Luba's role is in Trevor Bauer's contract negotiations, as attorney John Fetterholf seems to show up as "Bauer's agent" just as often. We would like to think this line of thinking around Luba is good old fashioned sexism, except that Luba is exactly the kind of "pick me girl" who hangs out with a bunch of bros and talks shit about other women, including both of the women accusing Bauer of rape and battery. But hey, if you're into that "cool girl" vibe, don't worry, Luba's "Luba Sports" apparel shop still has plenty of merchandise available! You know: on the chance you're into women who insist the victims accusing her client of violent rape are lying.
3. Kirk Cousins & Cole Beasley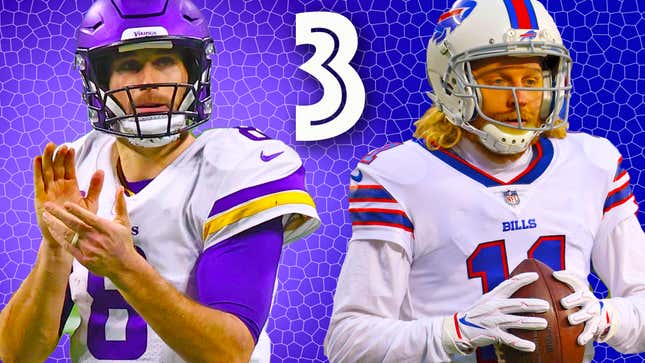 Kirk Cousins and Cole Beasley, a.k.a., The Big Head Machine, Run C-19, Cheech and Wrong, Bonnie and Sigh, The Toys Of Summer, Shawshank Attention, The Trash Brothers, The Legion of Loon, Breaking Sad, or simply, Dumb and Dumber. You can decide which is which.
Just over half of the United States is fully vaccinated, but we have all the data needed to show how effective the jabs are, and by contrast, how stupid people like Cousins and Beasley are. Pfizer and Moderna have had outstanding efficacy this entire run, and the former was most recently approved by the Food and Drug Administration. Moderna should be next to follow suit.
Still, these fake-ass martyrs are doing all they can (in an NFL that has made it close to impossible to function without being vaccinated) to tell us all the ways they're not getting that jab while being stupid. This month, Cousins said his decision is personal, mentioned he might use plexiglass, and ultimately says he'll do everything he could to remain on the field (except get the shot!). The Vikings had the league's worst vaccination rate just three weeks ago, and they're still among the lowest in the NFL, so much so that the organization brought in Dr. Michael Osterholm, whose an epidemiologist and Director of the Center for Infectious Disease Research and Policy at the University of Minnesota. Dr. Osterholm spoke to the team earlier this week about getting that jab, per Fox 9 in Minnesota.
Of the meeting, Cousins said, "It was a great meeting, it was informative. And it was what it was."
And this dude Beasley. He released an album back in 2018, and it was about what you'd expect. Last month, he dropped an anti-vaccination song. He's been extremely loud about his anti-vaccine views. Now, he's one of four players out because of COVID protocol. Of course, it isn't his fault, though.
Washington Football Team head coach and cancer survivor (!!) Ron Rivera spoke about vaccine misinformation last week, so we'll end here:
"Gen Z is relying on [their cell phones]," Rivera said. "And you got some, quite frankly, f——— a———-, that are putting a bunch of misinformation out there, leading people to die. That's frustrating to me, that these people are allowed to have a platform. And then, one specific news agency, every time they have someone on, I'm not a doctor, but the vaccines don't work. Or, I'm not an epidemiologist, but vaccines are going to give you a third nipple and make you sterile. Come on. That, to me? That should not be allowed."
2. Major League Baseball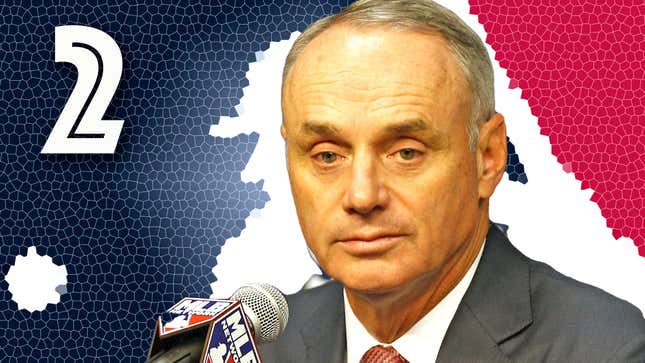 While history has proven that the majority of people are stupid, we're hoping that the people reading this are smart enough to realize that Rob Manfred believes you're are dumb enough to hope that his talks with Barstool about potentially signing them to a broadcast deal to 'reach a younger audience' is an insult to your intelligence.
Because if this wasn't about keeping Major League Baseball as white and male as possible, then the guy who runs a league that's always tried its best to keep its fanbase as white and male as possible, wouldn't be having meetings with a sports site that's dedicated to white men.
For as much as MLB claims that they're working on their diversity issues, stunts like this prove that women and people of color are never high on their list of concerns. Just stop lying to us about it.
This is why MLB and Manfred are on this list. Not because they're idiots, but because they think you are.
1. Jack Morris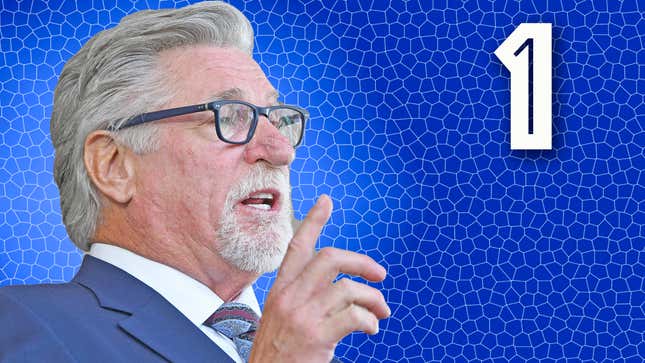 Asians are actually just people. Asian Americans are actually just Americans.
An Asian American woman, Olivia Rodrigo (half-Filipina) is the breakout music star of the year. Naomi Osaka, born in Japan and now a Californian, is one of the greatest tennis players in the world.
A Japanese man, Shohei Ohtani, is the best baseball player in the world at the moment. He's doing things that have never been done. We've never seen an ace pitcher who throws 100 mph and also leads the league in home runs.
Unfortunately, a lot of the conversation around Ohtani has occurred when media members insult or mock him because of his race. Stephen A. Smith said a Japanese player can't be the face of baseball. Jack Morris, Tigers announcer, used a mocking Asian accent when talking about how to pitch to him.
Smith issued a heartfelt apology on ESPN the next day.
Morris' "apology" by contrast was boilerplate, insincere, and lame.
"If I offended anyone…"
Buddy, in what way were you not intending to be offensive? Every Asian person in this country has heard this stuff and countless other microaggressions all their life. Asians are constantly belittled, demeaned, fetishized, and "Othered." We're not that far removed from a time when Japanese Americans who had committed no crime were put into internment camps during World War II. It was the ultimate Othering, because German Americans and Italian Americans did not suffer the same fate. Hate crimes against Asian Americans are on the rise, including a murder spree that killed six Asian women at massage parlors in Atlanta earlier this year.
Morris isn't new to saying offensive stuff. As a pitcher, he told Jennifer Frey, "I only talk to women when I'm on top of them, or they're on top of me." Hahaha funny. Tigers exec Bo Schembechler thought so and defended him. Frey was an intern simply doing her job, she wasn't there for sexual innuendo.
As Deadspin's Jesse Spector wrote earlier this month, Morris also once said that he believed that "the Latin American players of 20-30 years ago, they knew not to show guys up."
That kind of comment illustrates how the "unwritten rules" are really just meant to be used to tell non-white players to "know your place" mixed with some classic old fogeyism. Seems doubtful that an entire group of people as diverse as "Latin Americans" suddenly changed their views that much.
Morris is currently suspended from his job and has issued no statements since. Will this be a learning moment for him, or is he just sulking in silence yearning for the days you could just be sexist and racist without being held accountable? We'll see. For now, we can just call him an idiot.