In Arsenal's blowout win against Ludogorets yesterday, Mesut Özil scored three goals in the second half. I repeat: Mesut "I Live To Pass And I Never, Ever Shoot So Don't Ask Me To" Özil scored a hat trick yesterday in the Champions League, increasing his season tally to six goals in 10 games. This is important. This might be terrifying.
If Mesut Özil is known for one thing, it's his ability to seemingly memorize the placement and movements of each and every player on the entire pitch at a glance, and then, with the mental reproduction of the chaotic movements around him churning away in his mind's eye, to swing his foot with an effortless serenity and send the ball around and/or through defenders and teammates as it finds the exact perfect blade of grass on which his sprinting teammate can then gather and smack towards goal. His creative passing is truly a marvel. He's probably the one player most like Lionel Messi in the sense that it takes fellow attackers a good few weeks of playing alongside him to realize that at every moment, he knows exactly where you are and can get you the ball, so you damn well better leg out those sprints in behind the defense because the pass will be coming.
If Özil is known for a second thing, it's probably for his movement. The dumb version of this is that Özil is lazy and doesn't run fast or hard or much at all, which is false and besides the point anyway. (The goal in soccer is to move smarter, not move more.) Those who actually appreciate the subtleties of Özil's movement, however, recognize that he has a singular genius of when to drift left, right, back, and forward in perfect harmony with his surrounding teammates, at all times opening pockets of space for himself and others simply by knowing where to stand at any given moment.
And if there is a third thing Özil is famous for, it's that the guy, for whatever reason, does not seem to like to shoot.
Because of the efficiency of those first couple traits—his creative passing and movement—Özil has been one of the best players in the world for nearly a decade. If there was anything holding him back from entering that highest tier available to the mortals who get paid to kick the ball around (a tier which is only surpassed by the separate planes of existence that the sport's cyborg and its living deity reside on) it's that he didn't quite score as much as you'd think he should.
G/O Media may get a commission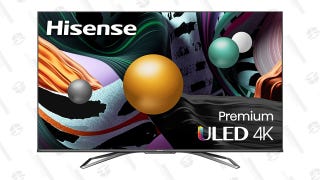 Save $350
Hisense ULED 65" Android 4K HDR Smart TV
It's a little strange, really. For a player with such control over the trajectory of the balls he hits, who is so adept at ghosting into the most dangerous areas of pitch, it seems like Özil would be a safe bet to score about 10 league goals a season. However, the German wizard's highest ever goal return in a league campaign is nine, which he's achieved twice. It's always seemed like whenever Özil found himself in scoring position, he'd look for literally any other passing option rather than taking a crack himself. Mind you, this borderline shotphobia hasn't exactly hurt his game; he's been a world great for a long time now. Still, an Özil who was motivated to score just as many as he assisted would presumably be that much more deadly of an attacking force.
And that may very well be the player we're witnessing today. As Özil's early season goal return hints at, the attacking midfielder looks to have made a conscious decision to try and score himself more often this year, and it's working. Prior to this year, only the very young Özil in his last season in Germany before moving to Real Madrid in 2010 has averaged more than 1.5 shots per game for his club. So far this year, he is getting off 1.6 shots a game in the Premier League (up from his 1.3 and 1.4 averages in his first two years in England) and an even 2 per match in the Champions League (which compares to his stats of 0.8 and 1.3 in his first two Arsenal seasons). His scoring rate of 0.5 goals per 90 minutes in the EPL so far this season too is a career high, as is his goal-a-game Champions League rate.
Even by the eye test, this Özil looks different. Where his oft-praised movement has usually resulted in lateral shifts to the flanks or dropping deeper into midfield to accommodate the goalward runs of those around him, Özil now looks to make more forward-charging runs of his own. It's not a coincidence that two of his three goals yesterday were scored when he was sprinting behind the back line, and that two of them only required first-time shots, seeing as his runs had done all of the work of getting him into scoring position.
Along with his apparent goal-minded focus, this new threat of his is probably a reflection of Özil's physical transformation since he's come to Arsenal. Once a reed-thin waif, Özil is now a well-built man who has the power and speed to take off behind the defense and beat them to the ball. It also helps that, with Alexis Sánchez—himself brilliant when it comes to moving wide and deep to pick up the ball in space—now cementing his place as the team's first-choice center forward, there are more opportunities, more room, and more of a need for Özil to push up the middle of the field to hunt for a shot of his own.
Now, it's still early goings in the year, and Özil probably won't maintain this level of ruthlessness throughout the entire season. While he's definitely shooting more, he's still not shooting all that much. His shots—which, though they've still managed to bound into the net so far, he often mishits—won't keep going in as regularly as they have been so far, and in that case he may revert to his more shot-averse self.
But if Özil does keep running at defenders' back shoulders, and he continues taking aim at the goal frame rather than always looking to pop it over to a teammate, there's no reason why he can't take his spot amongst the top five or so players in the world this season and power Arsenal to a trophy or two. If this truly is to be the year Arsenal finally Do It, it will probably require Mesut Özil passing and shooting them to glory. And at least thus far, he looks up to the challenge.