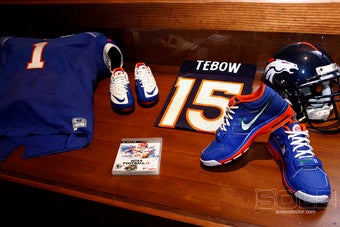 I don't know what's more frightening: That someone wrote 314 words about an epic yet unfulfilling Hajj to get his hands on the new Tim Tebow kicks or that I read all 314 words.
I woke up startled at 2:20 to a bunch of IMs about the release — I didn't check their time-stamps; I thought they were live. I rushed to the site and refreshed the page — no shoe. Then I checked when the IMs were sent... D'oh! After all that, perfectly poised to buy the shoes within 10 seconds they were released...I had slept through it — and missed out.

Suffice to say, I was most definitely not asleep the next few hours, tossing and turning over my fumble.
I take solace in the fact that EA Sports had the wherewithal to go Bible verse-less with His photo on NCAA Football '11, even if they don't admit it was a conscious blackout.
Full disclosure: Tim Tebow Makes Me Hate America.
Here's some grainy footage of those lucky enough to get the Tebow cross-trainers.

Fine, that's actually a bunch of Red Star Belgrade Fans doing God knows what.
(H/T Matt Clapp)