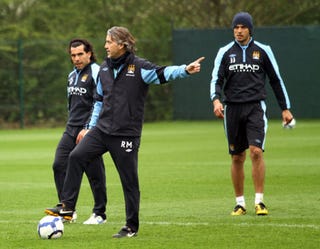 In political terms, the world of football closest in type to classic socialism. Everyone wears the same outfit, united in the one common goal, and no man is bigger than the club.
Of course, you can then throw in the varying shifts in wage structures, men in suits throwing preposterous money around, and suddenly that argument gets blown out of the water.
Basically, in that sense, football is a sports-based reimagining of Animal Farm (the book, not the notorious sex documentary that no one has ever seen — have they?).
Hence, to stay in the theme of Orwell's dystopian allegorical novella (thanks, Wikipedia), just imagine that Carlos Tevez is a wolf, Roberto Mancini is a horse, and Mancini's horse is rather annoyed with Tevez's wolf, because the wolf told the press (some owls?) that he didn't always enjoy his work on the farm during the week. Well, as reported by the lizards at The Daily Mail, the horse has finally had enough of the wolf, and said this:
"For Tevez, for all players, if he is not happy to stay here it's better he goes to another team."

"It's important that when a manager and players work in a team that they must be happy. It's not good for the club, for the squad, for the player, if he is not."

"Tevez has four years left on his contract. But I don't know. If he's not happy, it's better to change squads."
So, will the lone wolf be scampering elsewhere in the summer? And, more importantly, what would Craig Bellamy be in this animal metaphor?
A really fast parrot, perhaps?
This post, written by Josh Burt, is republished with permission from The Spoiler. Go there often if you like soccer stuff.