Every morning, the fine folks at Sports Radio Interviews sift through the a.m. drive-time chatter to bring you the best interviews with coaches, players, and personalities across the sports landscape. Today: Bogut, out for the season, says it's just a chain of freak accidents.
Andrew Bogut joined 95.7 The Game in San Francisco with The Drive to discuss his rehab, being traded from Milwaukee to Golden State, his early perception of the team, its need for a center, the differences between Milwaukee and Golden State, people who call him injury-prone and Golden State fans booing their owner last week.
How is your rehab going?
"It's getting there. [The boot] is just a precautionary thing. I can walk pretty fine without it, the doctors just don't want me doing it at the moment. So I'm riding a bike for about 30 minutes and getting my heart rate up for some conditioning and doing a lot of upper-body weight work and a lot of soft tissue and ice and that stuff. It's not fun, but you've got to get through it."
Did you have a sense that you might get traded and did you think Golden State was a likely possibility?
"Obviously we all have player agents and the reason they make the big bucks is because they keep us in the loop. I knew I was almost moved last offseason. Once the injury happened at the end of January, I kind of new there was a high chance of being traded. I thought I'm probably going to get traded, but the only thing that might set me back is being hurt. Teams might not want to take the risk because I'm hurt. I got the call and the rest is history. … I had seven great years in Milwaukee, but at the same time I think it's time for me to start again."
What was your initial perception about where you were headed, Golden State?
"At the moment, just getting here, it's a great organization, I think. The owner's doing a great job. The facilities are phenomenal. Everything's been first class. On the court, I think the reason why I'm here, the main reason why they traded for me is we need a defensive presence in the paint. No disrespect to the guys that we have now, but I think I can fill that void of shot-blocking and rebounding and taking charges and just making sure there's a presence in that paint."
G/O Media may get a commission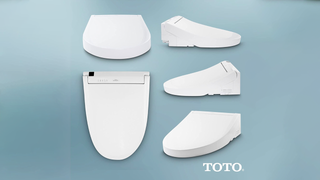 44% off
Toto Washlet Electronic Bidet Toilet Seat
When you'd look at the Warriors before, was it clear that this was the key missing piece?
"Yeah, definitely so. Everyone needs to be held accountable defensively. … Once we start training camp next year we need to establish that. … For people to say [the owner and GM] don't want this thing to get better, that's an absolutely hypocrisy because I think they're doing everything in their power."
What is the biggest difference between Golden State and Milwaukee?
"Well obviously the market's about 50 times bigger. The gym's full. The fans are very, very vocal. Even when I was on the Milwaukee Bucks we'd come in here and the Warriors would have a bad record, but the fans would still show up and they'd still cheer and give them their best. That's probably the biggest thing, I mean, I'm just excited to get healthy and play in front of the people here."
Is it frustrating to you that people now label you as injury-prone?
"A little bit, but that's pro sports. We're paid to play and obviously when you're not playing you're going to receive some negativity and that's part of the business. What I would say is I've only had one injury in my NBA career that was probably was because my core wasn't strong enough, when I had a stress fracture in my back. … The last two injuries, I can't control falling on my arm and breaking everything in my right arm. And I can't control having a good defensive quarter in Houston … and falling on a foot. If you call that chronic, it's pretty uneducated in my opinion. But the reality is I have been hurt, so I need to try and, I don't know, maybe see a witch doctor in the offseason to get that bug away from me."
What were your feelings when you saw the owner get booed during Chris Mullin's ceremony last week?
"First and foremost, I think it shows the fans are passionate and they want their team to do well. There's no disrespect in that. I think it probably was not the right place and the right time for that kind of thing. The fans are going to learn in the next couple years that the owner's willing to do whatever it takes. He knows a lot about the game. He's not one of those owners that sits around and let's the GM do everything."
This post, written by Eric Schmoldt, appears courtesy of Sports Radio Interviews. For the complete highlights of the interview, as well as audio, click here.
More from Sports Radio Interviews
• Andrew Luck won't make any draft predictions.
• Buster Posey will think twice about blocking the plate.
• John Wall likes the Wizards' direction.