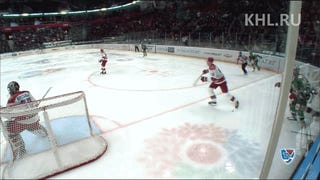 Here's what's not up for dispute: Flyers goalie Ilya Bryzgalov, best known for being a crazy person, will not be playing anymore for CSKA Moscow. He finishes his KHL stint with a 6-5 record and a 2.13 GAA. The real question is, why is Bryzgalov leaving now?
One Russian writer tweeted out a supposed quote from Bryzgalov yesterday:
"I quit CSKA because lockout is ending."
This is suspicious, because of all the NHLPA members, Bryzgalov is the last you'd expect to have some inside information. It's a million times more likely that when the lockout ends, they just won't tell Bryz and hope he never realizes. And sure enough, Bryzgalov disputed the quote. (It was so important to set the record straight, Bryzgalov tweeted for the first time since relaying his high score in Doodle Jump last month.)
R-Sport has softened their story, with a quote from a source stating that "the reason, most likely, is that the lockout should be over pretty soon in Bryzgalov's opinion." Slava Malamud, who's the most trustworthy reporter here, says the parting was CSKA's choice, and that Bryz has "worn out his welcome."
The NHL and the players' association will meet today to discuss the league's latest offer, and with an ostensible drop-dead date coming up in a few weeks, Bryzgalov isn't the only player to flee Russia thinking a deal's bound to get done soon. He's just maybe not the best source on the progress of labor negotiations, or on anything really.