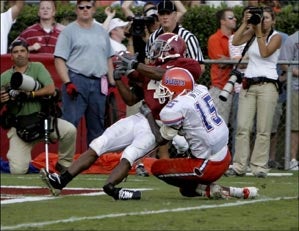 Remember Tyron Prothro? The Alabama wide receiver was one of the most exciting players in college football until he, in the most gruesome fashion, broke his leg in a game against Florida two years ago. (You can see it in this photo, if you dare.)
Well, he had yet another setback yesterday, being put on medical redshirt, which means he won't play this year and looks unlikely to play again. The Wizard Of Odds reminds us that there was no real reason for him to have been in the game anyway, considering the Crimson Tide already had a huge lead.
Anyway, check out that link for a great Prothro highlight video. We forget sometimes just how delicate these athletes are, and how precarious their careers really are. In one second, it can all be over. Yet Bonds will play forever.
Once Promising Career Appears Over [The Wizard Of Odds]