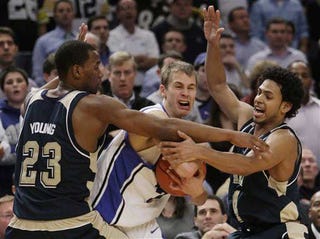 Don't know if you've noticed, by while you were looking away, Duke became awesome again.
The Blue Devils are 20-1 right now and have one of those massive battles with North Carolina on Wednesday. Anyone who might have stupid enough to say "there are signs that the Duke dynasty is abating" should feel a little sheepish right now, if they had any damned shame.
Football's about to end folks, so be happy: Duke is there to fill that Patriots gap.
Blue Devils Emerging As Title Contenders [Sports Lounge Blog]
Duke Loses And America Cheers [New York Times]