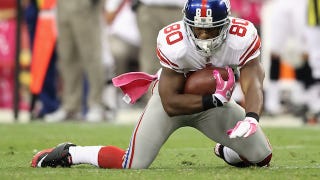 We're doing a season-long NFL roundtable with our friends at Slate. Check back here each week as a rotating cast of football watchers discusses the weekend's key plays, coaching decisions, and traumatic brain injuries.
« Previous entry | Next entry »
From: Daniel Engber
To: Tommy Craggs, Stefan Fatsis, Nate Jackson
What does it take to be an offensive lineman in the NFL? You need to be smart and quick, they say, with a good bend and a natural hip roll. It also helps to have a big, bushy beard.
I hate to second-guess the scouts for my favorite team, but what the hell were the Jets thinking when they signed the stringy-haired Colin Baxter to fill in for Pro Bowl center Nick Mangold? Mangold's flaxen mane shoots beams of light in every direction, and one flick of his glorious beard can knock a nose tackle on his ass. Baxter, with his nervous face-fuzz, looks like Al Borland from Home Improvement. (Seriously, compare this and this.) Of the many sorry sights from Sunday night's game—in which the Jets were annihilated by the Ravens on national TV-none was as grim as that of the Jets' undrafted free agent pacing the sideline after a muffed snap, tresses dangling limply from his helmet as if to hide the name on the back of his jersey. Yes, the man has hair past his shoulders, but it should have been clear from the start that he wouldn't be wrestling any lions in Baltimore.
But there's no reason to dwell on Baxter's rookie mistakes when we can focus on someone else's instead. Caving in to the Baltimore defensive line is understandable. Tossing the ball away before you've been tackled—as Giants wide receiver Victor Cruz did yesterday afternoon in Arizona—is incomprehensible. With three minutes to go in the fourth quarter and New York driving for what would prove to be the game-winning score, Cruz caught a 19-yard pass from Eli Manning and then collapsed to his knees, untouched. When he clambered to his feet without the ball, the Cardinals defenders picked up what appeared to be a dunderheaded fumble.
After some deliberation, though, referee Jerome Boger announced that the play had been over before the fumble because "the receiver gave himself up by going to the ground." It was as if he'd taken a knee, or gone into a feet-first slide-a couple of chintzy maneuvers I'd assumed were reserved for quarterbacks, the way castling in chess is reserved for the king and rook. But the NFL rules seem clear on this point: The play is over "when a runner is out of bounds, or declares himself down by falling to the ground, or kneeling, and making no effort to advance."
One might argue, as Tony Dungy did on NBC, that you can't declare yourself down by falling forward, and that Cruz-whose 1.7 grade-point average got him kicked out of UMass a few years ago—should be punished for his stupidity. But the fact that Cruz let go of the ball shows that he was "making no effort to advance." There's no denying that he thought the play was over, and according to the league rules, it's his intent-not his intelligence-that matters.
That strikes me as a humane principle, and one that fits with how regular people understand sports in the non-professional world. If we were playing a game of ping-pong and I served you the ball when you weren't ready, we'd have a do-over—that's only fair. In practice, though, I'm a little sad to see the refs applying their wet blanket of sportsmanship and common sense. The Cruz mishap recalled some classic NFL blunders of the past: Remember when Plaxico Burress spiked the ball before being tackled in 2000? (That was his second-most infamous misfire.) Or when the Chargers' Vincent Jackson spun the ball in premature celebration after making a diving catch against the Raiders in 2006? In neither instance did the receiver make an effort to advance the ball, so both plays should rightly have been whistled dead on the spot. Borrrrring!
Everyone loves a boner, which is why the league should embrace stupidity in all its forms. How many plays from Sunday were as entertaining as Ronnie Brown's nutty attempt to pass the ball while being pulled to the ground in Philadelphia? It takes more than a few dumb plays to blow a 20-point lead, as the Eagles did against the 49ers and the Falcons did against the Seahawks and the Cowboys did against the Lions. Yet those were the best games of the weekend, because mistakes are exciting. Perfection is dull.
There were some other joyous, if less consequential, slip-ups from Week 4. Marion Barber blew a celebratory back-flip in the end zone after teammate Devin Hester successfully landed a triple somersault earlier in the game. The Vikings' Bernard Berrian did his best Ty Cobb impression by tweeting at a legless war veteran to "sit down n shut up." And in my favorite error of the day, the groundskeepers for the Jacksonville Jaguars managed to paint arrows pointing in the wrong direction on the home-field turf.
Here's a question for Nate: In your professional career, how many times did you consult the arrows on the field so you'd know which way to run?
Daniel Engber is a senior editor at Slate, and writes for the magazine about science, culture, and sports.