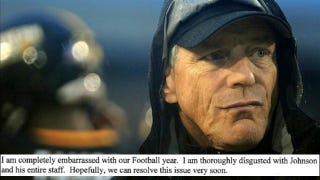 We've examined the difficulties faced by first-year athletic director Jeff Hammond, who inherited a multi-million-dollar budget deficit when he took over at Southern Miss. Complicating matters was the performance of the team, which went 0-12 under new head coach Ellis Johnson. Johnson had been hired under lame-duck AD Richard Giannini, with an inexplicable contract that gave him four years of guaranteed money. Firing the coach was the last thing Hammond wanted to do—Johnson would still be owed $2.1 million—but it became inevitable as Southern Miss continued to rack up the losses.
Our FOIA requests, which turned up evidence of Hammond filling out USM's future schedule to recoup some of its losses, also revealed a number of emails from angry fans and alumni—more often than not donors and members of the university's Eagle Club. We have scores of letters to Hammond from boosters, sent over the course of the season, demanding the termination of Ellis Johnson. Some threaten to withhold their donations if he's not fired; others offer to donate to a fund specifically to cover Johnson's buyout. The full email dump is at bottom, but here are a few of the highlights.
Sent after USM is blown out by Western Kentucky, falling to 0-3:
Sent after USM is blown out by Boise State, falling to 0-5:
Sent after USM is blown out by Marshall, falling to 0-7:
Sent after USM is blown out by Rice, falling to 0-8:
Sent after USM loses to UAB, falling to 0-9:
Sent after USM is blown out by SMU, falling to 0-10:
Sent after USM is blown out by Memphis, finishing the season 0-12:
On Nov. 27, Jeff Hammond informs the Eagle Club that Ellis Johnson has been fired:
On Dec. 6, Auburn hired Ellis Johnson as its new defensive coordinator. On Dec. 10, Southern Miss announced the hire of former Oklahoma State offensive coordinator Todd Monken as head coach. For Monken, the bar for success is low, but expectations are high.
Here, all emails sent by USM fans to Jeff Hammond calling for the firing of Johnson: