The Knicks and Pistons played a basketball game in London this past Thursday at 3 o'clock in the afternoon, which is among the reasons you likely did not know about it. David Stern has been talking for some time about putting an NBA team in London permanently—multiple teams in Europe within the next 20 years, he says—and in that spirit, he figured the now 14-25 Pistons were a good advertisement of the NBA's wares. Likewise, England decided it would give us an advertisement of its wares in the form of an impossibly snide and verbose recap of the game, headlined, "Stars flock to theatre of the absurd as NBA stars take a back seat in London" and sub-titled, "The attention deficit of a basketball crowd is such that even the game itself has to proceed against an extraneous soundtrack of jaunty accordion music." Blimey!
The author, Oliver Twist Brown, bemoans the fact that the "hyperactive spectacle" surrounding the game distracted celebrities such as Patrick Vieira and Shaun Wright-Phillips (?) from "the fearful trouncing administered to the Detroit Pistons." Unfortunately, these "incessant interruptions" meant that "all but the most ardent aficionados swiftly lost touch with the balance of play." As the primary offenders, Brown points to "gyrating cheerleaders" and "the Pistons' donkey mascot bashing an oversized drum."
Brown ups the Britishness ante by noting that the "Pistons skulked off at half-time 15 points in arrears after Anthony's first-half barrage," and sighing, of a London-born singer,
Alexandra Burke gave our poor unsuspecting national anthem the full X-Factor treatment, complete with several octave changes, while somehow resisting the urge to follow "Send her victorious" with "Can I get a whoop whoop?"
And we thought our sportswriters were white. Brown's feelings weren't reflected by everyone, however—he concludes this week's episode of Upstairs, Downstairs by noting the general response to the game:
Those Arsenal aristocrats of Vieira and Robert Pires wore contented expressions from their front-row seats, and few could deny that this 11th regular-season instalment of the NBA in London was zealously received.
G/O Media may get a commission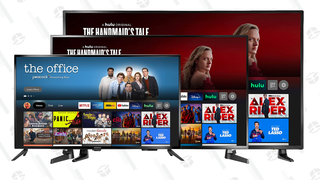 Up to 44% off
Prime Early Access - Insignia Fire TVs
Hmm, yes, very good, I say. Still, the next time the NBA stages a game in London, it must make sure to keep the noise at an absolute minimum, so as not to upset delicate British sensibilities.