Welcome to Ask an Indie-Rock Dude About Sports, our new occasional feature where we sit down with a luminary from that particular musical universe and chat about the fandoms and competition that helped shape him or her as a person and an artist. It was a very specific time—somewhere around the summer of 2010—when the preferred music-festival attire became some combination of basketball jerseys and Keds, the divisions between jockiness and hipness shrunk, Stephen Malkmus started doing interviews about his fantasy baseball league, and our community became a much happier place.
First up is Matthew E. White, a man who's lived everywhere from Virginia Beach to the Philippines. His debut album, 2010's Big Inner, was a satisfying whiff of dreamy Americana, equally indebted to riverboat jazz and ancient gospel. (As far as translucent, 10-minute bangers about the crises of a white faith handed down to runaway slaves, you're not going to do much better than "Brazos.") His sophomore album, Fresh Blood, came out this week, and it doubles down on that pillowy R&B, bringing to mind everyone from Marvin Gaye to Yo La Tengo. If you like domestic love songs, veiled odes to Philip Seymour Hoffman, and wide open spaces, you'll love this guy.
Matthew is also a big sports fan, nursed on Duke basketball before spreading his interest across all four major American pastimes. We talked about his hatred of Peyton Manning, how basketball discourse has changed in a post-Jordan world, and that time he watched a young Tracy McGrady destroy his high school teammates.
How did you first get interested in sports? Was it a specific team? A family thing?
I grew up in the Philippines, so the only school that I knew in the United States was Duke University, and the only city that I knew was Boston. I really liked basketball from a very young age, and I remember watching Duke play in the Sweet 16, and Christian Laettner hit that buzzer-beater to beat Utah, and as a kid, the idea of a buzzer-beater is like candy. You just go crazy. I fell in love with that Duke team, and that year they lost to UNLV in the Finals, which was Bobby Hurley's freshman year. That was before Duke was completely uncool to like—they hadn't won anything yet. Then the next year they beat UNLV in the Final Four, and that was the first game my mom let me stay up and watch. I really fell in love with sports through that.
The Boston thing is funny, because my brother lived in Boston, and when we moved back to the States, we were in Virginia Beach, which doesn't have any professional sports teams. So that's how I started following all the Boston teams.
So let's start from the top. The Patriots are celebrating a Super Bowl right now: It was funny watching that team, because it sorta feels like this era is winding down. How much longer do you think this Belichick/Brady core is going to last?
I don't know. To be honest, I thought that we were overachieving. I thought we overachieved the last year when we went to the AFC Championship Game against the Broncos. This year, when we lost the couple games up front, I was prepared for the decline. It's been such a good run that it's hard to be upset about it, but we kinda walked backwards into a Super Bowl win this time. It can't be that much longer. Maybe two more years of real competitiveness.
G/O Media may get a commission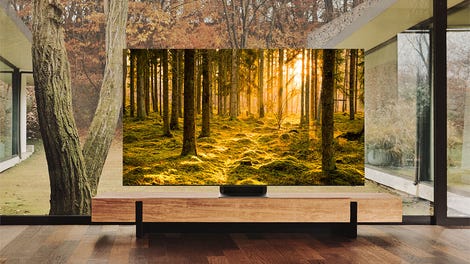 Up to 40% off
Samsung Smart TVs
It's interesting: I guess I didn't feel like they were capable of winning a Super Bowl until they did, you know?
Yeah me neither. I mean that interception ... I've been watching sports since I was 6 or 7, so it's been 25 years. There's three things that have blown my mind. The 2004 ALCS when the Red Sox came back from 3-0, when Auburn returned that touchdown against Alabama in the Iron Bowl, and now that interception was all of the drama I could possibly imagine in sports combined into one play. You know when you have that moment where you're going so crazy that you're not even self-aware about it? Like you're jumping around and screaming without even realizing it? I was reclining in my chair moping because of that crazy catch, and then I blacked out for like 10 seconds.
That extra Super Bowl win, coming here at the end, has to feel pretty good in the grander context of the Patriots' legacy, right?
Oh yeah, for Brady to get four ... you can't go out losing three in a row. 3-2 would've been okay, but 3-3 looks pretty ugly. I really wanted it to be clear how much better Tom Brady is than Peyton Manning. I've talked so much shit about Peyton Manning, and I believe every word of it, and I think this year Brady added some distance to that race. It's such poetic justice that they both went up against the Seahawks, and Manning got his ass kicked so bad, while Brady put together two touchdown drives for the ages to come all the way back. It's funny that a defensive play ended up changing his legacy.
You mentioned that you were a pretty serious basketball player growing up, and once played against Tracy McGrady in high school. Please tell us that story.
I went to a school called Atlantic Shores, which was a private school in Chesapeake. They dipped their toes into recruiting and building a massive sports program, so a bunch of kids were brought in to make a great basketball team. There was a couple guys, like Damon Thornton, who went on to play at NC State and then overseas; there was a time that Jim Boeheim came over to recruit. It was a very "serious" basketball program.
So Tracy McGrady went to Mount Zion, which was a small Christian school. I was on the JV team—I should make that clear so I don't get called out. But I was watching the varsity team play Mount Zion in our gym. ESPN was there; everyone knew he was going pro. I shook his hand, it was cool.
But he dunked on one of the guys on our team so hard. It was like a SportsCenter Top 10. That guy got shit for the rest of the year for being posterized by T-Mac. He threw it off the backboard to himself. In a game.
That's great. Tracy McGrady was an underrated player—I feel like people don't remember how great he was.
Yeah, the injury bug, man. Him and Grant Hill, it's a bummer.
Speaking of devastating injuries, how are you taking the Derrick Rose story?
I'm bummed for him. I love watching him play basketball. It's just sad. He wasn't playing like Derrick Rose this year anyway—that other injury tore him up a bit. It's just so sad that he can't get back on his feet.
So we've seen guys like Grant Hill, who we mentioned had some injuries but was still able to bounce back in his thirties and become a productive rotation player. Do you think Rose will be able to do that, or are you really worried about his knee?
I don't think he's out of the league in four years, but I don't think he's a player that's quite as malleable as Grant Hill. Grant Hill was unique in that way—he reinvented himself. He retired only two years ago, which was like an 18-year career. I don't quite see that in Derrick Rose.
Who do you have in the Finals right now?
That's tough. I'd really like to see the Warriors in the Finals. I just like watching that team—it's really easy on the eyes. I wouldn't be surprised if the Cavs might get there. I think they might lose. I think the Cavs will get there and lose.
Well that's the whole thing with the Cavs: You look at that team, and there's nobody on it outside of LeBron and, like, J.R. Smith who has tasted a serious playoff series.
Yeah, and LeBron has stumbled into his Finals victories. It's not because he's played exceptional. He puts up triple-doubles and people say he has an awesome night. But they got destroyed last year by the Spurs, and the year before they should've lost. They definitely should've lost. And the year before that they beat a very green Thunder team, which is like beating Rex Grossman.
I mean, comparing Kevin Durant to Rex Grossman is a little harsh, but I get what you mean.
[Laughs.] Yeah, that's fair, but still, I think they're gonna get there and lose. And it's going to get more complicated. LeBron has such a complicated legacy, I genuinely like him, but for those of us who grew up watching Michael Jordan, it's just not the same. I feel like a lot of people watching now weren't around for the Jordan years.
I was going to mention that: I think a lot of the kids watching basketball now were maybe 7 years old when Jordan won his last championship, and that's changed basketball discourse quite a bit.
Yeah, it's a hard thing to describe. I didn't even like Michael Jordan, but I knew that Jordan was never going to lose a Game 7, because I watched him enough to know what that feels like. It's funny, when LeBron gets the ball with two minutes to go in the Finals, I could care less. I am completely unworried about him hitting a big shot. But when Ray Allen got the ball, that's a different story. When Allen got the ball, my heart sunk. But when LeBron dribbled up the court, I was like, "Are you kidding me? Sure, let him take the shot!" That wasn't the same with Jordan.
You're a Celtics guy: How do you feel about the Rondo situation in Dallas?
I don't know: It feels like Doc Rivers has the key. He's the Rondo Whisperer. It didn't go well with Brad Stevens, and obviously it's not going well for Rick Carlisle. When Rondo was most successful, he had Paul Pierce and Kevin Garnett on the team, who seemed to bully him back into line. I feel like Mavericks are just a stop in the road.
You mentioned that you were a Redskins fan: Where do you fall on this weird, undying RG3 saga?
To me, it's all Dan Snyder. There's a reason the Patriots are so good, and that's Robert Kraft. Dan Snyder is a terrible owner—as long as he's in charge, it's going to be a bad team. RG3 is not going to succeed. It's a done deal as far as I'm concerned. It's almost like an investment: They've put so much money into RG3, and they have to make sure 100 percent that it's not working. His rookie year was great; I was on board back then. But it's almost more of his attitude.
He kinda seems like a dick.
Yes! And that wasn't especially clear until the summer after his rookie year. So when he started doing press conferences on his own, all that diva shit—I've watched sports long enough that when you hear all these rumors from the locker room, it doesn't matter that everyone saves faces when ESPN shows up, but it's clear that those players and coaches aren't sold. So yeah, I'm signed off on all Redskins activity. It's too frustrating.
Two more questions: What is your all-time favorite team?
It's gotta be one of those Duke basketball teams. That's when I didn't know as much. I could tell you every player on that team that beat UNLV. The 2004 Red Sox are pretty undeniable. I should go with an NBA one, because I'm such an NBA advocate and don't watch much college basketball anymore. This is an outlier, but that 2004 Pistons team that beat the Lakers with Shaq and Kobe and Karl Malone. I'm not a Pistons fan, but basketball at its highest level is such a true team game. So when it's being played really artfully, it's stunning. The Pistons were supposed to get destroyed, and they beat them 4-1. There's that great story of Larry Brown calling a timeout just to tell his players that he loved them—it's the best.
What's your favorite player?
When I was younger, it was Bobby Hurley. When he got in that car accident, I was devastated. I had the chance to meet him a couple years ago, and I'm never the type to get starstruck, but I went up to him and said, "Mr. Hurley, I have to tell you, watching you play basketball was the highlight of my middle school." It was a weird thing to tell him, because you don't know if he has bitterness towards his injury, but at the same time, he brought me so much joy.
---
Luke Winkie is a writer and former pizza-maker living in Austin, Texas. You can find his work at Vice, Red Bull, Paste, The Daily Dot, Sports Illustrated, and many other reputable publications. You can follow him on Twitter at @luke_winkie.
Photo by Shawn Brackbill.
The Concourse is Deadspin's home for culture/food/whatever coverage. Follow us on Twitter.