Your morning roundup for March 5, the day after a "terrible guy" felt like a "wonderful fellow."
• A kickball game in Dallas was interrupted by an episode of Cheaters. One of the witnesses explained it as such: "A rather large black man barreled through three fields in an attempt to dodge obscenities, car keys and jewelry from two very upset women. One of which (from what we gathered) turned out to be his baby mama. ... An hour later, the "cheater" gentleman returned (minus camera crew) to look for his own missing car keys… and whatever dignity he left behind. [D Magazine]
• No, it wasn't Mr. and Mrs. Pete Rose and baby mama. [RadarOnline]
• Los Spurs took a 24-point lead over El Heat in the first quarter of their NBA matchup last night. San Antonio hit 17 three-pointers and handed LeBron et al their worst loss of the season (125-95). It left Pat Riley speechless. [Miami Heat]
• Hey look, the Cavaliers beat the Knicks again. Carmelo didn't deliver when the game was on the line, opting to charge rather than hit a key shot. Too bad. [New York Post]
• Former Oakland Raiders defensive end Anthony Wayne Smith "and two alleged associates" were charged with the 2008 murder of a man whose body was found beaten, shot several times and dumped "near the Antelope Valley poppy fields." [Los Angeles Times]
G/O Media may get a commission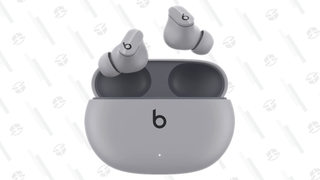 • Mark Miles, host committee chairman for the 2012 Super Bowl in Indianapolis, says he thinks common sense will prevail. But if the game gets locked out, the host city stands to lose $200 million; some estimates raise that figure to $400 million. [AP]
• Despite knee problems, American skier Lindsey Vonn claimed a fourth straight World Cup title in the downhill. She did so by finishing second on an Italian course. [Sky Sports]
• Texas high-school basketball coach Amber Branson coached one playoff game. Then, she gave birth four hours later. Then, she coached another playoff game the next day.
How could a mother leave her newborn to coach a basketball team the next day?
"People don't understand what basketball's like in Lipan," Les Branson said. [Austin American Statesman]
• Arsenal vs. Sunderland at 10 a.m.; Manchester City vs. Wigan at 12:30 p.m.; Juventus vs. AC Milan at 2:30 p.m.; Atletico Madrid vs. Villarreal at 3:55 p.m.
Recently On Deadspin
A few stories you might've missed.
Compare And Contrast: In a State Department document released by Wikileaks, an American diplomat is credited with referring to Mahmoud Ahmadinejad as the "George Steinbrenner of Iran."
Tragedy: Michigan high schooler Wes Leonard made the winning layup to end his team's perfect 20-0 season. Then, he collapsed and died.
Emotion: We like to see that our athletes actually give a damn about winning and losing. But do we like it when they cry?
White Boy With Ups: A 5'11" guard for a DIII team in Illinois dunks the hell out of the ball, over and over again.