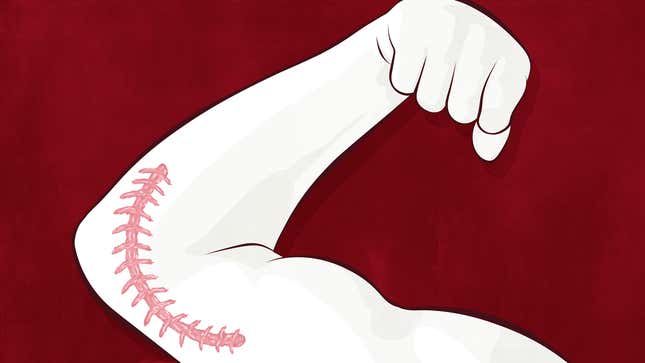 The following is excerpted from The Arm: Inside the Billion-Dollar Mystery of the Most Valuable Commodity in Sports by Jeff Passan, available April 5 from HarperCollins.
Is Texas or Florida State a bigger national title contender? | Agree to Disagree
He didn't want a piece of the dead guy holding his elbow together. That's all he asked.
Todd Coffey had resigned himself to spending the next year learning how to throw a baseball again. He had accepted the mind-numbing rehabilitation process after tearing his ulnar collateral ligament, the two-inch elastic band that had prevented the upper and lower bones of his right arm from flying apart when he pitched. He simply couldn't stomach the new ligament coming from someplace other than his own body. "I think about it as a used car that has 40,000 miles on it," Coffey said. "You don't know what the previous 40,000 miles were like. I don't know what it's been through."
He had spent his entire adulthood in baseball. Got married, had kids, fought his way to the major leagues, made his first million and a few more, played the hero and the goat. Now his elbow had popped, and it was fix it or be done. He was used to binary outcomes after spending nearly half his life as a relief pitcher. Ball or strike. Win or loss. Save the game or blow it. He knew nothing else. He didn't want to know anything else. And here he was, at 31, with that career, that life, at risk, and the doctor wanted to reconstruct his elbow with a dead man's tissue because Coffey's own body didn't have any to spare.
On July 17, 2012, Coffey slid into an MRI tube at the Kerlan-Jobe Orthopaedic Clinic in Los Angeles. The next day he was scheduled to undergo Tommy John surgery, the procedure that revolutionized baseball in 1974, when Dr. Frank Jobe used a tendon from the wrist of John, a left-handed pitcher, to replace his torn elbow ligament. At the time, Jobe said it had a one percent chance ­of success. In the 40 years since, the procedure has saved nearly 1,000 professional players' careers, including that of Todd Coffey. It had given Coffey everything, and now it was threatening to take it away. Coffey was a well­-traveled reliever, having bounced from Cincinnati to Milwaukee to Washington to Los Angeles, and now to Dr. Neal ElAttrache's operating room.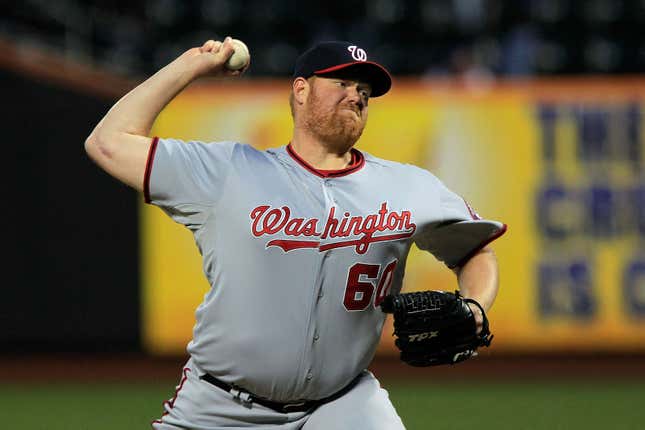 The first time Todd Coffey's UCL blew, the surgeon tried to harvest the palmaris longus, a tendon in his right wrist, to tie the elbow back together. The tendon was too thin to stabilize the joint. He sliced open the other wrist. Same problem. So he went to Coffey's left leg and removed the gracilis, a hamstring tendon. It broke as the doctor tried to loop it through Coffey's elbow. One more cut yielded a fresh gracilis. Mercifully, it worked. Coffey made history on May 11, 2000: He was the first—and still the only—patient in the history of UCL reconstruction to go in for a surgery that entailed two cuts and leave with five scars.

Over his 14 years in the game, Coffey had left behind an almost­-unparalleled trail of apocryphal stories that were actually true. Like the time he asked the Arizona Diamondbacks' visit­ing clubhouse manager to make him a snack. He wanted peanut butter on one side, jelly on the other, two Reese's Peanut Butter Cups in the middle, all griddle-­fried with butter. To this day, vis­iting players at Chase Field still can order the Todd Coffey Sand­wich. His new teammates always wondered about the extra piece of luggage he hauled from city to city. The hard-­shelled suitcase carried just one item: Coffey's baseball glove.
When Coffey came into the game in relief in the top of the eighth inning against Cincinnati with his team down 3–1 on July 2, 2012, he figured it would be just like his previous 460 appearances in the big leagues: throw sinkers and sliders, get ground­ball outs, head home. On Coffey's fifth pitch, a slider that plunked his former teammate Jay Bruce on the foot, he felt a twinge in his elbow. He shook his arm and thought little of it. Coffey bounced his next pitch in the dirt. His catcher, A.J. Ellis, visited the mound.
"Something doesn't look right," he said.
"It feels fine," Coffey said.
"You're not extending," Ellis said.
"I will, I will," Coffey said.
Three pitches later, Dodgers outfielder Elian Herrera mis­played a Todd Frazier hit into a triple. Manager Don Mattingly headed to the mound with the team's head trainer. Coffey threw a couple of warm­up pitches, and even though he shook his arm after each, he swore he was good, and they believed him.
Coffey struck out the next two hitters. He still has no idea how.
"Maybe adrenaline?" he said. "My elbow was done. And the tough thing is, in my case, it didn't hurt. I didn't have any pain. There's no swelling. It just felt like normal inflammation. My body is telling me: You can pitch."
He gave up a hit on his next pitch, and Mattingly yanked him and sent him into the clubhouse so ElAttrache, the Dodgers' team physician, could examine him. Coffey is almost certain his elbow blew when he hit Bruce, meaning he fired 16 pitches, most up around 92 miles per hour, with a UCL shredded for the second time.
There was blood on the floor of the stark-­white Operating Room 2 at Kerlan-­Jobe, and the surgery hadn't even started.

Coffey, who hated needles, had warned the staff about his elusive veins. "I've always been a hard stick," he said. "My veins hide." On the first attempt at inserting an IV in Coffey's arm, the vein blew and spurted crimson. It took three more tries before an IV worked.
Coffey breathed deeply. At least he wouldn't have to watch the rest. The nurse warned him he would feel some burning. Propo­fol, the creamy white sedative doctors call "milk of amnesia," started to course through Coffey's body.
The door opened and ElAttrache walked in.
"Doc," Coffey said. "This is some good shit."
"We're going to get you taken care of," ElAttrache said.
"Well, good luck," Coffey said, drifting off to sleep. Once he was out, the medical team covered everything except his right arm with a sheet. ElAttrache first needed to assess the havoc. Years of damage can leave a pitcher's elbow looking like a grenade went off inside. ElAttrache started the scalpel above Coffey's first Tommy John scar on his upper arm, sliced over the elbow and ended beneath the bottom of the old scar—about 12 inches total, four inches longer than with a first-­time UCL patient. He split the muscles around the elbow and used retractors to expose the UCL area—an inscrutable mess of red muscles blending into ligaments mingling with tendons camouflaging bones. ElAttrache needed to navigate the mess, and the first task called for someone even more specialized than him.
Dr. Steve Shin worked as a hand surgeon at Kerlan-­Jobe, and ElAttrache needed his precision. Shin looked into the exposed elbow and prepared his one assignment: move an eight-­inch por­tion of Coffey's ulnar nerve, a tube of fibers that originates at the spine, snakes down the arm, and controls fine-motor movement in the hand. The ulnar nerve allows you to pinch, make a fist, type. A hand is a hand, and not a claw, because of it. Even the slightest bit of irritation to the nerve can have a profound effect; since Coffey's first surgery, the numbness in his ring finger and pinky hadn't abated. Not only could mishandling of the nerve set back his rehab schedule, it could leave him with permanent damage barely five minutes into the surgery.
Shin wore a pair of jeweler's loupes in order to distinguish the nerve and its tiny branches from the surrounding scar tissue. During Coffey's first operation, the surgeon, Dr. Timothy Krem­chek, had brought the ulnar nerve to the front of the elbow, laying it over the reconstructed ligament, a procedure that in the dozen years since had fallen out of favor. Shin, a kind of neural cat burglar, carefully lifted the nerve away from the disarray inside Coffey's arm and fastened it temporarily to his skin with three sterile rubber loops weighted down by clamps. The ulnar nerve would rest there, a spectator to the rest of the operation, which at 10 a.m. was barely under way.
Now ElAttrache could gauge the true damage, and it was grim. An MRI provides a working theory on an arm's condition, though it rarely tells the entire truth. In 2012, Minnesota Twins pitcher Scott Baker went in for surgery on the flexor-­pronator mass, a bundle of muscles in the forearm, and went out with a new ulnar collateral ligament, too. ElAttrache feared Coffey's flexor mass had ripped away from the bone and torn his flexor tendon, and his suspicion was correct. Now an already trying surgery would prove a test of ElAttrache's patience and stamina as much as his technical know­how.
"Stan, look at this," ElAttrache said, calling over the Dodgers' trainer, who had scrubbed in. The last twelve years of pitches had turned Coffey's elbow into spaghetti, and the flexor tendon tore because of what Stan Conte calls "shearing force"—the minute stresses that, when repeated thousands upon thousands of times, can cause ligaments and tendons to fray and, eventually, to snap.
ElAttrache wasn't exaggerating when he called this his tough­est surgery. Hundreds of Tommy John operations have earned him the title of the fastest gun in elbow reconstruction, power­ ing through some UCL repairs in as little as 60 minutes. His preferred technique requires drilling holes to create new path­ways in the humerus (upper arm) and ulna (one of the lower­ arm bones) through which he can slide the tendon until perfectly taut. Over the next two years, the new tissue slowly undergoes a process called ligamentization, in which tendon cells called teno­cytes modify their function and how they secrete the regenerative protein collagen, and, after about two years, change their entire form. In adapting to its new role holding the upper and lower arms together, the tendon actually morphs into a ligament, con­necting bone to bone.
ElAttrache went to work, asking for pickups—medical tweezers—and a scalpel. The last track of a Counting Crows song strained through a subwoofer and two cube speakers. Conte stepped away from the table. He had sat in on plenty of surgeries, and he never tired of what they represented: a miracle of modern medicine that could give injured pitchers a new lease on a baseball career. Even with Tommy John's success rate, he didn't shrug it off as some routine procedure—"almost like a root canal," as At­lanta Braves manager Fredi González once called it.
"A lot of people talk about Tommy John, how you're back in 12 months," Conte said. "It's not that easy. There are compli­cations. There are issues. There are a ton of decisions to be made in the OR that can change things. It's like we're walking up to the tee right now and the hole is five hundred yards away. This is our tee shot.
"And I hope nobody shanks it."
More than an hour into the surgery, ElAttrache laced sutures through the holes he had drilled in Coffey's humerus and ulna to help guide the graft and, ultimately, hold it in place. The ends of the sutures stuck out like guitar strings that hadn't been clipped.

ElAttrache conducts his team like he's leading an orchestra, his hand movements signaling exactly where the other half­-dozen people should be and what they should be doing. When he opens his hand, his scrub tech, Ken Newmark, knows what instrument ElAttrache needs. When he releases a tourniquet, Leslie Quinn, his nurse, is standing over the wound with a suction instrument. When he readies to drill into a limb, his equipment tech, John Hale, hands him a tool loaded with the proper bit. The movement of the team is balletic.
At 10:44 a.m., with the ulnar nerve resting safely to the side and the preliminary holes drilled and the sutures strung, ElAttra­che started spelunking for whatever piece of the gracilis might be left. He ran his scalpel along Coffey's thigh. Tourniquets allowed the flesh inside to remain a pearly white. ElAttrache wasted no time in jamming his index finger into the hole. As he rooted around, ElAttrache pushed the skin of Coffey's leg out from the inside. "It's all feel," Conte likes to say. ElAttrache wasn't feeling much and asked for help. Shin and a surgical fellow each pulled back one side of Coffey's leg to give ElAttrache a better look. When doctors need something, they will MacGyver it. And if it meant Coffey's leg was going to hurt like mad when he woke up because two grown men were playing tug­-of-­war with it, well, he's the one who rejected the dead man's tendon, and that's what pain meds are for, anyway.
The extra leverage proved no help; no matter how much ElAt­trache searched, he couldn't find what he was looking for.
"I shouldn't have to dig this out," ElAttrache said.
"It's melted down," Conte said.
Quinn, the nurse, knew what that meant. She went over to a workstation near the operating table and came back with two 8 1/2" x 11" sheets of paper and showed them to ElAttrache.
"There are two choices here," she said. "You like any one better?"
She held one piece of paper in her left hand and the other in her right. ElAttrache scanned the left first, then went to the right.
"Give me that one," he said, pointing to Quinn's left hand.
As Quinn left the room, ElAttrache dug back into Coffey's leg. It was 10:56. He had already spent 12 minutes fishing. He wanted to search one more time so he could tell Coffey he made every effort. Quinn walked back in, holding a blue bedpan filled with warm water and a plastic bag with a long, white strand inside.
"You want it open?" she asked ElAttrache.
"Not yet."
A minute later, he found what he was looking for: the last rem­nant of Coffey's left gracilis. ElAttrache slung his fingers behind it and pulled the tendon out of the wound to show the onlookers.
"I can see through it," ElAttrache said.
"That's not great tissue," Conte said.
"This would be the weakest link of our operation if we went with that," ElAttrache said.
Nothing is as critical during Tommy John surgery as the length and diameter of the graft. Having a good piece of tissue embold­ens a doctor. Had ElAttrache used Coffey's remaining gracilis, it may not have been enough to tie even a single loop, let alone the double­-stranded approach ElAttrache prefers. He gestured toward the bedpan and said to Quinn: "Open it."
At 10:58 a.m., she sliced through the bag and pulled out Todd Coffey's new elbow ligament. Quinn dipped it in the water and let it continue to thaw as ElAttrache stitched together Coffey's leg and laid a few Steri­Strips over the sutures. Six minutes after its water bath began, the allograft was ready.
If Todd Coffey wanted to pitch again, it would be with the semitendinosus tendon of Donor ID 101079556, a 24-year-old male who'd died in a car accident. Nobody in the room knew his name. Coffey's new tendon (cost: $3000) had arrived vacuum-sealed from RTI Biologics in Gainesville, Fla., packed in dry ice inside a cooler stuffed into corrugated cardboard, just another brown box among the many dropped off at Kerlan-­Jobe, a frozen miracle to undo what years of pitching had wrought.
The tool kit for ElAttrache's standard UCL replacement in­cludes sutures made of collagen-­coated, polyester­-wrapped plas­tic polymer, stainless-steel alloy drill bits manufactured to eat through bone without burning it, chamfers to round off sharp edges of bone that could slice the fresh tendon, and the battery­ powered Arthrex 600 drill. ElAttrache stood above Coffey, ready to begin the most delicate phase of the surgery: drilling two holes in the ulna that intersect like a V in the middle of the bone. The graft would come in one side and out the other. Then both ends would slide into a 5.0-millimeter tunnel on the bottom of the humerus, where two smaller drill holes on the top of the bone would create separate paths for the two ends, which would be yanked taut by the sutures ElAttrache laid earlier. Once the ten­sion was correct, ElAttrache would knot the sutures together on the outside of the bone, stabilizing the new UCL.
The tiniest error could end Coffey's career. During Coffey's first Tommy John, this was a ho­-hum portion of the proceedings, but in a revision—particularly one lasting this long—maintaining bone integrity presented the greatest danger. Forget baseball being a game of inches. Surgery dabbles in fractions of millimeters. The drill holes from Coffey's first surgery left his ulna in danger of cracking. ElAttrache needed holes small enough to ensure the bone's stability and large enough to accept the thick graft. Already he had shaved down the semitendinosus to accommodate it. He took a deep breath, sucking in his mask, and leaned in toward the ulna, ready to fix Coffey's elbow using the docking method, a variation on Jobe's original surgery.
As he depressed the drill's trigger, ElAttrache used a guide to stop the bit from plunging too far. "I have to be careful on the ulnar side," he had explained earlier. "I don't want to break the bridge." The bridge is the area between the two holes. The bigger the bridge, the less likely the bone is to crack. If the bone did fail, ElAttrache could attach the UCL with a metal button or screw, an inferior solution. Broken bone meant no more baseball.
Immediately ElAttrache knew the 3.5­-millimeter holes in the ulna were too small. He took away the guide and free­handed one hole to a 3.6­millimeter width. He tried to pull the graft through. Not even close. He didn't want to thin it any more, either. Most blowouts leave most of the original UCL in place; the surgeon can tie the new tendon on top of it, using the native ligament's collagen to help in the healing process. Coffey's had practically vaporized, the remaining pieces infinitesimal.
ElAttrache asked for a 4.0­-millimeter bit. As Hale prepared the drill, ElAttrache debrided tissue from the bone. Shin, the hand doctor, suctioned away the refuse. ElAttrache wanted a closer look. The bridge was getting smaller by the moment, the peril growing larger.
"I'm ready," ElAttrache said. He widened the holes to 4.0 mil­limeters and tried to pass the graft again. It wouldn't budge. He was getting pissed. In a normal surgery, he could drill the ulnar tunnel with his eyes closed. He asked for a 4.5-­millimeter guide but kept the 4.0­-millimeter bit. The slightest mistake meant total failure, and ElAttrache was inviting it by free­handing the drill to expand the tunnel's opening by that fraction of a millimeter.
"That's high-­tech art right there," Conte whispered. "Notice how quiet it got? Everyone knows this is technically difficult."
The drill buzzed and emerged with a bloodied bit. It was 11:31. A normal Tommy John surgery takes 75 minutes. This had already gone twice as long, and it wasn't close to done. Dustin Volkmer, a surgical fellow at Kerlan­-Jobe, continued film­ing the procedure and snapping pictures with an iPhone. ElAt­trache couldn't remember another revision with a blown flexor mass, so he wanted to document it for future such cases, rare though they may be.

"Graft," ElAttrache called. Quinn retrieved it from the bean­-shaped pan. ElAttrache tugged at it. Still nothing. "Fat part of the graft," he said.
Then, finally, movement.
"Here it goes," ElAttrache said."Here it goes."
The room perked up.
"A little oil?" he said. "I do not want to break this thing."
Quinn, the nurse, squirted a dab of mineral oil where graft met tunnel. The tendon started to slide.
"Whew!" ElAttrache said.
Sutures pulled the graft through the ulna and out the second hole. ElAttrache looped it into the humeral tunnel and used two more sutures to guide them down their respective paths. He mea­sured where he needed to trim the tendon so it would fit per­fectly, detached both ends from the suture sherpas, and removed it from Coffey's elbow.
No longer was the allograft white. Blood covered it as ElAt­trache began trimming it to size. He admired the finished prod­uct. "I love the length," he said. After using the titanium chamfer to smooth the ulnar tunnel, ElAttrache once again slinked the tendon through, this time for good. He knotted the sutures strong and true.
The hard part was over. At 12:12, just as the Dodgers were about to take the field a few miles away, ElAttrache tied the final three knots. He lifted Coffey's limp arm in the air with the help of two others. He bent it at the elbow and rotated it in and out, like Coffey does on every pitch. If the graft slacked, ElAttrache would need to start over.
"OK," he said, "feel that."
"Whoo!" Shin said. "That's tight!"
ElAttrache sutured the new UCL to the remaining shreds of the old one. A suction tube drained away a river of blood. Every few minutes, Quinn cleared blood clots and tossed them into a biohazard wastebasket nearly filled to the brim. ElAttrache moved down to the flexor mass, the muscles that connect the elbow to the wrist, and began to fix their torn tendon and reattach them. The dried blood on his gloves was almost black. He took a deep breath and groaned. "My ass is numb," ElAttrache groused.
He had been parked in the same swivel chair for three hours. ElAttrache gently carried the ulnar nerve to its new location, away from the bone and protected by subcutaneous fat, a precau­tion to keep it away from bone chips that could develop, sever the nerve, and leave the hand useless.
ElAttrache hooked the first stitch to close Coffey's wound at 12:48. He cinched the final one six minutes later. After nearly four hours, Todd Coffey had a new arm.
---
Excerpted with permission from The Arm: Inside the Billion-Dollar Mystery of the Most Valuable Commodity in Sports by Jeff Passan, copyright 2016, HarperCollins.
Illustration by Sam Woolley