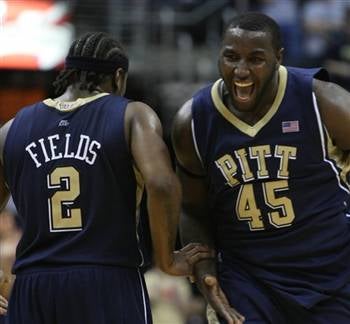 You remember Pitt, the team that's always just good enough to screw up your NCAA tournament bracket. They're back again, today throttling Georgetown and its chulo del pañal, Greg Monroe, to go to 14-0.
Gotta like the Panthers, and especially DeJuan Blair. Not only was he a man among boys today (20 points, 17 rebounds), but he referred to another players as "this young cat," which is totally awesome.
"I played with something on my back saying, 'They're picking this young cat against me, and I'm not going to take it,"' Blair said. "I was always an underdog throughout my whole life. I think I showed a lot of people."
Of course if the Hoyas hadn't missed about thirty layups, it would have been a different story. It's been a while since I've seen a layup clank of the front of the rim. Evidently there were no 12-year-olds sitting in the vicinity of the Georgetown bench.
Meanwhile, it may shock you to learn that Notre Dame can gag indoors as well as out, as the No. 7 Pillow-fighting Irish lost to the St. John's Redmen Red Storm, 71-65.
No. 3 Pitt Muscles Past No. 11 Georgetown, 70-54 [Sporting News]
Knight Grabs Help From The Stands In Tech Win [Lubbock Avalanche-Journal]