In the end, there was no contest. Guacamole took an early 60-ish to 30-ish percent lead over Salsa and held onto it throughout the polling, with a final vote of 62 percent to 38 percent. THE MIGHTY AVOCADO REIGNS SUPREME! GUAC IS GOING TO DISNEY WORLD!
While the final competition proved to be a disappointing one, from the perspective of those who wanted to see a blood match, we've got some bonus material for you to chew on. The folks at GrubHub Seamless pulled together some stats for us on the order volume for each of the 32 dips in our Dip Playoffs—let's see how the voting matched up with actual consumption, shall we? If the bracket were populated by online ordering trends, it would look like this:
Of course, there are a number of factors that can skew this sort of data (regional preference and access to online ordering services, the ease and expense of making a dip at home versus ordering out, all that kind of stuff.) But buried in the findings GrubHub shared with us was one data point that must be noted: Ranch is 25 percent more popular than blue cheese as a chicken wing condiment.
FOR SHAME, PEOPLE. For shame.
In the end, we can all agree on one thing: Dip is delicious*, and this was good, clean fun for the whole family. Thanks for playing along with us! We had so much fun that a betting man might like to lay down some money on Foodspin running a bunch of dip recipes in the upcoming weeks.
G/O Media may get a commission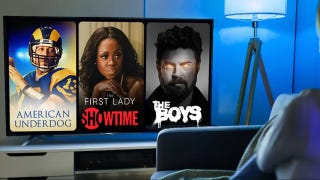 UNDER $1
99¢ Prime Video Channels
*Except for that Skyline Chili Dip mess. Woof.
Image by Sam Wooley.