That up there was the mask U.S. women's hockey goalie Jessie Vetter was going to wear at the Sochi Olympics. At least until the IOC forced her to take an image of the Constitution off the back.
Via Puck Daddy, Vetter had to get her mask repainted because it ran afoul of Rule 50.3 of the Olympic Charter:
No kind of demonstration or political, religious or racial propaganda is permitted in any Olympic sites, venues or other areas.
The IOC's enforcement of these rules is a little inconsistent—what constitutes political propaganda? The Constitution was nixed, but images of the Statue of Liberty and a Bald Eagle were allowed to remain.
Some other tweaks had to be made, including taking Vetter's name off the back and removing Olympic rings from the chin. The mask's artist, Ron Slater, explained to InGoal Magazine:
"No writings of any kind to promote the country is allowed," Slater said. "A sort of 'our country is better than your country" kind of thing that the IOC frowns upon. Her name had to come off because they see it as self promotion. They wanted everything to be team based. … Our original idea was 'land of the free, home of the brave,' and that would have had to have been removed as well."
G/O Media may get a commission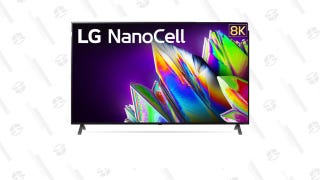 LG 75-Inch 8K TV
(And Slovakia gets to put its national anthem on its jerseys? I mean, they're awesome, but this is some bullshit.)
So here's what Vetter's new mask looks like—on all sides.