So, there's a nationwide shortage of youth sports referees, related to crappy pay and ridiculous workloads and abusive parents. Here's a novel idea for how to combat this problem, by way of sunny Iowa: train prison inmates in the subtle arts of basketball refereeing.
Per a Des Moines Register report, Iowa high school basketball official Jim Bice is also a correctional officer at Fort Dodge Correctional Facility in Fort Dodge, Iowa, where he is known as "Ref" and occasionally asked to lend his expertise to prison yard basketball games. His intimate knowledge of both high school athletics and, you know, the male prison population of Iowa, gave Bice an idea:
Bice has started recruiting inmates to become high school basketball officials when they exit prison. He's only talked to a few so far, he said.

"Non-violent offenders who made poor choices in tough environments as young men," Bice, a basketball official since 1991, said of the inmates he's taught.

The National Federation of State High School Associations says only about 20 percent of high school officials last more than two years in the gig. Drastic measures may be necessary. This is from a Washington Post report about shortages in the Mid-Atlantic region:

Only about half of the umpires who complete one year are back for a second year, and the five-to-seven year attrition rate hovers around 80 percent.

In football, the Fairfax County Football Officials Association said it has experienced a 40 percent drop over the past three years, according to an estimate by referee assignor Andre Jones.

G/O Media may get a commission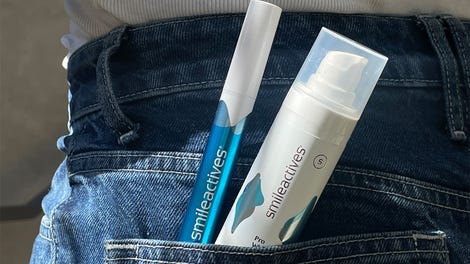 58% off
Whitening Powerhouse Pen & Gel Duo
Numbers across Iowa are similarly disconcerting, per the Register:

According to Iowa High School Athletic Association data, Iowa had 1,493 registered boys' basketball officials in 2006-07. Ten years later, in 2016-17, that number had dwindled to 963. And about 45 percent of those still officiating games were 50 or older.
So does Bice's inmates-to-youth-sports-referees plan have much hope? Apparently there aren't any particular rules prohibiting the transition: background checks are reportedly not required as part of the application process for officials by either the Iowa High School Athletics Association or the Iowa Girls' High School Athletic Union. Bice, for his part, believes in his judgment of potential:
Bice said it's a "good question" as to whether there would be risk in hiring someone with a criminal past to officiate high school games. He said he would provide guidance to any of his former inmates who want to officiate. None of the inmates he's mentored has gone on to officiate yet.

"They're not bad kids," he said. "I guess I have a lot of confidence in people."