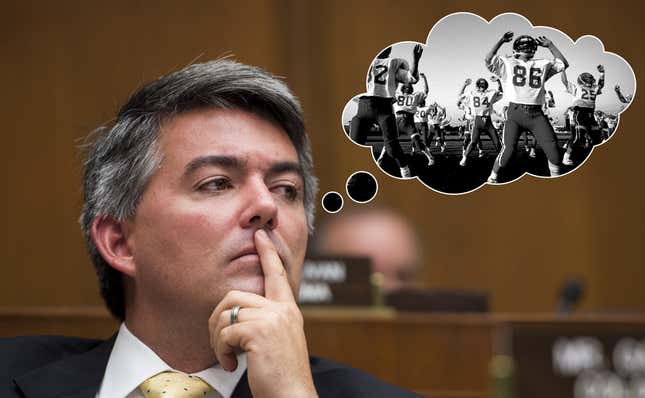 Read a note from the editor here.
Update: Gardner campaign spokesman Alex Siciliano sent the following, presented in its entirety, via email: "Cory Gardner played football from Junior High through Sophomore year in high school." Eli Stokols of FOX-31 in Denver is reporting the Gardner campaign told him, "Gardner played football through soph year of high school, never played varsity." Reached Wednesday night at his home, Chuck Pfalmer, longtime stats keeper for Gardner's alma mater, Yuma High School, and a primary source for the story, told me: "Cory did play football for three years" in high school, and that his records show that Gardner spent his junior year "on varsity." During a lengthy conversation about Yuma High football on Tuesday, Pfalmer repeatedly said Gardner had not played football at the school.

Breaking news: Politician makes shit up!
For your consideration: Rep. Cory Gardner (R-Colo.) and his football career. After nearly two terms in the U.S. House of Representatives, Gardner is trying to take his game to the next level by running for the Senate seat occupied by Democrat Mark Udall.
The battle, pitting Gardner's homo-hatin' and climate-change-denyin' conservatism against Udall's Jesus-free liberal ways, has been too close to call. Things have definitely been going Gardner's way of late, though, with key endorsements rolling in from unexpected sources and recent polls showing him surging ahead of Udall.
But not everybody knows how to play with a lead.
The Washington Post ran a long story about the campaign this week. Reporter Karen Tumulty opened the piece with a riff that had Gardner talking about his days playing high school football, and how the current opposition's campaign strategy reminds him of that experience.
The lede:
Cory Gardner figures that what he needs to know about big-league politics he learned as a fullback and middle linebacker for an eastern Colorado high school so small that the guys had to play both offense and defense.

"I used to play against a high school football team that always used to run the single wing. And eventually, other teams figured out that they ran the single wing. And so they prepared for it," the two-term Republican congressman said as he made his way through a game-day crowd at the Air Force Academy's Falcon Stadium this month. "The Democrats are stuck running the single wing."
Later in the Post piece, the 40-year-old Gardner circled back to schoolboy football and the single-wing metaphor to blast Udall's politics as coming from "a tired old playbook."
Alas, other than spelling and grammar, there's not a whole lot right about those grafs.
First: So, in high school, Gardner played both ways?
No way, says Chuck Pfalmer, a now-retired Yuma High School teacher: "Cory Gardner wasn't on the football team."
Everybody around Yuma (pop. 3,524) knows everybody around Yuma. Even when Gardner was a kid, folks around town saw him as somebody who was going to run for political office someday. And for an even longer time, Pfalmer's been known as the go-to guy for football facts about Yuma High, Gardner's alma mater. He kept stats for the Yuma Indians varsity squad from 1971 to 2010, a streak of 394 consecutive games.
But Gardner, who graduated in 1993, never played in any of the Yuma games Pfalmer saw under the Friday night lights. Not at "fullback" or "middle linebacker" or anywhere else.
There's no mention of Gardner's football career in his online bios or in any news outlets in the LexisNexis database, at least not that I could find. An editor at the local newspaper, the Yuma Pioneer, said everybody knows Gardner, but nobody remembers him as a football player.
And, again, in a town Yuma's size, folks wouldn't likely forget a guy who played running back and linebacker for the Indians.
"I know Cory," Pfalmer says. "I'd know if he played."
Pfalmer concedes that it's possible Gardner played freshman football, but if he did, Pfalmer doesn't remember him. And Pfalmer points out that at a school that small—the Denver Post reported there were 66 people in his 1993 graduating class— there were "no cuts." If you go out for the varsity football team at Yuma, you make it.
Emily Hytha, Gardner's communications director, did not respond to Deadspin's interview requests to talk about Gardner's football playing and the lessons of the single wing.
So, if the two-way career is indeed fictional, why would somebody as accomplished as Gardner make up such a whopper?
Perhaps he got caught up in the setting: Gardner let the Post tail him as he mingled with tailgaters before a football game at the Air Force Academy.
Or perhaps the candidate is intimidated by the jocky branches on the incumbent's family tree. Mark Udall's dad, former Rep. Mo Udall (D-Ariz.), was a pro basketball player and member of the original Denver Nuggets before getting into politics. And Udall's uncle, Stewart Udall, is the former Secretary of the Interior in the Kennedy Administration, the guy who forced owner George Preston Marshall to racially integrate the Washington Redskins by threatening to bar him from leasing the federally owned D.C. Stadium.
Or maybe Gardner was just looking for a way to work in the "tired old playbook" and sloppily threw himself into a story about the single wing.
Here's how that could happen: As it turns out, Gardner really did grow up around a school that relied on the single-wing offense, a run-heavy scheme and precursor to the wildcat formation in which the quarterback's running and blocking skills are far more important than his passing ability. "Akron's the only school around here that uses the single wing," says Pfalmer. "They've always used it."
Pfalmer's referencing the Akron Rams, a school located in another teensy (pop. 1,702), agriculturally dependent town about 30 miles west of Yuma. Since Akron and Yuma are separated by nothing but highway, the schools are natural rivals. The Single-Wing Sentinel, an online clearinghouse for all things single wing, is loaded with posts about the Akron Rams, showing how coaches there have utilized that offense for decades.
But what about Gardner using Akron's football program as an example of something that failed because of a reliance on old things? That doesn't hold much water, either. In fact, it's dumber than a guy who was neither running back nor linebacker boasting about being both to a reporter from a major news organization.
Because in the real world, the Akron Indians were by far the best team in northeast Colorado before, during, and after the time Gardner was busy not playing ball for Yuma.
"The single wing has been very, very good for us," says Jo Anne Busing, editor of the Akron News-Reporter.
The Colorado High School Athletic Association record book backs her up: Akron won 37 regular-season games in a row between 2001 and 2003, the seventh-longest streak in state history. The squad made the playoffs every season from 1996 through 2011, winning six state championships along the way, including a three-peat from 2006 to 2008. A 2008 Denver Post piece on the Akron juggernaut said that Brian Christensen, the head coach during the Rams' record-breaking streak and state-championship runs, learned to love the single wing as a player on Akron's single-wing-dependent state-titlist squad in 1985, and never gave it up.
Despite what Gardner implies in the Post story, it wasn't a commitment to an antiquated system that brought an end to Akron's regional domination. It was population. An enrollment dip at the school forced Akron to drop down to eight-man football in 2012. But in its last season in 11-man, the Rams won the North Central Conference championship (over Gardner's alma mater) and made the playoffs for the 16th year in a row.
Current head coach Jerome Weers says that in making the schedule for this season, he couldn't find another eight-man football team as an opponent for the opener. So last month, Akron had to play up, facing 11-man Holyoke Dragons in what will be its only non-eight-man game of the year. Out of necessity, he dusted off the quaint scheme that brought Akron all its glory back when it played a whole schedule against the bigger schools.
"We only had a week to prepare, and it was going to be just for one game," says Weers, "So, I took the old ideas, and ran the true, tight single-wing offense."
Worked out pretty good. Akron beat Holyoke, 33-7.
If that's obsolescence, the Udall campaign should bring it on.
While Pfalmer has no recollection of Gardner's gridiron derring-do, he says that after all these years he finds himself thinking back to the future GOP star's days at Yuma High for other reasons.
"He was a Democrat in high school," says Pfalmer.
Oh, really? "Yes, he was," says Pfalmer. "I was his American Government teacher. He was a Democrat."
Well, at least the guy's a two-way player in something.
Image by Jim Cooke; source photos via Getty.