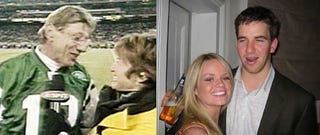 If it's true that every generation gets the hero they deserve ... woe to us, America, because there's a very real possibility that Eli Manning could be today's Joe Namath. That's a somewhat terrifying concept.
Seriously, whom are we talking about here?
Something happens in his fourth season. But not at first - for most of the season, it's the same problems as before. But, somehow, when his team needs big performances late, he gives it to them. Then, the playoffs come and he's brilliant - almost a different quarterback. The two-headed monster at running back is working, and he's the one pulling the strings. There's a confidence in his gaze and his stride that no one has ever seen before. His teammates see this and feed off of it - suddenly, he's their guy, and they'll run through walls for him.



And so he leads his team into the Super Bowl, where he faces unbelievable odds, against a seemingly invincible coach. And you know what? He wins that game, and in doing so becomes a legend.
We are not quite ready to live in a universe in which this happens.
Eli Manning ... Legend In The Making? [Your Face Is A Sports Blog]