The scene: May 5, 2012. The 13-14 Oakland Athletics and the 19-8 Tampa Bay Rays are all tied up in the 10th 12th inning in Tampa when Jonny Gomes steps to the plate. Gomes would give the Athletics the lead when he hit a baseball the smallest distance possible for a ball to be hit and still be considered a home run—literally landing in a first row seat in left field. And, oh, how he admired such a feat.
Maybe I'm slowly morphing into a man with a cane on his porch, or maybe I just don't like the guy because he's spent years as the guy you love if he's on your team and hate if he's not. He is like a slightly worse at baseball Nick Swisher (who I am sure many would nominate for the title—and feel free to do so in the comments). But to me, Gomes is the biggest douchebag in baseball. Allow me to explain.
Jonny Gomes is the definition of average (Ok fine, ever so slightly better than average). He is obviously not the worst player to have on your team, nor will he be posing for any Hall of Fame plaques anytime soon. His 107 OPS+ is forgettable. The only reason we know who he is is because he does douchebag things like show off his look-at-mehawk after hitting a home run and the dummies on Sportscenter indulge him, because hey, he's wacky.
At this point in our baseball consumption experience, seeing a player pose after a home run is pretty much par for the course and most non-World War II veterans don't care. Generally speaking, it's a non-event. This one, however, where the ball just barely made the seats was a douchebag move, for several reasons. First, it had not yet won the game. It was not a walk off, Tampa Bay still had last licks. Second, its extra innings and every baserunner is crucial. Unless it's a Barry Bonds no-doubter, bust your ass out of the box and get into scoring position. He was a foot (or less) away from looking like the true douchebag he is. Third, it's the first week of May. Relax, Gomes. Fourth, it barely made it over the fucking wall.
There's something especially grating about an average player grandstanding. There's a gut reaction of "who the fuck is this guy?" whenever it happens. Remember how Bryce Harper was pilloried for dumping his helmet to show off his mohawk on his first hit? No one said "Who the fuck is this guy?" We all said, "hey look, Bryce Harper is acting like a douchebag again" and went on with our lives. That's because he's actually good and people know who is enough to expect him to be a douchebag.
G/O Media may get a commission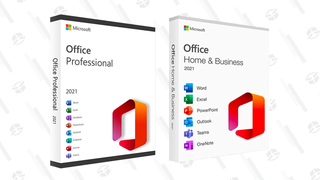 89% off
Microsoft Office Professional 2021 Lifetime License
In fact, good players should be douchebags, it makes hating them that much more fun. It would not be nearly as fun if Alex Rodriguez was an enormous weirdo with bizarre anthropomorphic tastes in art if he were not one of the best baseball players on the planet. He'd just be some stupid weirdo with bad taste in art. If Albert Pujols ever hits a home run again, rest assured he will stand and admire it—because he always does—and that will be OK because he is the best player in baseball and he's allowed to be a douchebag.
When average players are douchebags though, it's just annoying. And that is where we are with Jonny Gomes. A nothing major league player. In fact, you know I'm right because no one even feels sorry about the health scare all those years ago because he is, simultaneously, such a remarkable douchebag and unremarkable ballplayer.
But hey, sweet home run. You are now on a .500 baseball team.