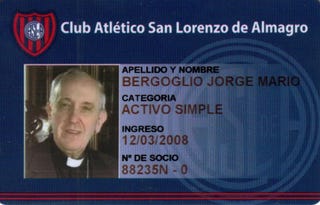 Is the new Pope's favorite soccer team Club Atlético San Lorenzo de Almagro? I don't know, is the Pope Catholic?
But anyway, yes, the new Pope totally loves soccer, and he is a card-carrying fan of San Lorenzo, a team in the Argentine Primera Division. Really, that's a picture of his card up there.
Congratulations, San Lorenzo. Go ahead and get ready to win all of the games.
via Bryan Graham