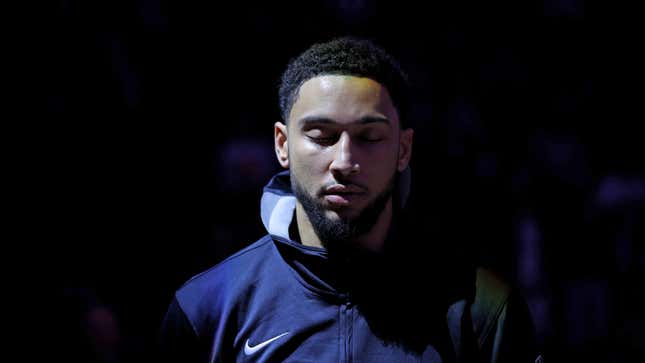 Maybe one day Philadelphia sports fans will forgive Ben Simmons for not taking the court at all for the 76ers last season, not shooting in four consecutive fourth quarters, and the play in which he passed the ball to the only Sixer who was arguably a worse shooter than him instead of dunking on Trae Young.

Why Ben Simmons is the NBA's Jay Cutler
Stranger things have happened. I'm sure no one in 1967 thought that Mike Ditka would return to the Chicago Bears and win a Super Bowl as their head coach. Jay Z and Nas have recorded several songs together.

On Tuesday night, Ben Simmons will be making his first appearance in Philadelphia in a uniform other than that of the home team. The fans are going to be on full "Ether" and "Takeover" vibes from the moment he emerges from the hotel. It will be just like the last time the Brooklyn Nets played in Philly last season and Simmons was hurt. But hopefully, with the fans able to truly voice their displeasure at an active Simmons, maybe some closure can be brought to a disappointing period of 76ers basketball.

Simmons wasn't simply a No. 1 overall pick. He was considered a potential generational talent. Longer than LeBron James, but with all of the court vision. Simmons was drafted to direct Philly's offense from Day 1, but he broke his foot and missed the entire 2016-17 season.

The next season, Simmons won Rookie of the Year and the 76ers had their highest win total — 52 — since they went to the NBA Finals in 2001. They lost in the second round of the 2018 playoffs to the Boston Celtics, but it appeared that Embiid and Simmons had a bright future in store. Jimmy Butler was added prior to the 2018-19 season and pushed the eventual NBA Champion Toronto Raptors to the brink.

Instead of keeping the three together with Tobias Harris, Butler was traded and the keys to the offense were again firmly in Simmons' hands. Ask a 76ers fan, and they will likely tell you that he steered the team into a tree.

Rumblings of discontent plagued Philadelphia as did Simmons' ghastly free throw shooting numbers and refusal to shoot outside of the paint. The Sixers were atrocious in the bubble 2020 playoffs, after which Brett Brown was fired and Doc Rivers was hired. In the COVID-shortened 2020-21 season the 76ers finished in first place in the East. Embiid was an All-NBA performer and Simmons was first team All-Defense.

I listed all of that to show not just how much success Simmons had with the 76ers, but also that last season was only his sixth in the NBA, and he didn't even play in his first one.

Losing in the second round to a team that crept into the fifth seed, after firing a coach mid-season, there had to be an explanation for that epic failure. Yes, the blame went to Doc Rivers and Embiid, but that aborted dunk was treated like the final judgment on Simmons' career. After the Game 7 loss, his coach and star teammate did little to try and provide a defense before the jury of public opinion.

Simmons admitted in September on The Old Man and the Three that he was mentally struggling both during the series, and in the months following. He also wasn't feeling enough support from the organization and that bothered him as well. It all led up to that practice when everything boiled over. Rivers kicked him out of practice and that was it for Simmons' time in Philly, or at least it should have been.

Two days after that, Philly General Manager Daryl Morey decided that, in 2021, a great idea to show strength was on local sports talk radio, where he said a trade could take years. By years he meant until the trade deadline and he had to attach Seth Curry, Andre Drummond, and two first-round picks — one top-eight protected — to a Paul Millsap and a hobbled James Harden in return.

Simmons chose not to play for the 76ers. It wasn't the back injury that completely ended last season for him after the trade, he didn't want to play for them anymore. A parting of ways would have been best for both sides, but Morey hung on until the last minute. In this process, he lit his team's season on fire, and didn't significantly upgrade the roster. The team's biggest improvement is Tyrese Maxey taking another step this season, which still hasn't been enough to avoid a rough start.

Holding on also forced Philadelphia sports fans to get hit in the head daily with the fact that a player refused to play for them. Combine that with bad feelings from the last time he did wear a Philadelphia jersey, and of course, they had a tidal wave of hate for Simmons in a game he didn't even play in when the Nets visited last season.

This time they get to see him get introduced in the starting lineups, dribble the ball up the court, and shoot free throws. It's going to be LeBron's first game in Cleveland with the Miami Heat type of energy.

Maybe it's necessary though, for all sides to have this moment. For Simmons to go up against Rivers and Embiid, and for him to accept — within reason – all that the fans have to dish out. He recently told ESPN's Ramona Shelburne that it felt good to express himself on the podcast, and is dealing with whatever he needs to "day by day."

There is a lot of history between Simmons and the 76ers that took place in a short period of time. Award-winning highs and ugly playoff-upset lows. This game might go a long way towards everyone eventually becoming fully at peace with what happened, and maybe even help get both of these teams — albeit with the Nets having way more public internal drama than the 76ers these days — on a run back towards the top of the East.