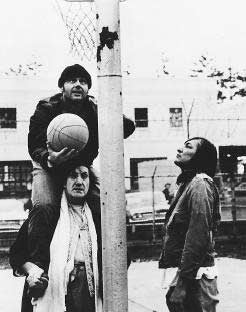 The College Basketball Closer is written by the gang at Storming The Floor.
You probably don't spend much time pondering the basketball teams that make up the SWAC. You've got better things to do, and, QUITE FRANKLY, keeping up with the also-rans is my job. Perhaps the main claim to fame that the Southwestern has this season is that they sit dead last in conference RPI, behind even the loose collection of NCAA vagabonds known as the Independents.
But if you peek at the SWAC standings, you'll see the Alabama State Hornets - 5-1 in conference play - peering back at you from the top spot, and you may notice a 7'0" center with kind of a bored look on his face. That man is Chief Kickingstallionsims, a Junior transfer who came to Montgomery, AL when he couldn't crack the lineup at Stetson.
Not much is known about the big man with the big name, but I have seen him play at least once, thanks to ESPNU. In a loss to Jackson State, he managed just four points and zero rebounds in 18 minutes of play, which puts him somewhere below Greg Ostertag on the big-man effectiveness chart. In addition, ASU doesn't stitch player names on the backs of their jerseys, thus depriving the athletic department of a sure-fire fundraising gimmick.
If the Hornets (9-7 overall) stay atop the SWAC (and I sure hope they do), I may just have to watch the play-in game this year. Surely some enterprising young television producer can conjure up a soft-focus feature on this nominee for college basketball name of the year. They're playing 5-2 Southern tonight on the U.
Sometimes you Kick, Sometimes you Get Kicked. Ain't conference play grand? It's like a box of chocolates - you never know what you're gonna git. No ranked teams faced off this weekend, so conventional wisdom would lead us to expect a white-wash of the unranked, but this was not so. Favored teams took a hit again this week. See who held serve and who double-faulted below.
Top 25 Winners:
Memphis 81 - Gonzaga 73. The battle of Chicago-bred PGs goes to Derrick Rose.
Kansas 84 - Nebraska 49. This is becoming a familiar sight when these teams meet.
Tennessee 85 - Georgia 69. Big beatdown - coach's son even gets garbage time.
Washington State 56 - Arizona State 55. Low scores 18 - all from behind the arc.
UCLA 85 - Oregon State 62. Bruins give Beavers all of their Love. And Collison, too.
Georgetown 58 - West Virginia 57. Ewing swats away a near -winner. Hug pouts.
Texas 73 - Texas Tech 47. Austin crowd cheers Knight, then team kicks his head in.
Butler 73 - Illinois-Chicago 57. Graves' half-court wizardry not required in this one.
Texas A&M - 59 - Oklahoma State 56. Aggies get well in Stillwater.
Marquette 79 - DePaul 71. Blue Demons mesmerized by new uniform piping.
Stanford 82 - California 77. Return of "Chuck" gives Stanford much-needed lift.
Xavier 77 - UMass 65. Mighty Mite Drew Lavender grabs nine boards.
Drake 58 - Northern Iowa 54. Korver brushes hair out of eyes, scores 23.
Saint Mary's 79 - San Francisco 47. Bill Russell cries a single tear of embarrassment.
Michigan State 77 - Michigan 62. You can't spell Aspartame without Sparta.
Duke 93 - Maryland 84. Cameron Crazies > Legitimately Crazy.
Top 25 Losers:
Indiana 63 - UConn 68. Discipline=wins? That can't be right...
Wisconsin 56 - Purdue 60. Making Boilers > Ice Fishing
Mississippi 68 - Mississippi State 88. Hey, didn't Eli go to Ole Miss?
Pittsburgh 64 - Rutgers 77. Scarlet Knights building fabulous NIT resume.
Villanova 80 - Notre Dame 90. Domers led to victory by actual Irishmen.
Dayton 63 - Richmond 80. Visiting players drown their sorrows at Kuba Kuba.
Baylor 71 - Oklahoma 77. Longar Longar's name causes 5 OT flashback.
Florida 86 - Vanderbilt 64. Proximity to Melbourne (FL) makes Ogilvy homesick.
Miami (FL) 75 - Clemson 72. It's not the heat so much as the humidity that gets you.
Moving Up:
Mississippi State. Don't toss Varnado a beer unless you want it back in your grill.
Louisville. Don't be surprised if this up-and-down squad does well in March.
UConn. Huskies have torched Marquette and Indiana this week. Next stop Pitino.
Tonight's Big Game
Oklahoma State at Oklahoma. A win in this game means very little in terms of Big XII or NCAA relevance. But it means everything to the red-dirt locals. That's why we call it the Bedlam Series.
Eric Angevine writes about basketball at Storming the Floor, and contributes regularly to Chicago Sports Weekly. He can be reached at stormingthefloor@gmail.com.