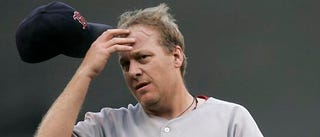 Notes on a day in baseball:
• Don't Miss Next Week's Exciting Episode! Yankees fans were busy last night into the wee hours doing a very special dance, celebrating the symbolic, if not chronological, return of Andy Pettitte, and an 8-3 win over the Red Sox. Meanwhile, Boston fans rode into the night feeling the pain of dropping two of three in the series. The Yankees did the hammering and Curt Schilling was the hammeree, giving up 12 hits, including homers to Hideki Matsui and Doug Mientkiewicz (!!). New York climbed back within 9 1/2 games of AL East-leading Boston. Schilling has been looking pretty sickly ever since his public apology to Barry Bonds on May 9. We suggest ripping him again. Pettitte went seven strong innings, and suddenly everything looks hopeful in Yankee Land, especially with the return of Roger Clemens on the horizon. Um, wait. Well, maybe not for a while.
• The Hiram Bocachica Home Run Parade May Be Coming To Your Town! Chad Gaudin (4-1) threw seven-plus scoreless innings — retiring 16 straight during one stretch — and Hiram Bocachica hit his first home run in two seasons as the Oakland Athletics beat the White Sox 4-0. All of which makes Athletics Nation absolutely giddy.
• Whacking Day. After a seven-inning stint in a 2-0 win over Arizona on Wednesday, Jeff Francis improved to 7-1 lifetime against the Diamondbacks ... and 25-28 against the rest of the league.
• Kansas City Star, That's What I Are. Cleveland's Grady Sizemore led off the game with a home run — the 11,000th homer in franchise history — but it wasn't enough. The Royals got four homers in an 11-7 victory. Kansas City has won eight of its past 10, by the way. Mark Grudzielanek was 3-for-5 with a homer and three RBI.
• Birds Are Weird. They must run the bases in the opposite direction in Canada, because that's the only explanation for the hilarious blown rundown attempt in the fifth by the Blue Jays. When it was over, Corey Patterson had somehow stolen home, as the Orioles went on to win 5-2.