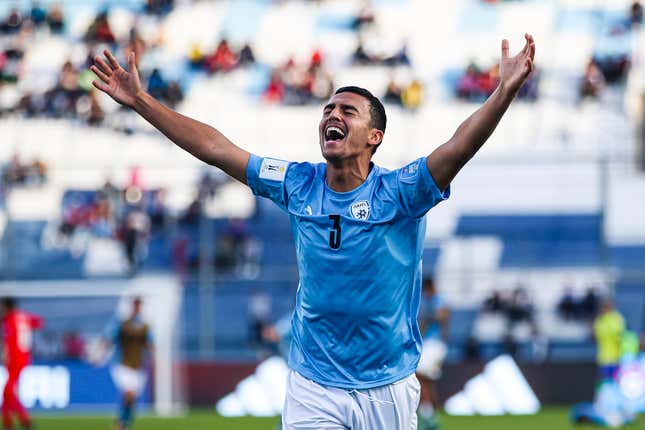 The phrase "David and Goliath" gets thrown around too much in sports. There is typically a reason for those mismatches to take place, like in the case of No. 16 seeds in the NCAA Tournament needing to defeat a No. 1 to reach the round of 32. According to several Jewish texts, David was the King of Israel for 40 years, while Goliath was a combat-ready giant. If ever there was a sports example that made historical and practical sense, Israel's under-20 men's national soccer team taking down Brazil in the U-20 FIFA World Cup quarterfinals, hosted in South America on Sunday, feels like it. With antisemitism on the rise around the world, Israel's U-20 team is a much-needed feel-good story.

This is the country's first appearance in a World Cup, either at the senior or under-20 level, since 1970, the only other showing for The Blues and Whites.
Luis Rubiales' mom locked herself in a church and is on a hunger strike
Israel's path to the World Cup
Israel qualified for the World Cup by winning their group at the 2022 UEFA European Under-19 Championship, eventually falling in the final to England in extra time. The Brits were knocked out at the World Cup by Italy in the Round of 16. Israel's chances of going on this run looked bleak a little over a week ago, not winning its first two group stage games, needing a 92nd-minute goal to win its final game of Group C against Japan, while playing down to 10 men.
With wins over Uzbekistan and an extra-time victory over Brazil, with the home of Pelé winning 10 previous World Cup titles between the senior and under-20 editions, Israel is guaranteed two more games at this World Cup. Next is a semifinal against Uruguay at 2:30 p.m. Thursday, the lone South American team remaining that defeated the United States to make the final four, and then either a third-place game, or 90 minutes to win the whole-damn thing with Italy and South Korea on the other side of the bracket. The games have all been carried under FOX's sports networks, such as FS2.
An undisputable part of Israel's run to a grand stage in front of the world is the country's past and present — where antisemitism and soccer unfortunately collide. Israel was a founding member of the Asian Football Confederation, before being expelled due to antisemitism in 1974. After competing in Oceania for a bit, Israel has found its home with UEFA, the hardest route for a country about the size of Delaware and New Jersey combined to have success on the global soccer stage.
Facing antisemitism off and on the field
Off the field, antisemitism is also on the rise. The Anti-Defamation League, whose mission is to stop the mistreatment of Jewish people and provide equal treatment for all, reports 1.09 billion in the world harbor antisemitic attitudes. That's around one in every eight people, which is an unfathomable fact. According to the ADL's global index of antisemitism, which conducted surveys of attitudes towards Jewish people in 2014, 2015, 2019, and 2023, 74 percent of adults in the Middle East and North Africa have displayed antisemitic traits, compared to only 19 percent in North and South America. To think those figures don't play a role in the daily lives of every member of Israel's World Cup team is foolish. The Israel-Palestine conflict is ongoing with civilians on both sides sometimes paying the ultimate price.
Israel making it here wasn't impossible but highly inconceivable. Those who've followed this Israel team, in particular, knew their quality, but its potential becoming reality is much more difficult. The Blues and Whites' successes brings the country's name into mainstream audiences in an easy-to-understand way, similar to viral sensation Noa Kirel's third-place finish in this year's Eurovision Song Contest. The comparison of David and Goliath gives even more meaning when you realize Israel's flag has the Star of David, named after that very David, draped in the center as the most recognizable symbol of Judaism. Israel's under-20 national team isn't just David's anymore after its defeat of Brazil. And that's exactly why it's the perfect time to throw support behind them.