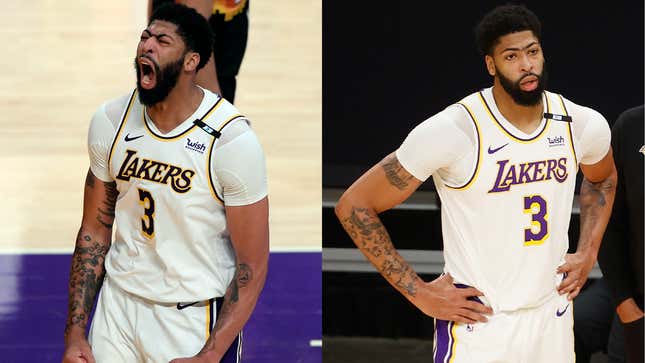 If the Los Angeles Lakers are going to have any chance at repeating as NBA Champions, they can't have Anthony Davis finishing games with Andrea Bargnani stat lines.
Can the new-look Lakers make a deep playoff run? | Agree to Disagree
Following the bubble last season, Davis became a trendy MVP and Defensive Player of the Year pick for 2020-21, and even before his mid-season Achilles injury his production had tailed off from where he'd been in his first season as a Laker. Really, that's not exclusive to Davis, as the other teams who joined them in the bubble "Final Four" — the Boston Celtics, Miami Heat, and Denver Nuggets — have all struggled with health and or severe COVID-related issues this season. The Heat and Lakers, in particular, played through Oct. 11, and we were watching preseason games exactly two months later.
On one hand, if you're not going to get to the Finals, it might be beneficial long-term to lose early and rest for the 2021-22 season, which might reek even more of injury-riddled chaos since the NBA wants to start the season on-time following, of all things, the Olympics. But no one will cop to that, of course, so as long as the Lakers are here, they're trying to repeat. And in order to do so, they need the version of Davis who helped lead alongside LeBron James en route to their 2020 Championship — or just the one that showed up two weeks ago.
The Lakers and Phoenix Suns, who lead L.A. 1-0 in the series, ended their regular-season series on May 9. The Suns were healthy, the Lakers were missing LeBron James, and it didn't matter because L.A. won 123-110 behind AD's season-high 42 points. He also added 12 rebounds, five assists, three steals, and three blocks while shooting 13-of-27 from the field and 15-of-17 on free throws. It was his best overall game of the season and the best he's looked post-injury.
https://www.youtube.com/watch?v=aVT_bbAJidw
But in Game 1, the Lakers looked overwhelmed. They lost 99-90 to the Suns, James had an off-night (for him) with 18 points, 10 assists, and seven rebounds. But even so, they were in a position to steal the game in the second half, especially following Chris Paul's injury, though he continued to play and will be active for Game 2 tonight. But Davis was by far a game-low -18 on the floor (imperfect stat, but shit, so are points when you really think about it). He recorded only 13 points and seven rebounds. In about 39 minutes of play, he shot 5-of-16 from the field, missed both three-point attempts, and hit 3-of-5 on free throws.
What's this? A tale of two brows?
Much like the Heat are counting on Bam Adebayo, the Lakers need Davis to find his game. Losing now and resting for next season might be most beneficial for them in the long run, especially as it pertains to the longevity of James' career, which is growing more fragile by the day. However, in a wide-open contest for the 2021 NBA Championship, there's no unbeatable team in the fray.